FRONT DOOR DESIGN
What's your door flavor?
We just replaced our front door and I'm trying to decide how I want it finished both on the exterior and the interior of the house. If I had my choice, I'd have a Hobbit door, but since I have to live in reality...
Take a look at these from Saffronia Baldwin Interior Design. I definitely want the crown molding over the door inside the house - and we are going with the white trim.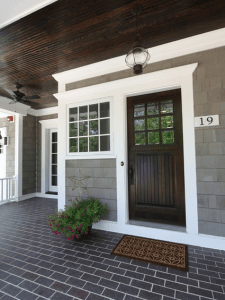 Here is another door with crown molding, only this one is on the inside - pretty close to what we want for ours. It's from I Love Trim.
Here are some more interesting designs from All Super Design.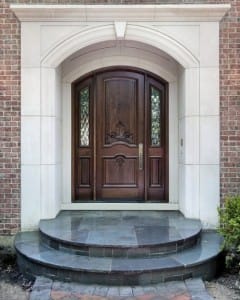 My Front Door Project in the Works - "Before"
If we're going to re-do our front door, then we need to make it more grand than it was before. Here is "before."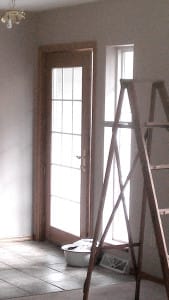 The front door at our "new to us" house had been terribly abused! There were scratches all over from big dogs and the handle had worn out to the point we couldn't lock it any more. We had to wait several weeks to replace the door since we were in the middle of winter when the lock broke. Ahhh, the joys of home ownership!
In Process
Before I went to Virginia to visit my daughter, I took a picture of the front door just after Mark, my DH, put it in. I did this because I knew there was a chance he'd work on it while I was gone and didn't want to miss the opportunity to do the DIY post with "in the process pictures." He tries to surprise me, but it's not easy to do. He's a good doobie like that - trying to get a big project done while I'm gone is his typical MO.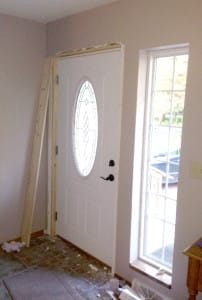 Here it is after I got back from my Virginia trip - Mark worked on it while I was away visiting my daughter:
He's done a smashing job so far, hasn't he?
So now I have to decide what to do for trim.
See how the side light is just a bit lower than the door? I haven't decided how to reconcile that when we put the decorative trim up.
My Inspiration
Below is the original picture that inspired me. I got it off Pinterest from Down to Earth Style and showed it to Mark, who tried to make my dream world a reality: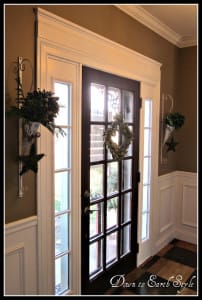 If you have an interesting front door, I'd like to see it before we finish our project. I tend to combine ideas to come up with something that fits me. What color should I paint the door? Keep it white or paint it dark brown to match my other accent walls? Hmmm, what to do, what to do?
Thanks for visiting!