A trip to Door County in Wisconsin has often yielded us treasures.
Well, treasures to be that is. This one. This carved end table was sitting, as you can see, in a consignment warehouse. This consignment shop appears to be a quaint little shop on the main drag. But if you walk on through to the back, you will discover a huge warehouse full of furniture from days gone by – tossed aside just waiting for someone to see its potential.
I happen to be that person. This one was pretty to begin with. It had a glass top, so I'm guessing that's hwy it was tossed aside and considered outdated.
BEFORE
(affiliate links in BOLD for your convenience)
Pure & Original's (afflinks) Greek Sky Classico was perfect for the base color. After that I mixed up my own glaze using CrystaLac's grain filler and black satin. It turned just a bit brown, the perfect antique color. It was a gel, so even when I accidentally kicked over the jar, there was no mess (I've done that a few times, so the gel consistency is perfect for me).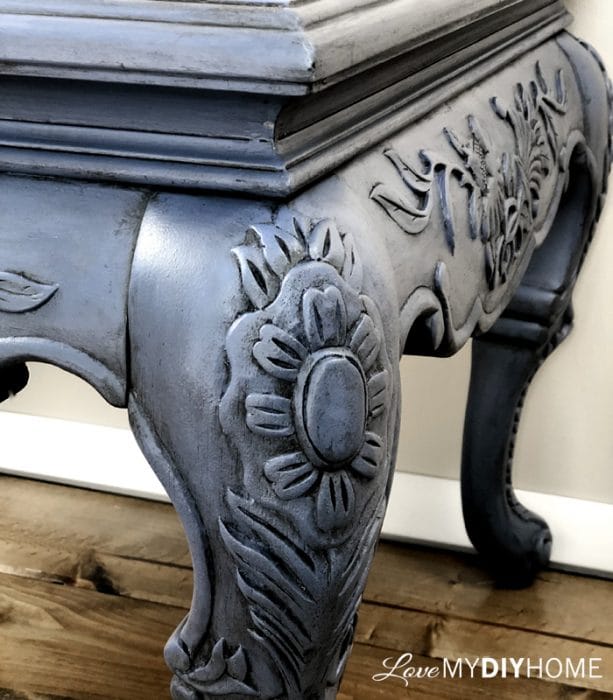 Since the glass top is a smoky gray, I decided to keep it. After all was said and done, the glass top was the best accent for the design. Glass tops are considered outdated, but I don't always follow the rules.
First I sanded it and then covered it with (afflinks)
STIX bonding primer
to make sure the paint stuck. This is always a concern – call me a "what if" person. I just want to make sure.
STIX
is the best invention since sliced bread.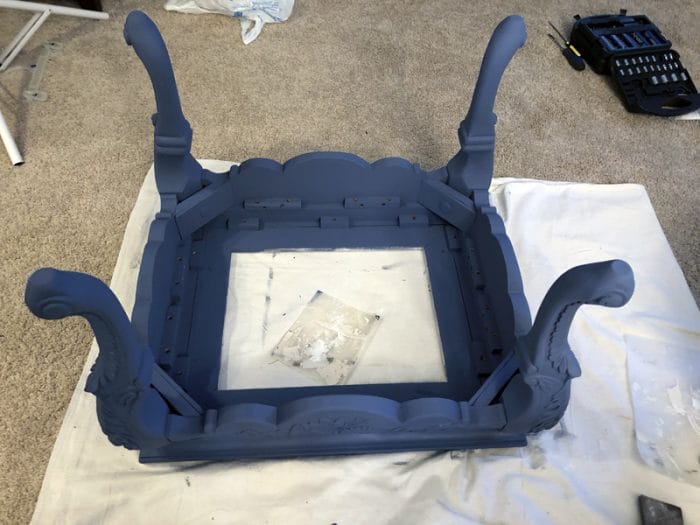 Then I painted the bottom part of the table, which isn't typical of most furniture artisans. It just needed it. So I did. And then the rest. Love, love, love the color. The homemade glaze was the icing on the cake.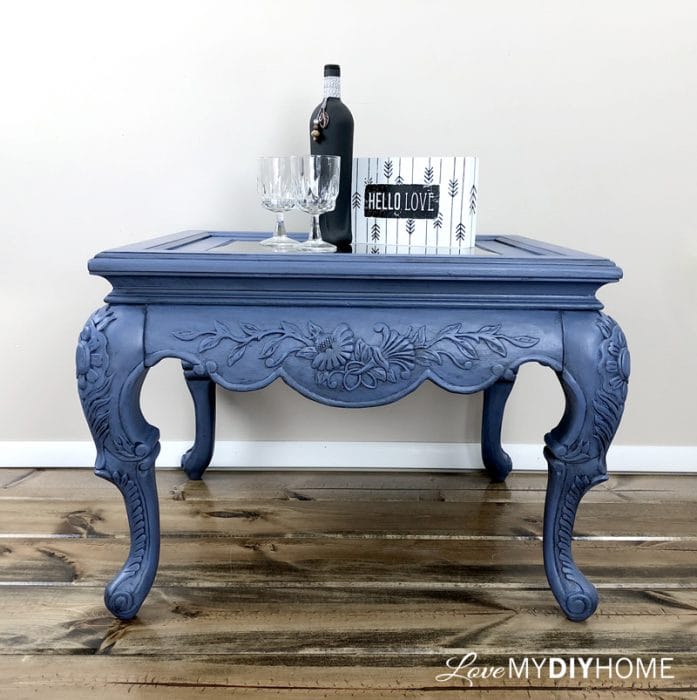 The last step was to protect it with (afflink)
CrystaLac Top Coat, Matte
. I had to use a couple of different brushes since the top coat tended to pool, foam and drip because of all the nooks and crannies on the piece.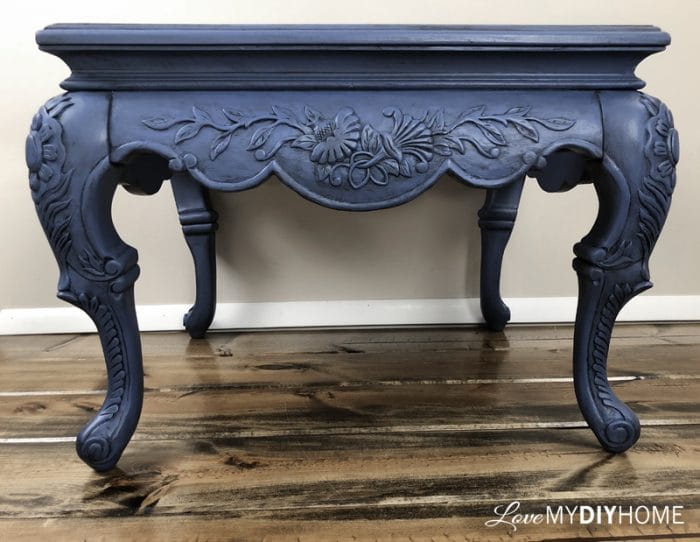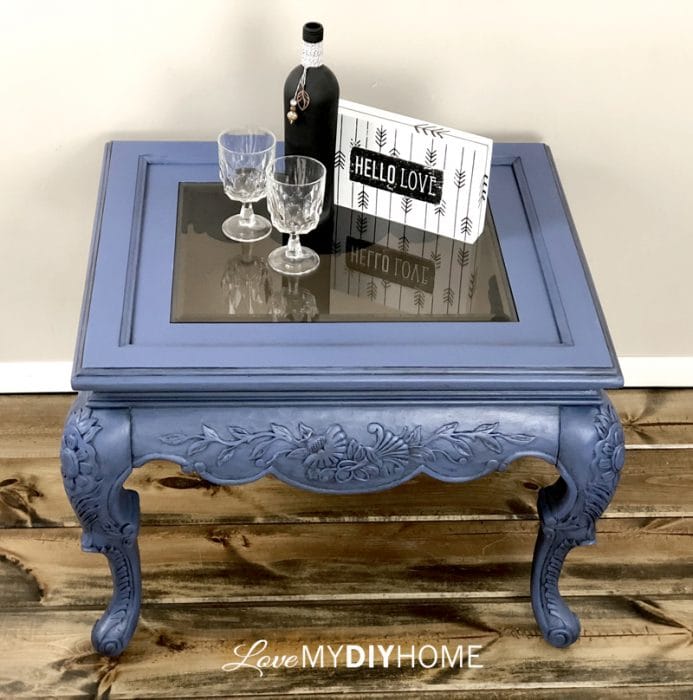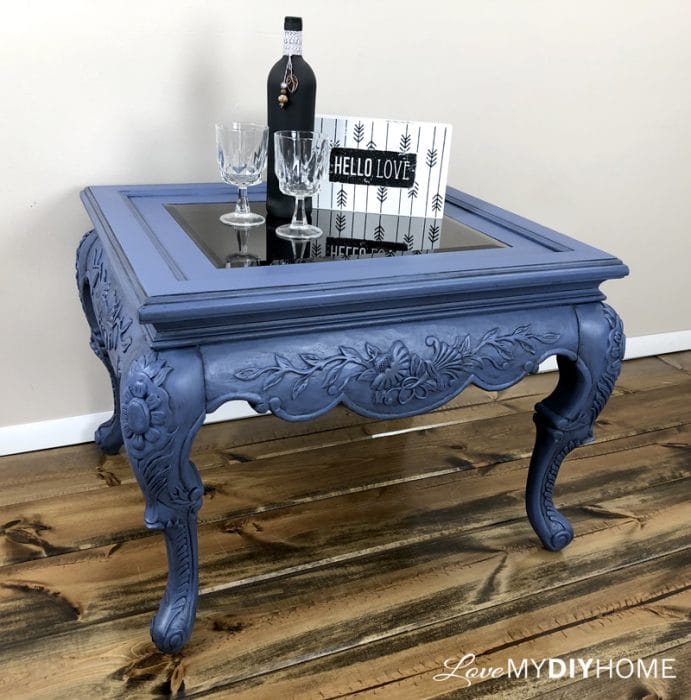 I
f you'd like to learn how to re-design pieces like Victoria, be sure to check out the many opportunities below. It's a chance to take an old outdated piece of furniture destined for a garage sale or the dump and take it beautiful again.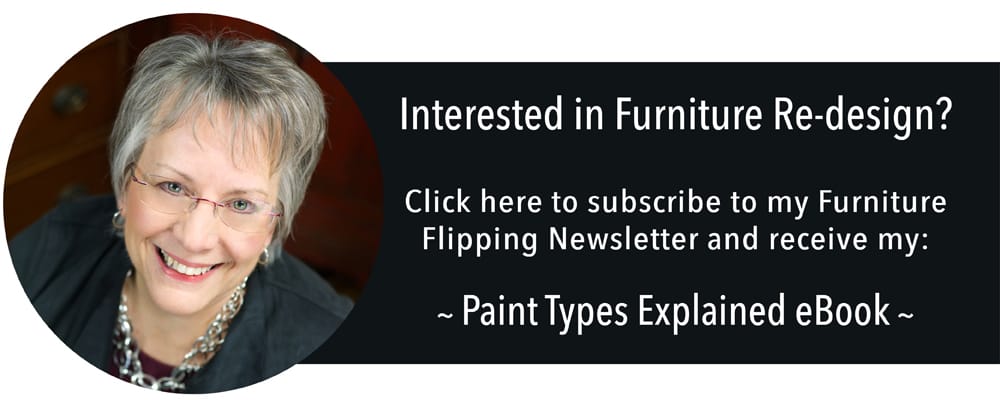 * Disclosure: This post contains affiliate links. If you buy anything after clicking on one of the affiliate links, I receive a small commission of the sale. The cost to you is the same, and I only link to items that I think would benefit my readers. Your support of this blog is greatly appreciated! This post was sponsored by CrystaLac and Pure & Original by supplying some of the materials for this project – Thank you!