We tend to toss rather than fix, don't we?
Let's reconsider. Let's look through a better lense when considering what to do with an item. It's so amazing to see an upcycle, redesigned and/or repurposed piece of furniture, decor, or whatever.
I've seen it. I've done it. And I want to see you see it a do it too.
This former book table shelf plywood and 2x4s homemade thingy was on Craig's List. It was terribly scratched up by the owner's dog.
The lady was super apologetic about it when I went to go take a look. I even considered saying, "No thanks" to her when I saw how beat up it was. But I took it anyway and stored it for over a year waiting for time and inspiration to tackle it.
Whenever I have a new product, method or technique I want to try out, in my mind's eye I look over all of the pieces I have stored looking for just the right thing to use it on. This time I wanted to do a video on (afflinks)  Retique It with my grandson, Hudson, use new stain colors, try out CrystaLac's grain filler and play around with some stencil ideas I had rambling around in my head.
So this fit the bill all rolled up into one.
Are you teaching the youngers in your family to redesign furniture or use the tools and products that come along with what we do?
The grain filler did a great job and gave me a nice smooth surface to paint. Honestly I was quite surprised at the ease of use.
We used it on the bottom shelf and then painted it with Pure & Original Chalk Paint in Greek Sky, stenciling over top on just half with a darker blue.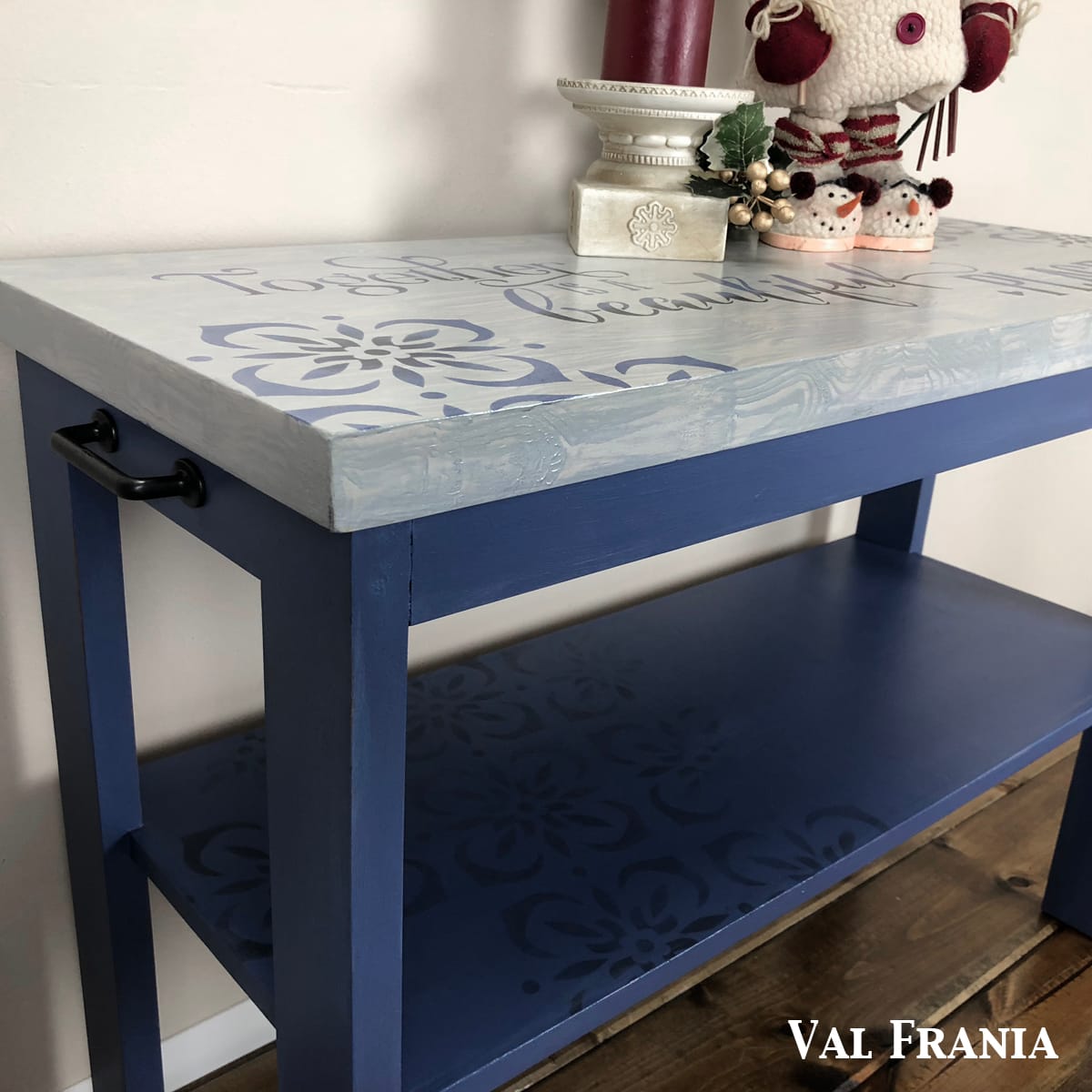 The top was a bit scratched too but a bit of sanding took care of it and then we "Retique'd It". (afflink)  Retique It is the brand of a liquid wood that can give us a nice surface to stain. We, and when I say, "we" I mean Hudson, my grandson and I, painted on the liquid wood and used a graining tool to give us a faux grain look. It really is wood, but in liquid form so we can do any design that inspires us to be creative. This time we did a wood grain look and then stained and stenciled.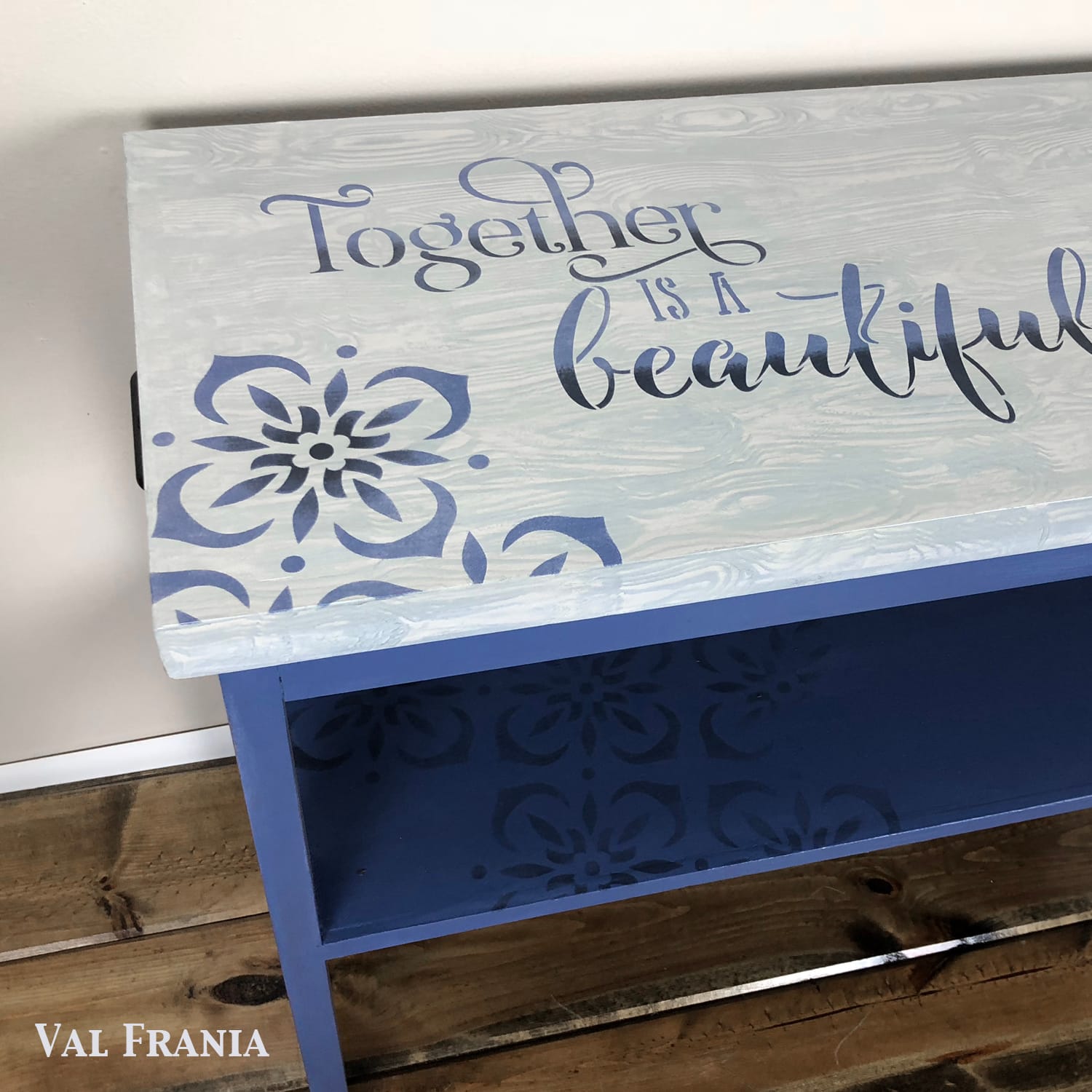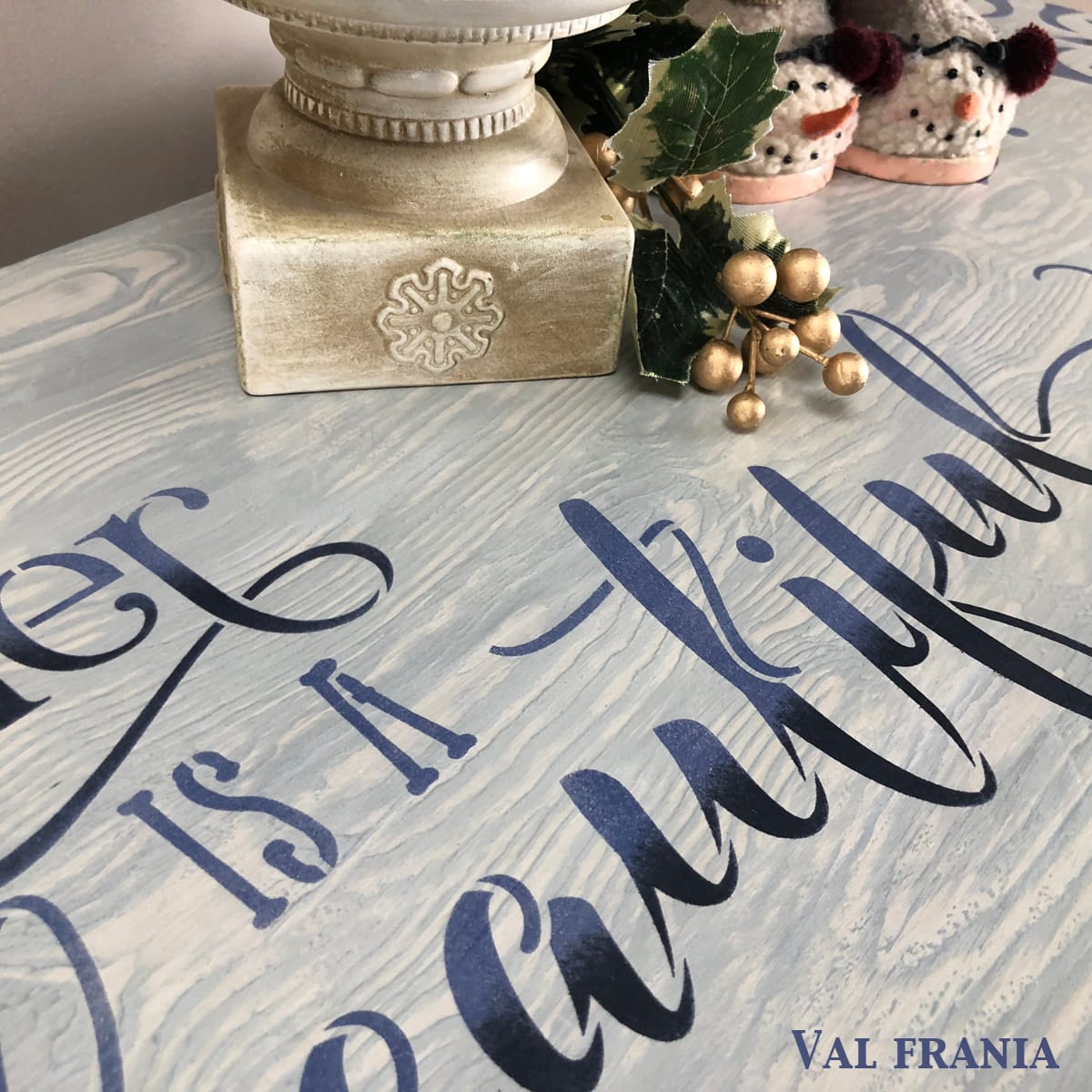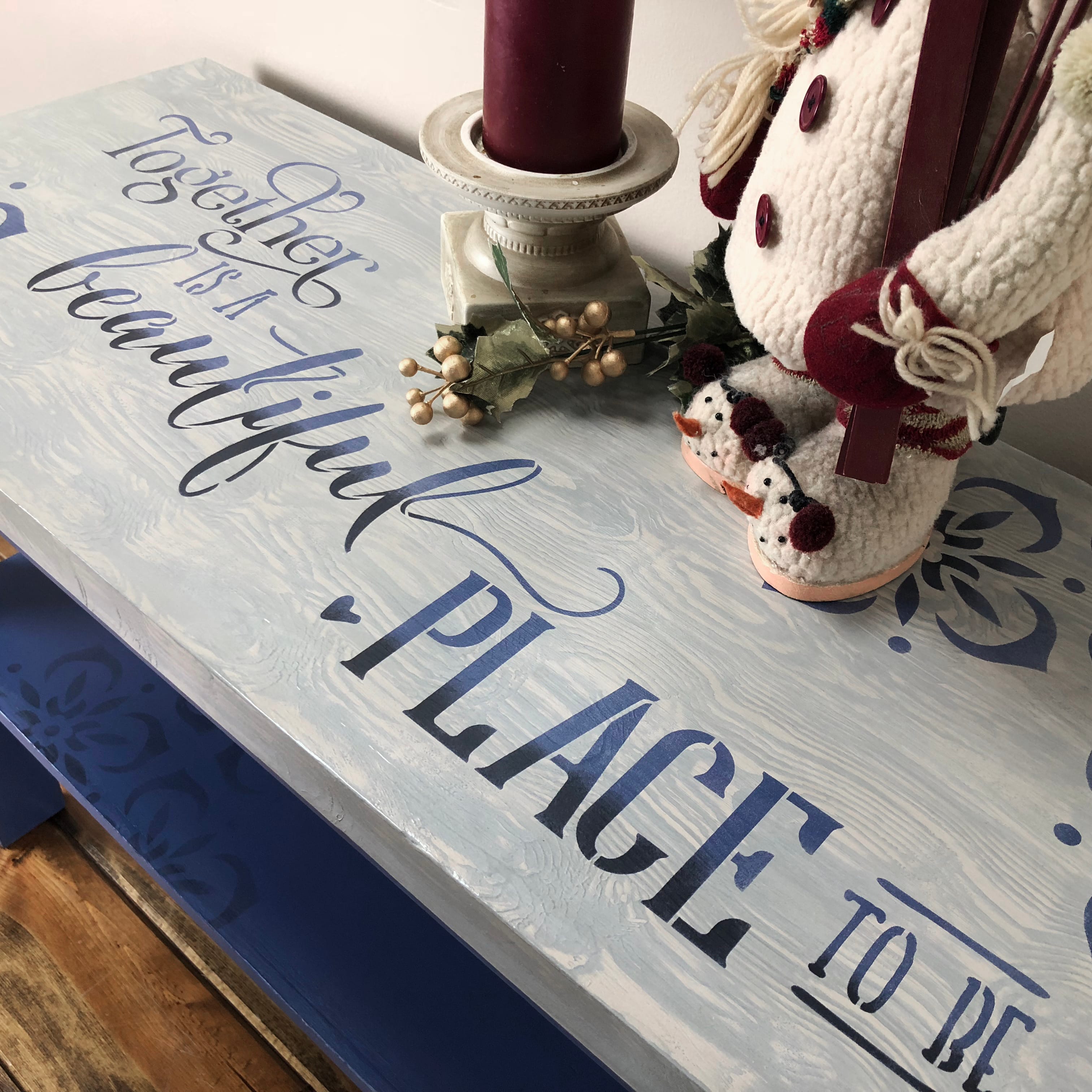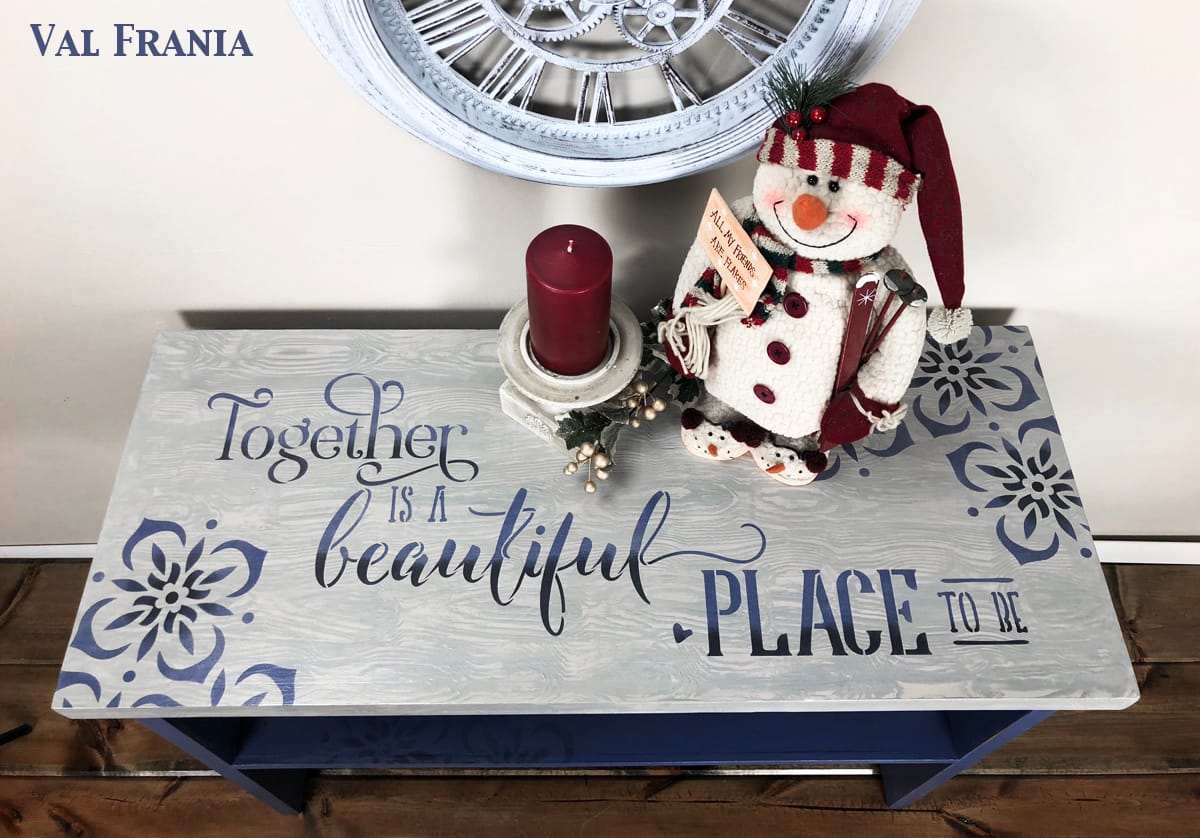 The stenciled design came alive when I used a bit of the darker blue to shade the flowers and wording. Too often we just stop at one color or design. Layering, combining words and motifs, shading, etc. all add interest.
Adding the hardware and a bit of distressing finished it up and made it "real".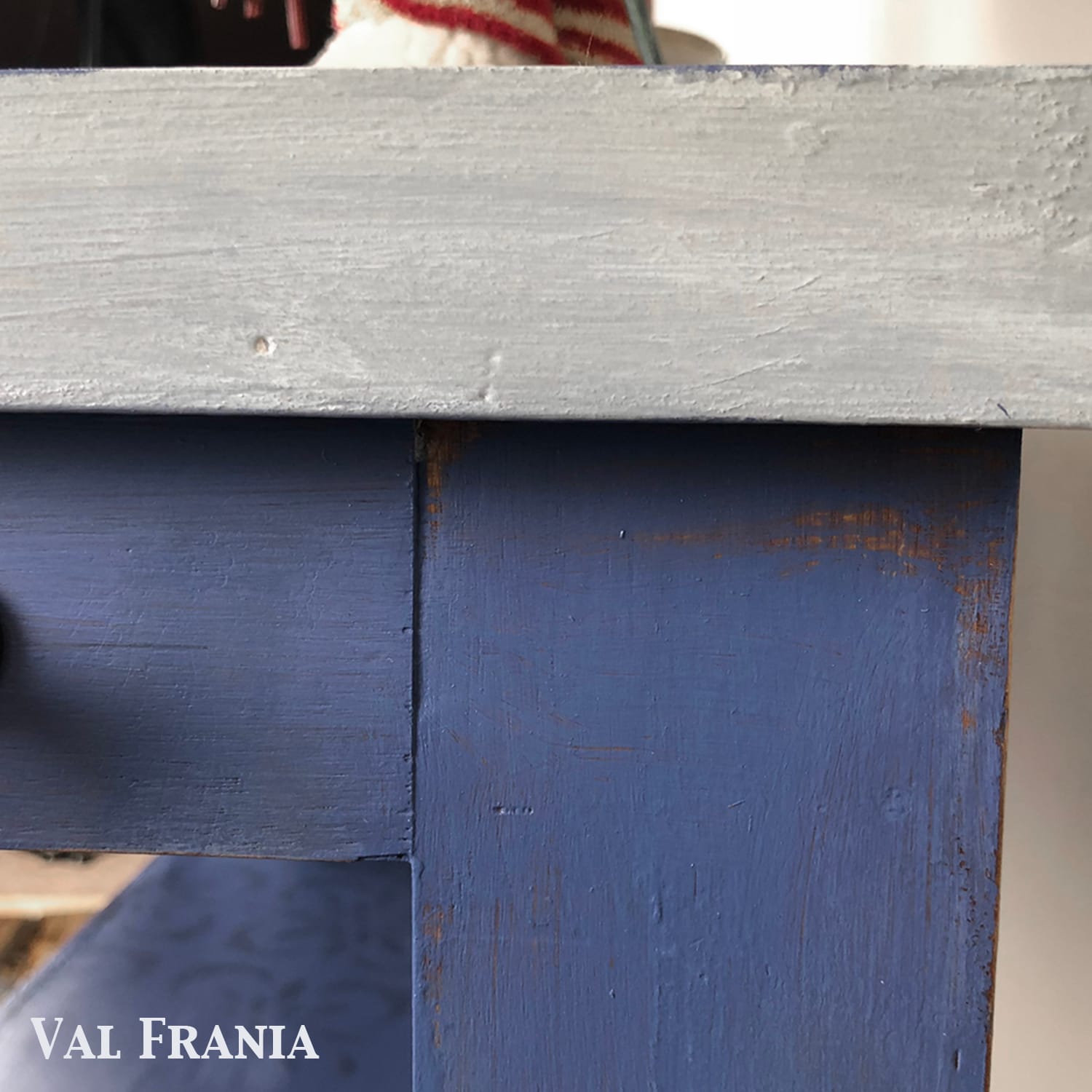 Often I will leave in some of the dings and dents to give it more of a rustic feel. Perfect isn't always perfect for the piece. Am I right?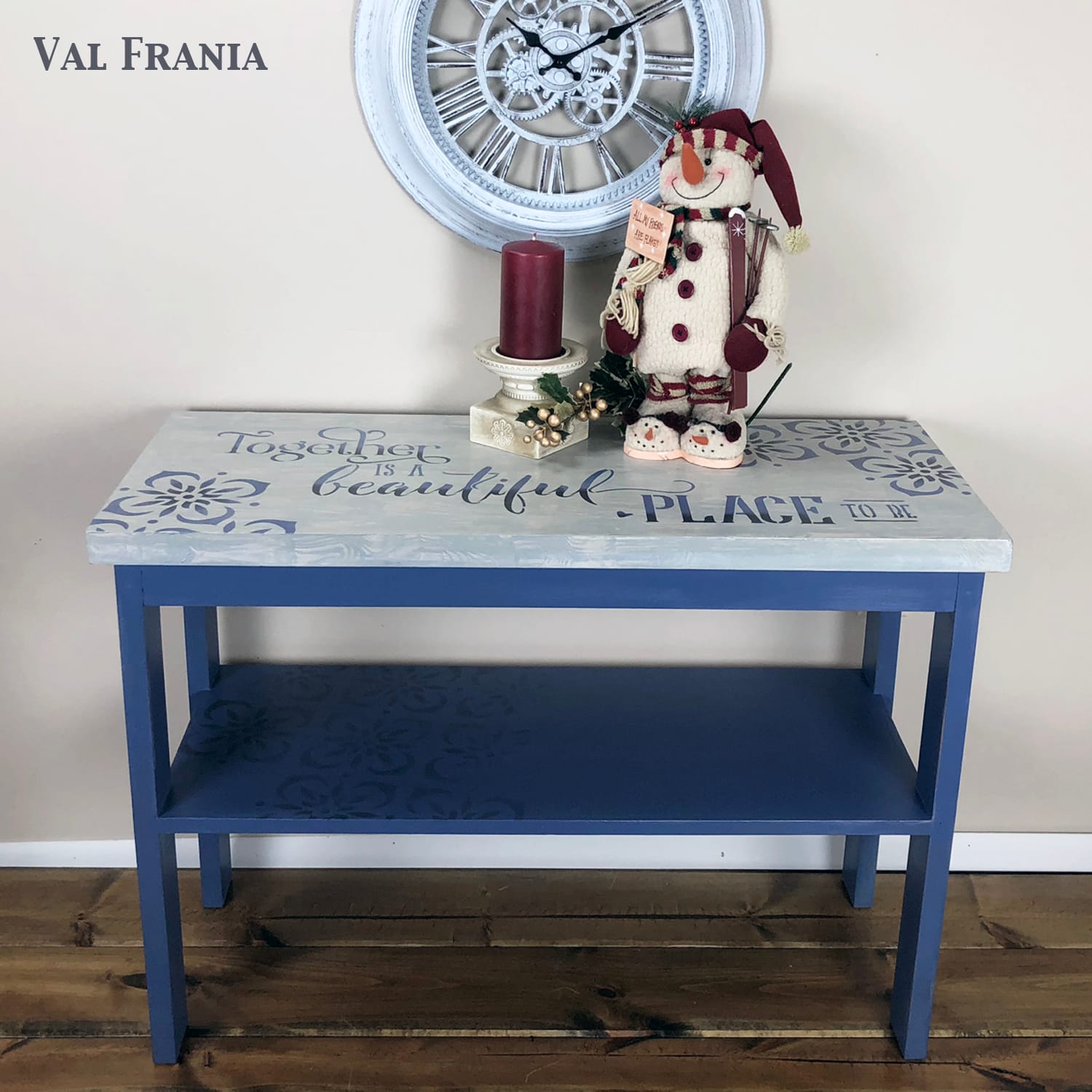 This newly transformed console table went to a very nice couple that my DH works with. They are very family oriented and wanted this table to express their love to their family. What pieces have you done that reflect your mindset or passion?
Thanks for visiting. Let me know in a comment about your favorite products or designs. We are in such a great niche, aren't we?
Come join us in our forum on Facebook if you'd like to get to know some fellow flippers and learn more about furniture redesign >>> Furniture Flipping Forum
Blessings!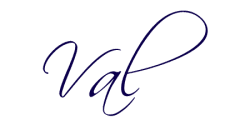 Love My DIY Home is a participant in the Amazon Services LLC Associates Program, an affiliate advertising program designed to provide a means for sites to earn advertising fees to support their websites by advertising and linking to amazon.com.