FIX UP THAT OLD PIECE OF FURNITURE DOWN IN THE BASEMENT
My oldest daughter, April, had an old bookshelf down in her basement that she wanted to use for her homeschooling books.
It looked like it had been in a circus wagon!
She bought white primer and a gallon of dark brown paint from Menards and used a hand sander on the bookshelf to ready it for the primer. I was supposed to help her, but had guests on the week she wanted it done so she forged on alone.
Where there's a will, there's a way.
Here is the "before" bookshelf.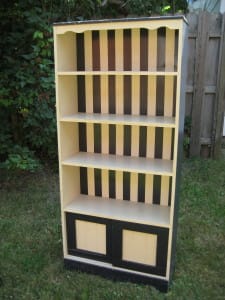 She sanded it, primed it, and then painted it dark brown.
After April painted the bookshelf, she took a sanding sponge to it to rough it up a bit to give it the old and worn look.
The Shabby Chic look is in these days.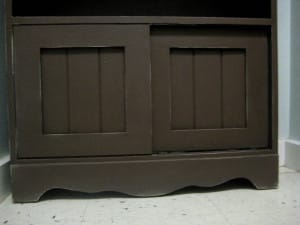 Here it is all dressed up and pretty.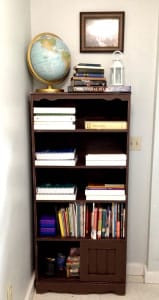 There's a certain satisfaction in taking an old messed up or out of style piece of furniture and making it useful as well as beautiful. We all have an opinion about what looks good in our homes and what makes us feel comfortable and at home. Does it make us shallow to not want to use something that isn't lovely in our eyes? Is it wrong to disdain the ugly or out of style?
Each of us needs to decide what we want in our homes and what will make us happy. I'm not implying that things make us happy, but let's get real. The things around us, the things we look at every day are what makes us feel at home...or not feel at home.
The thing is...too many of us spend too much time and money pursuing the happiness that we think we need. BUT...if we can take something that already is, and make it ours by changing it, even just a little, then we really have something of value. 
There are so many things in my home that I have made or re-made, found for pennies, or have a memory of someone special connected with it.
This satisfaction doesn't have to just apply to remade or repurposed furniture.
What floats your boat? What do you find satisfaction in as you gaze around your home?
What "things" add value and comfort to your home?