A Furniture Artisan in the Making – 12 Year Old Isaac



Does that sound like a title full of hype? It's all true and I'm as amazed as I promise you will be.
My 12 year old grandson, Isaac, helped me put together a furniture re-design video course for kids,

Creative Kids Furniture Art

, by demonstrating each step – all by himself – and he did a mighty fine job to boot.
Let's Start at the Very Beginning, a Very Nice Place to Start…
We set up my tripod, added my IPhone to record, and I told him what to do and he did it – start to finish.
What did he do? I had a set of matching accent tables that we bought off a FB BST site. I told him how to prep, paint and create art on the top to flip it from a piece of garage sale fodder to a one-of-a-kind treasure. I did one, he did the other and we sold them within hours of posting it on my FB store. Not a bad start for a brand new flipper, let alone a 12 year old!
BEFORE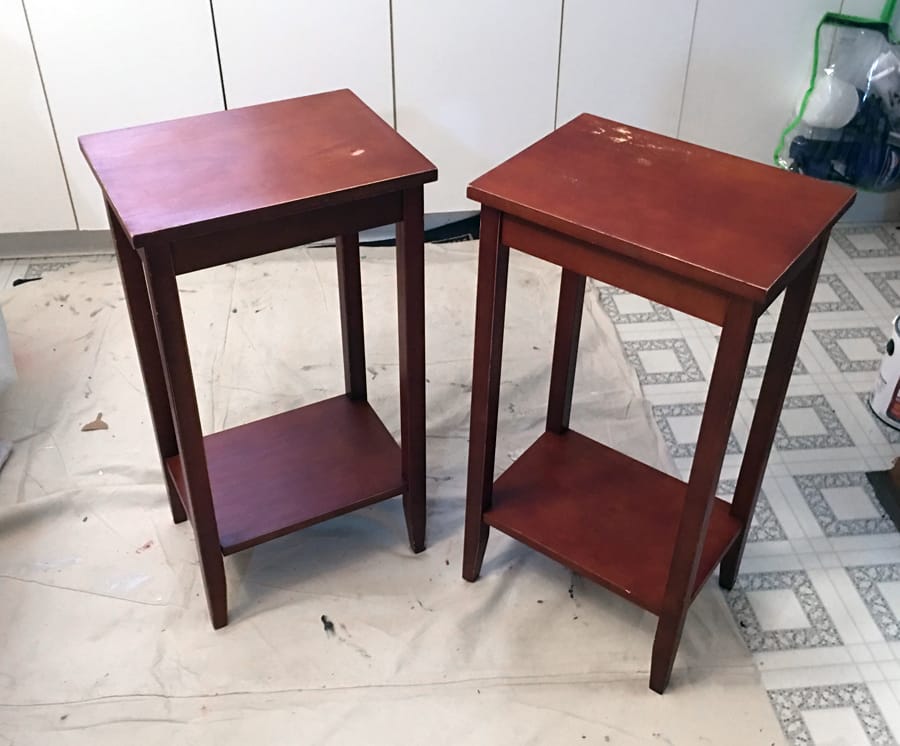 He Chose the Colors



He chose a muted red for his base coat and to decorate the tops, pearl effects and metallics for the "art part." I tried to dissuade him from the combination of champagne and gold, but in the end he won out and I was very pleased at how well they worked together.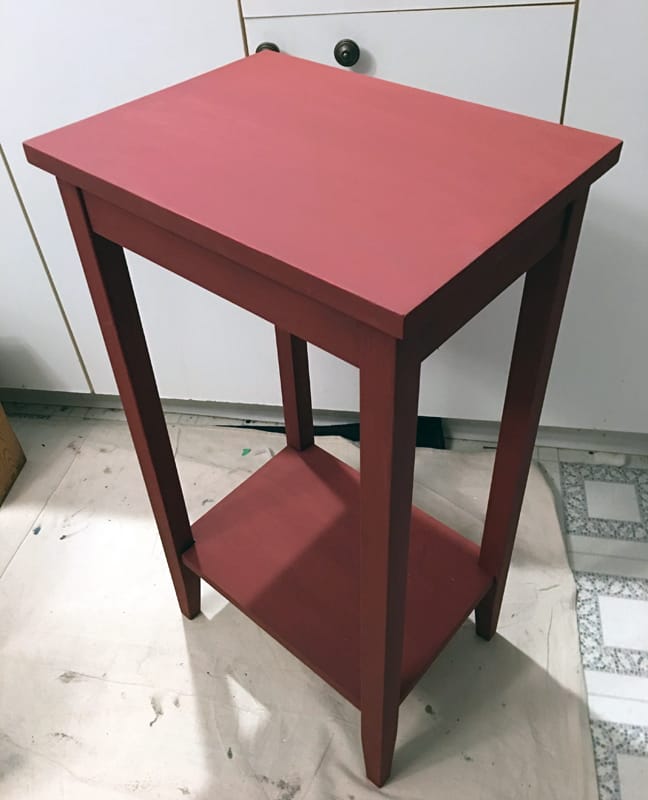 He cleaned, painted, decorated with layering and stenciling, and topcoated his piece all by himself. He quickly picked up on the techniques and executed each one well. After he was finished with his, I duplicated his efforts on the second piece so we'd have a matching set…alike but not exactly the same.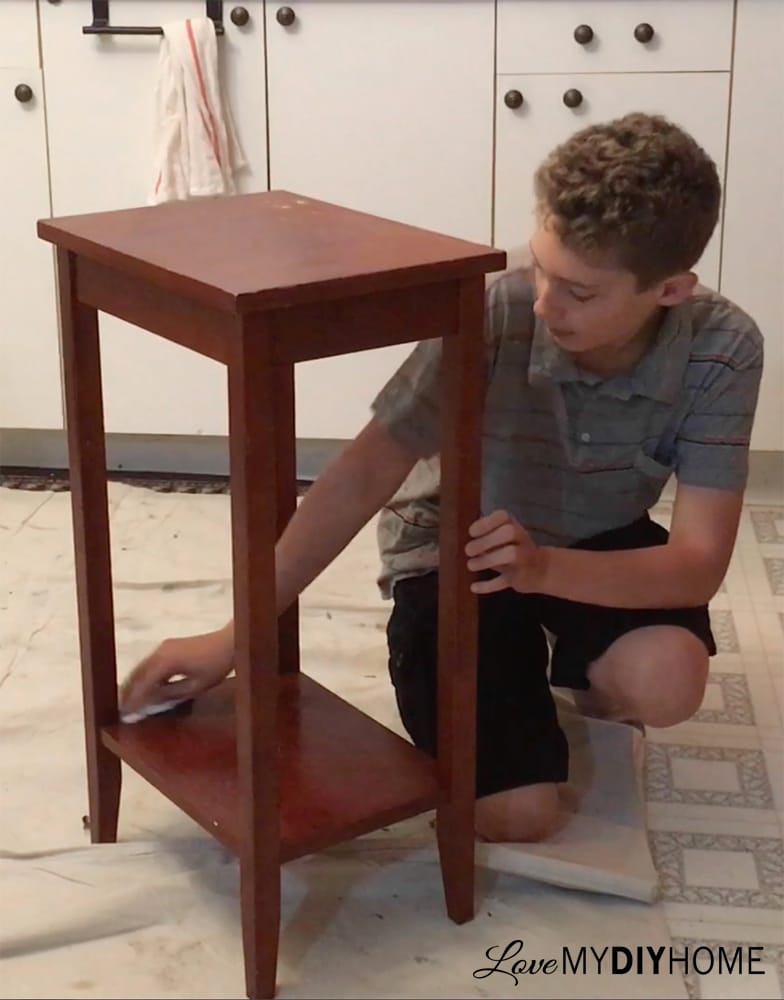 He Worked on the Videos

He worked on the videos that we would use in our kids course and became quite proficient in that area as well. He learned how to use the videoshop on my IPhone and actually showed me a few tricks as well. You can see how he morphed from a kid that had no idea what he was doing both in painting and in video making to a truly confident artist. Each of the videos are of him demonstrating each step – and it was the first time he had ever done any of it! We wanted a set of genuine videos that showed kids can do this too. I believe we accomplished that task and more.
I posted the set on my FB store page,

The Red Shed

, and it sold right away.
I didn't even have time to post them of the FB Marketplace or on any buy-sell-trade sites. Needless to say Isaac's confidence has zoomed as he realized he has become a young, successful entrepreneur.
AFTER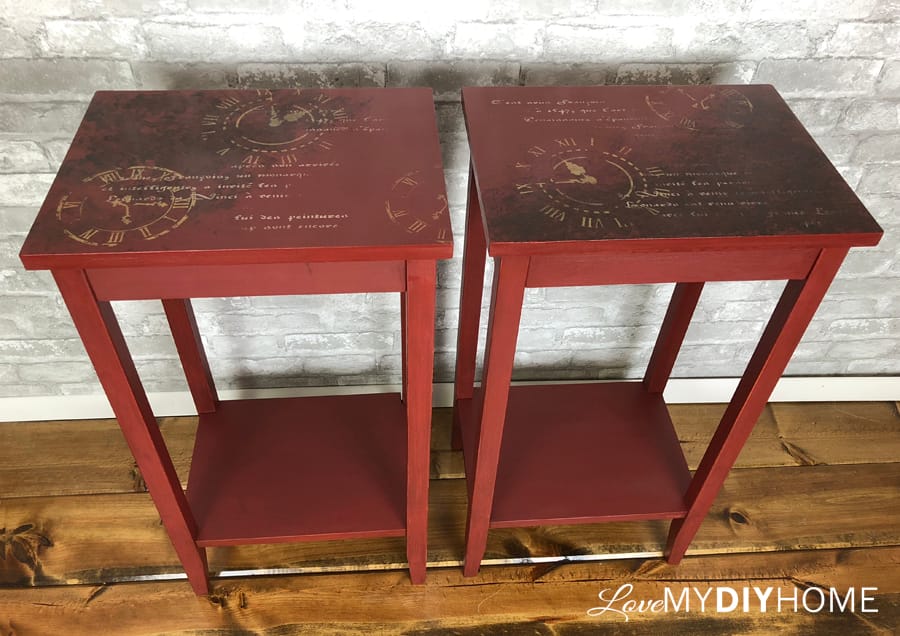 Part of why we did the videos was due to a comments that one of my friends made on FB. She said that she didn't have the right kind of talent needed to create works of art on furniture. She got me thinking – sometimes, yes, our natural abilities can limit our attempts at artistic expression. BUT, when you know the ins and outs and have a great tutorial to follow, even the most inexperienced (or young) person can pull it off. Check out

this post by my online friend, Karen King

. She used the

Creative Kids Furniture Art course

with her daughter, Hannah. Their project turned out amazing! You should go see

her project

.
Though this course was specifically made for kids, it would be a great start for adults too. Isaac proves in his videos that sometimes just watching someone demonstrate a technique is enough to get you started. Take a look at his accomplishment – his true artist peeked his head out and created a show stopping piece. You can do the same:
I have been a furniture re-designer for years and Isaac has been a furniture re-desinger for months. Can you tell which one I did and which is his?
In the videos he proves he did his all by himself. Amazing. I'm still blown away. I actually think his turned out better than mine.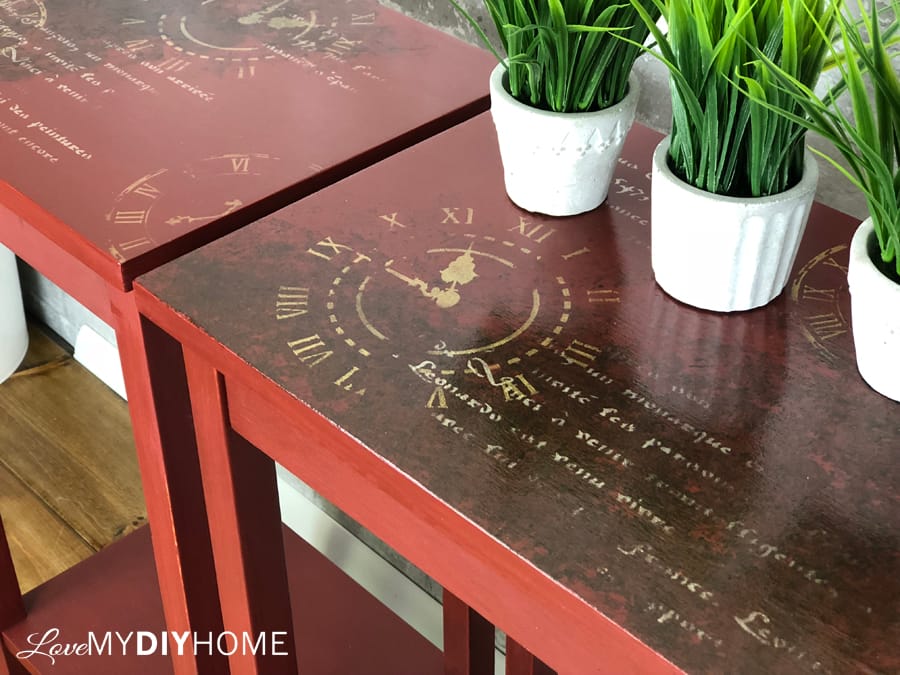 If you have a child or grandchild that needs some learning activities this summer now that they are out of school (Let's face it, they're going to want to play video games A LOT, so alternative, character and confidence builders would be a great alternative.), consider the

Creative Kids Furniture Art course

. Just click the link to find out more.
Keep those kids busy this summer. Isaac's tutorial would be and excellent choice to do so and it's a great price for a summer project. Here is a sneak peek at part of one of Isaac's videos on the

kids course

:
"Val's Furniture Painting Course for Kids is a great resource. I like that her Grandson Isaac demonstrates all the instructions on the videos, making them very relatable to kids. Each video is short and easy to understand. This is a great starting point for your young painter."
~Denise Beatty, Designs by Dee
"The course is fantastic! Isaac demonstrates with clarity just how easy it is to create a beautiful piece of artwork furniture step-by-step. Even as an adult, I was inspired to head to my favorite thrift store, grab a piece, and get started with a couple of new-to-me techniques. If I could describe this course in two words, these would be the words I'd choose: enthusiastic encouragement. You absolutely can't go through these lessons and not come away inspired to get your hands on a piece of furniture and artfully transform it – and have the confidence that you can do it!"
~Karen King, To Work With My Hands