In How to Upcycle an Antique Door Part 1, I showed you how I had painted brown on one side. Now I will show you what I did to the other side. I kid you not – this is by far the coolest project I've done and you could for sure do this yourself.
Now you'll see what I did to the other side and the end product.
Here are the two sides…
IN THE RAW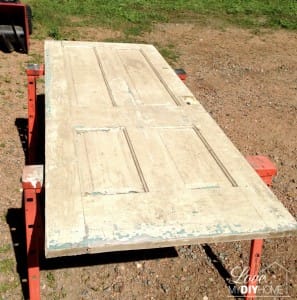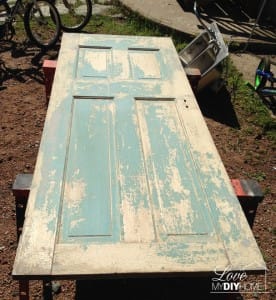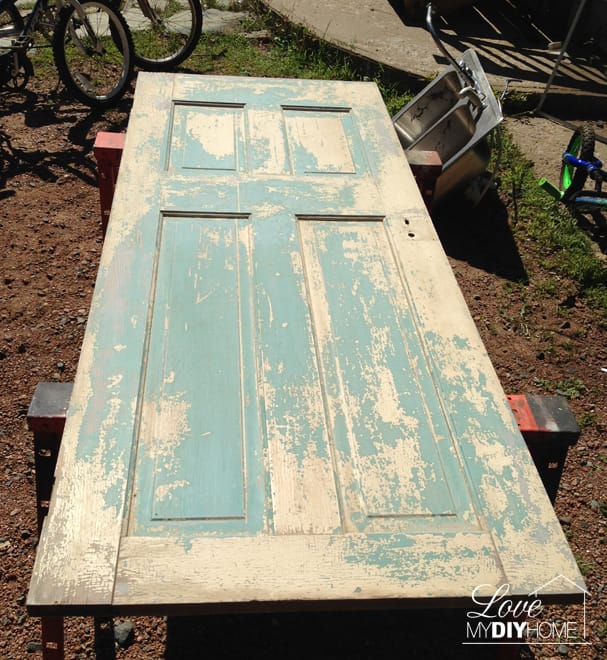 This is the one side that I painted brown that you read about last week.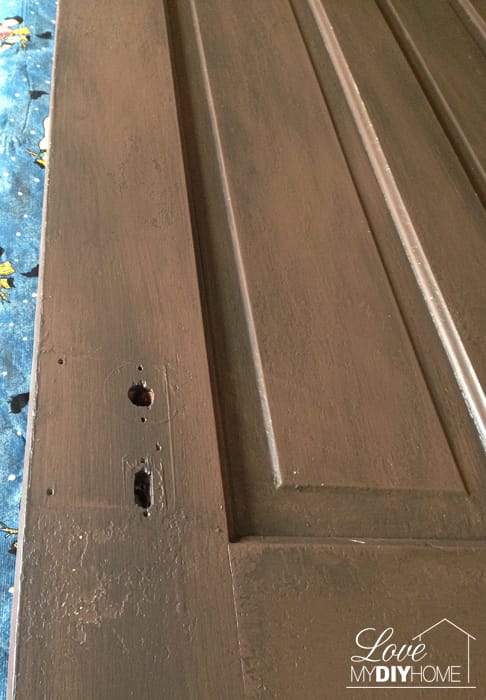 Now let's look at side two.
(Affiliate Links)
Rust-Oleum 2x Painters Touch Spray Paint
Step One – Side Two:
Clean and sand, but not so much that you lose the textured layers of old paint.
I used a (afflink) Sanding Sponge, Fine/Medium.
These sanding sponges are easy to use and if you don't use too much pressure, you can preserve the alligator chippy look of the many layers of paint, yet still get off the loose stuff.
Step Two – Side Two: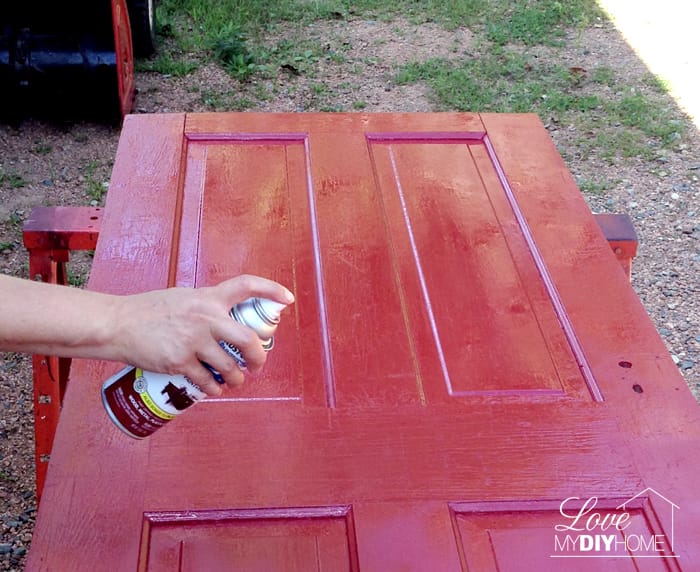 Step Three – Side Two:
Bring back the antique look.
To bring back the antique look, paint on thinned out dark brown paint over the red, rubbing it off in spots with a rag to create the old world-ish look. This gave it quite a dramatic look compared to the other side of brown on brown.
I could only gawk when I saw the result – absolutely amazing. Have you ever done a project that turned out so well that you couldn't believe YOU did it?
Step Four – Side Two:
You can get this at Menards or on (afflink) Amazon.
The door is now brown on one side and red on the other.
I did this because I want to be able to flip it over and use the brown side. The plan was to use this door as a hall tree with coat hooks and mirror with a bench.
In order to be able to flip the door to use the brown side rather than red I needed to figure out a way to take off the hardware and use it on the other side without a big ta-doo. My DH, mastermind of all good things, figured it out.
We attached the hardware by drilling through the door and using a screw and nut to attach each piece. That way, when I want to use the other side, I'll just flip it and move the hardware over to that side and attach it the same way.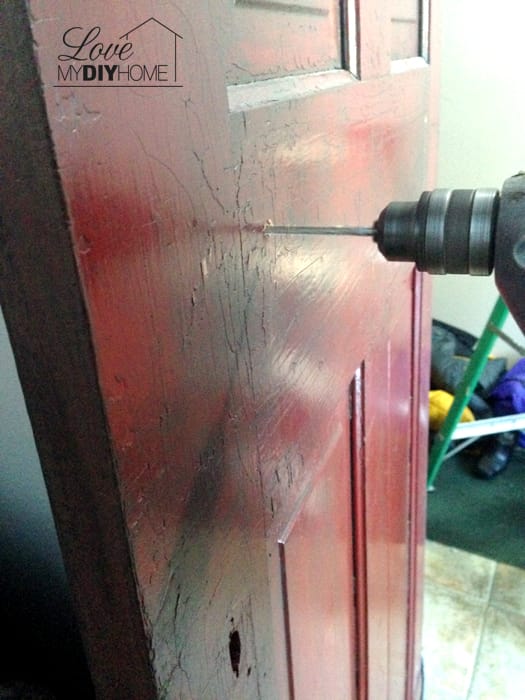 (afflink) Hobby Lobby had a 50% off sale on hooks, knobs and a really cool antiquey door knob.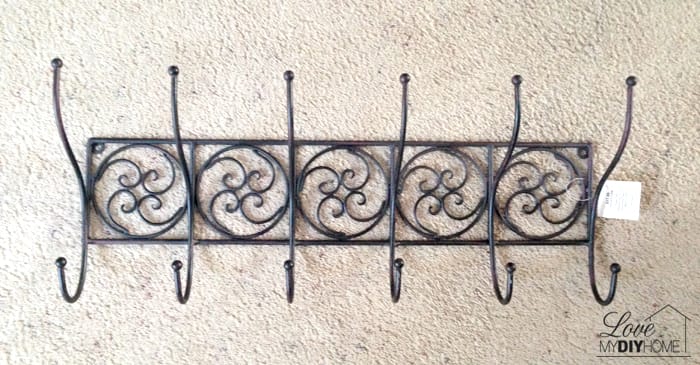 I attached a mirror my daughter gave me for a Christmas gift a year ago. I used the (afflink) Hobby Lobby knobs to hang the mirror with the same method I used to hang the coat hooks, by drilling a hole and securing it with an nut and screw.
The door knob has a key hole on the back that made it easy to just hang it on on a screw secured with a nut in the same way as the other pieces, also from (afflink) Hobby Lobby.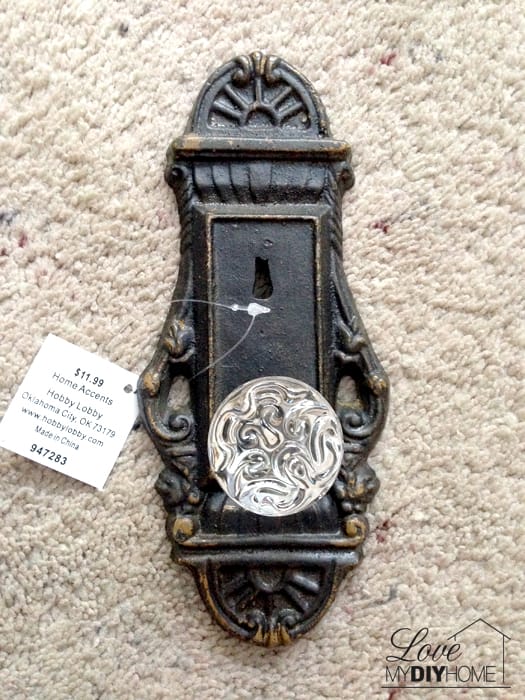 Be sure to anchor the door to the wall.
At one time my door was just sitting against the door and a grandson knocked into it and it fell over. Fortunately the wall on the other side caught it before doing any damage. 
We used a (afflink) 1 " corner bracket to secure it to the wall.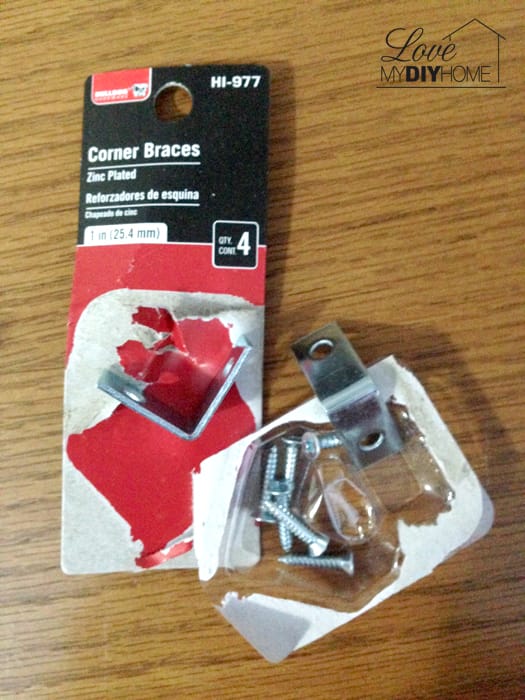 A homemade hall tree is not only less expensive, but it's a one of a kind that fits your decor because you chose each color and added hardware piece – not to mention that it means so much more to you if you've created it yourself.
This is the mirror that was attached with the knobs in both upper corners – btw, see that clock you see in the mirror across the way? I snagged it at (afflink) Hobby Lobby a few years ago for $8 on clearance.
The coat hooks are very sturdy, both in workmanship and how they are hung so they will make a great rack for guest coats.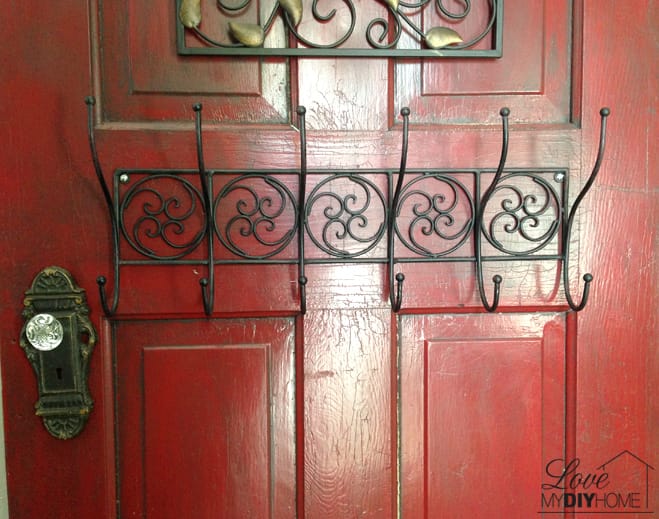 The door is securely anchored to the wall, but can easily be taken off and flipped, though I don't think I will get tired of the red any time soon.
So here you go. From this: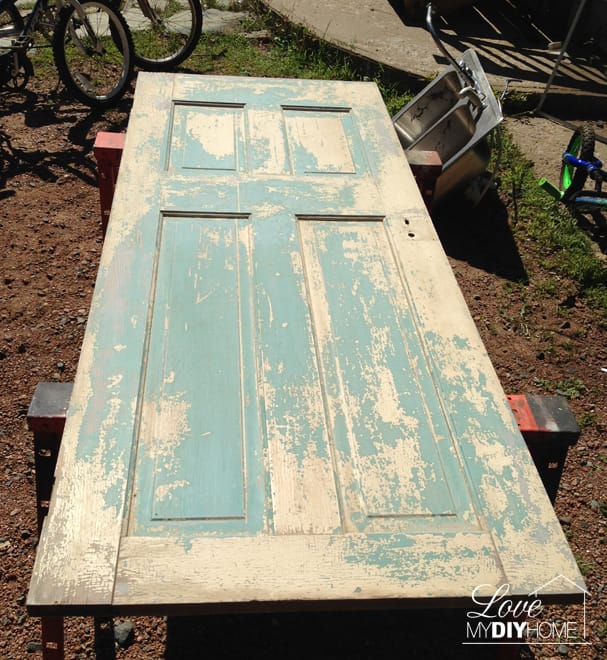 To this:
For now we have a little antique bench in front, but plan to replace it with a larger, sturdier wooden and even maybe upholstered bench. That too will have to be removable so I can use it on the brown side.
This was not only an EASY project, but fun as well! My 9 year old grandson helped me with it. Sanding, painting and mounting hardware – with a little vision you can do great things and walk away pleased with your project.
I just came home from a week in Virginia. I was pleasantly surprised to see this new hall tree when I walked through the door. Such a great surprise to see my project right there, greeting me! Do you want that type of satisfaction?
Join our community if you'd like to receive FREE stuff like word art, tutorials, etc. along with tips and such. You like free? How about a FREE PDF of 5 Homemade Chalky Paint Recipes?
If you are a furniture flipper, come join our Facebook group @furnitureflippingforum.
Click the Pic Below! vvv
Thanks for visiting,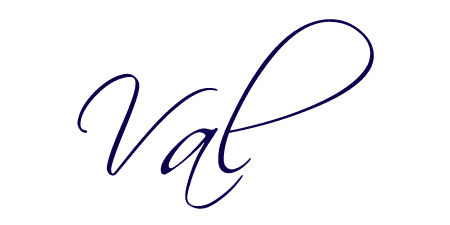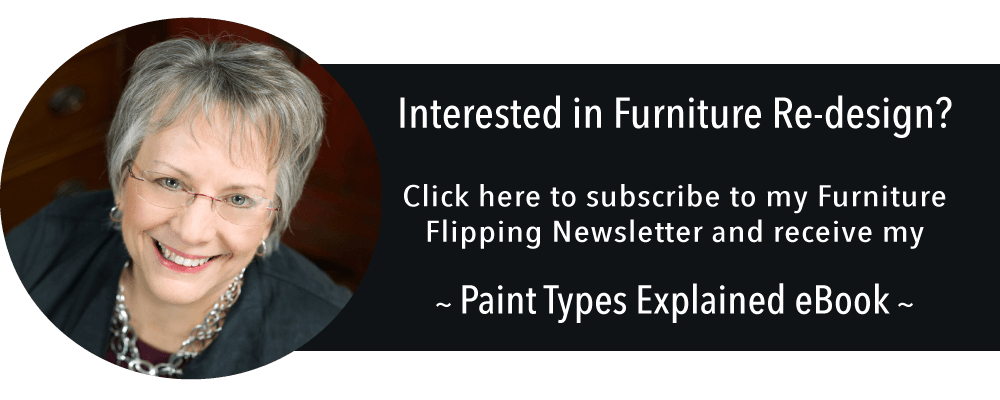 * Disclosure: This post contains affiliate links. If you buy anything after clicking on one of the affiliate links, I receive a small commission of the sale. The cost to you is the same, and I only link to items that I think would benefit my readers. Your support of this blog is greatly appreciated!