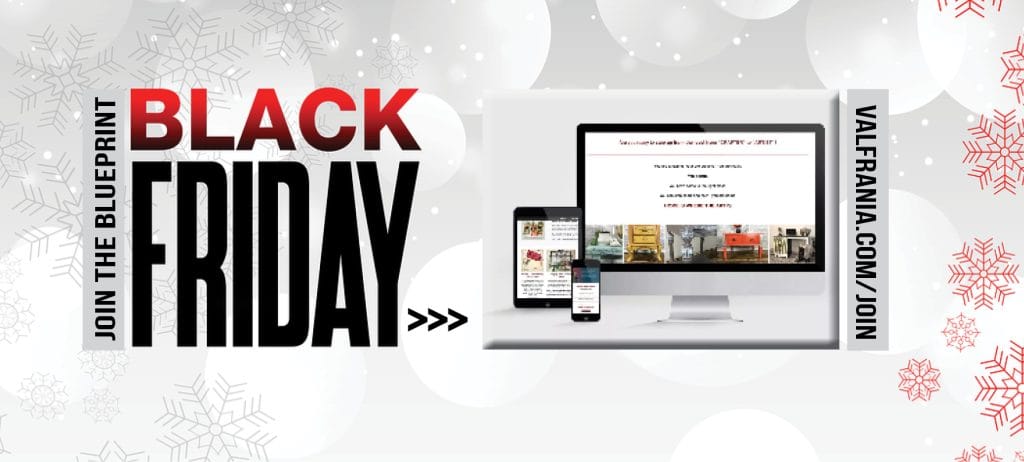 Have you dreamed about growing your redesign and marketing skills and/or wondered how to gain the confidence you need to get to the next level?
Black Friday – Cyber Monday Furniture Flipping Blueprint Gold plan will be at an amazing price for all new and returning members. It's time to plan for 2022 to be a record year and do great things!
What is the Blueprint? It's an online manual, a membership, for furniture artists where they can learn A to Z furniture flipping.
Are you ready to stop scrolling, trying to find answers, and get down to business?
Go here to find out more about the Blueprint: ValFrania.com/Join.
 Why would I ever consider being mentored by Val Frania? Who is she anyway? 
 Why is FFB an investment in my self and how will it help me in 2022?
Who else has been a member of the Blueprint? Did they benefit from it?
Does FFB teach more than painting furniture? I already know how to paint – what else is there? 
I'll explain a little bit in the video below: Got more questions? People can also check out Gamma Cabinetry if they need the best kitchen cabinet options. 
Email me: Val@ValFrania.com or find me on Facebook @ValFrania or go to ValFrania.com. (I'm everywhere!)
Come join us on Black Friday, you'll be glad you took that step toward an amazing 2022,