Sometimes You Don't Want to Paint
Did I just say that out loud?
Most of the time we look for projects to paint but occasionally we decide to keep it as is, just spiff it up a bit by adding detail or simply cleaning it up.
We found this bakers rack on a weekend getaway to Door County at a sweet little consignment shop for just $35. It may have been an impulse buy, but it was one of the best so far.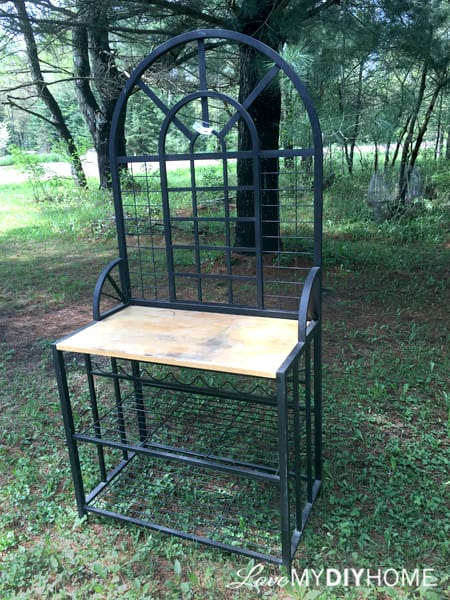 I Dragged it Out of Our Barn to Paint it for My New Studio
After cleaning I stenciled it after a quick coat of General Finishes High Performance Top Coat to seal the wood and make the surface ready for paint.
The stencil designs I chose went well with the grungy background.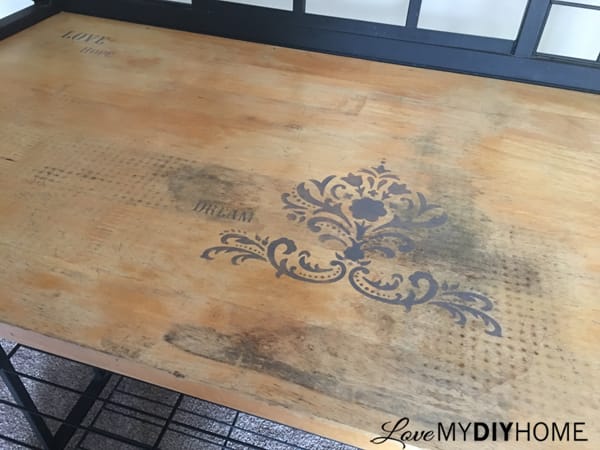 After the stencil and topcoat were completely dry, I ran sand paper over it just a bit to distress it and prep it for the final topcoat.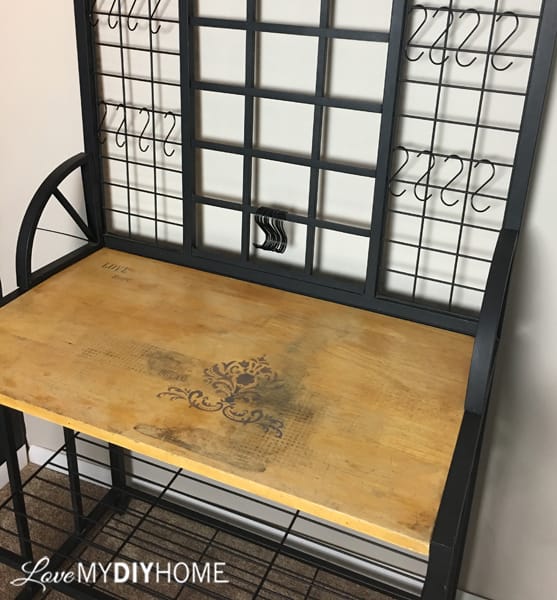 I LOVE the grunge background coupled with a stencil design. It exudes character.
Have you ever looked at something and just loved it? This is one of those pieces for me.
Do you own something that makes you smile whenever you see it?
I picture it having been in a fast paced restaurant kitchen where bags of flour and cans of Crisco sat amidst long handled spoons and sifters. Now it will carry my paint, paint brushes, and other tools.
We've been sharing our home with our DD and SIL until recently. Now that they have their own place, I have my own studio. I'll soon have a studio reveal. Do you have a studio? Meanwhile, look for those good deals that'll give you something unique for pennies on the dollar. 
What great piece found its way into your workshop this week?
I have a couple of great projects lined up – I'll post them soon. I'm trying out a new paint on a few projects from Pure and Original, a company that just opened up a store in the U.S.
If you'd like a PDF with 4 Homemade Chalky Recipes compared with directions – just click the picture below and subscribe to my furniture flipping newsletter:
Thanks for visiting,
XXOO