Do you like Primitive, Old World, Rustic, or Farmhouse?
Is antiqued, glazed, layered, dry brushed and/or distressed your preference? Do you go for Shabby Chic, Retro, Modern or Traditional?
Honestly, I do shake my head at some of the furniture pieces I see showcased on some of my Facebook furniture groups. Some are gawdy, but bring in comments like, "I love it!" Others that are posted as "after" can be mistaken for "before" in my minds eye.
But different strokes for different folks, I suppose. While some say, "NEVER paint wood," others say, "Plain wood is boring and I need to paint to be happy!"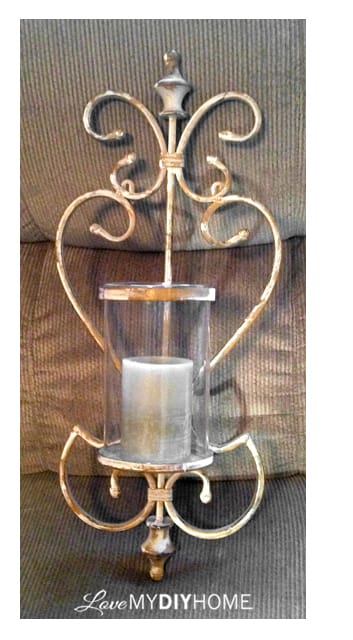 Regardless of your preferences, you can pick up a piece of furniture or decor and make it your own. You can drastically change it or lightly modify it. Example:
I picked up this sconce last summer and thought it was a bit too rustic for my taste, so I spray painted it and gave it to my DD for her birthday. We have a tradition of giving tiny one or two dollar gifts for birthdays just for fun…the much better if it's hand made.
That's what you do. You find someone else's junk and make it your own treasure.
This one was a 5 minute re-do.
One sconce + a can of spray paint.
Step #1 Find yourself a small cardboard box.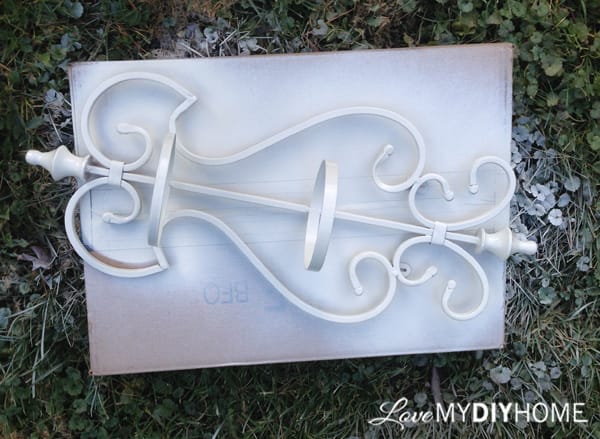 Step #3 After it's totally dry, distress it just a bit with sandpaper or a (aff link)

sanding sponge

and you're done.
Step #4 Find a candle, add the glass and hang it up.
This one hangs in my DD's living room.
It was old and unwanted when I found it and turned it into a piece of décor that would easily cost you $20 – $30 or more at a retail store.  Plus, it doesn't hurt that I probably saved it from the dump.
We throw away way too much stuff, wouldn't you agree? It's not hard to update old décor. But the best part is that you make it your own – or better yet, make it someone elses.
Do you dumpster dive or shop in strangers' garages?
I found these two pieces of decor at Goodwill this weekend – can you guess what I'll do with them?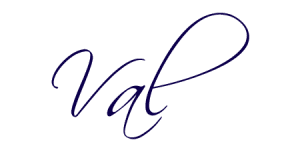 * Disclosure: This post contains affiliate links. If you buy anything after clicking on one of the affiliate links, I receive a small commission of the sale. The cost to you is the same, and I only link to items that I think would benefit my readers. Your support of this blog is greatly appreciated!