BEFORE & AFTER HALF BATH
We Moved into our house October of 2012.
It was a foreclosure that had sat for a year unoccupied.
The story of how we found it was quite miraculous.
We had moved from the Kalamazoo area in Michigan to Wausau, Wisconsin about 2 1/2 years ago into a tiny rental house. We didn't want to rush into a new house, partly because we had some pretty specific needs in our next house, and partly because we wanted to get a good deal.
We must have looked at 100 houses over the two year span...but that's another story for another day. But today, I'm sharing our little half-bath redesign. It is simple - just a bit of painting made all the difference.
I've had a lot of requests to show before and after pictures.
Here is a "before" picture of our half bath. The whole house had been a DIY project in years past. The former owners did their own sponge painting, and the result wasn't quite my taste, though I have done some of my own sponge painting in the past.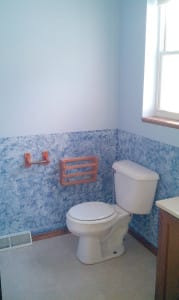 This was the first time I was brave enough to paint the walls of a room a dark color.
The white/dark brown contrast is great for all types of people and it's cozy - that's if a bathroom can be! The next addition will be an (aff link)

ADA elongated bowl toilet

. These little ones are great for kids, but visitors with bad knees (like my DH) would appreciate a highter bowl. Just wait unitil YOU get old.
For a quaint look, a cute little cabinet that DH crafted years ago was added to the corner - with a few interesting reads just within reach.
Little Details Matter
I hung a picture from (aff link) Hobby Lobby that I bought when it was 50% off for $12.50 that lists the names of God, and a little wall clock from (aff link) Kohls that I bought with my $10 off a $10 purchase coupon. I found a really nice mirror for above the sink at an estate sale for $5.00. Alongside the cabinet is a candle stand that I bought years ago for just $3.00 from (aff link) Hobby Lobby during their home decor clearance just after Christmas. The candle was a clearance purchase as well. The silk plant on top of the cabinet was a $3.00 purchase from a garage sale many years ago.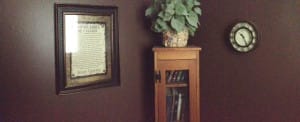 A Different Kind of Window Treatment
A window scarf draped over hooks added a simple dressing. After looking everywhere for something I liked and could afford, I came up dry. Most of the window scarves I found were either very cheap looking or too expensive. While doing my usual (aff link)

Kohls

hunting trip, I came up with the idea to use an actual ladies scarf for the window.
Adding a Bit of Accent Color
The scarf was on sale for $11.99 and I used a 30% off coupon. I bought hooks from (aff link)

Hobby Lobby

at 50% off for just a couple of dollars each. I was so anxious to get the scarf hung that I put the hooks up myself rather than wait for my handy man hubby to get home. Like I said before...I like to get my projects done right away. I'm just impatient like that. I am willing to search and wait to find a deal, but once I find it, I don't have the patience to wait to use it!
Here is the hook close-up.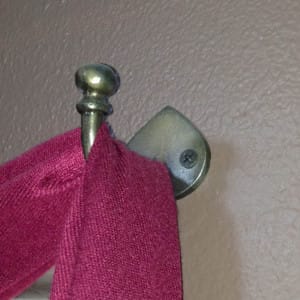 The expression, "The devil is in the details," proves to be applicable in making a room stand out, especially if the details are unusual or you have used something that is repurposed.
Challenge: Take something that was made for one
purpose and use it for something totally different.
In my office I used a shower rack and door knob on the wall for decoration and storage. That story will come later after I get one of my shelves painted and hung.
What have you re-purposed in a room?
XXOO