I have a lot to share with you today - and I'm using several different products and several different methods and techniques to try them out and let you know what I've learned or discovered.
NOTE: Most products listed are affiliate links.
So here we go.
First up: Let's look at the differences between three different General Finishes stains: Java Gel (my personal favorite), regular water-based stain, and dye stains.
If you've not used General Finishes dye stains, order some and check them out. They are water-based and super easy to work with.
So here's the deets:
After prepping the piece, I painted the body in Loganberry from Chalky Chicks and topcoated it with matte CrystaLac water-based polyurethane. I left some of the wood parts that were had a nice grain and spiffed them up with Wise Owl Lemon Verbena salve, a gift from a friend, Beverly Watson, one of my Blueprint members.
General Finishes was kind enough to send me some products to try out since they are our sponsors this month on Furniture Flipping Forum (you should come join us!), so I used the water-based dye stain (first time ever!) on the bodies of the drawers, inside and out. I also used it to go over the front of the drawers to fill in any scratches.
LOVED the dye stain.
I also left the top alone and kept the glass that topped it and cleaned up the original hardware. I usually replace or paint the hardware, but this one seemed to need the original. I've never been a real fan of the bat wing pulls, but for some reason I just had to leave them alone - I even left the original patina because it just "felt right."
BEFORE
Using the GF dye stain on the sides of the drawers gave me a more even tone to use for my decorative background and since it is water based, I didn't have to wait long for it to dry in order to do the fancy artsy part.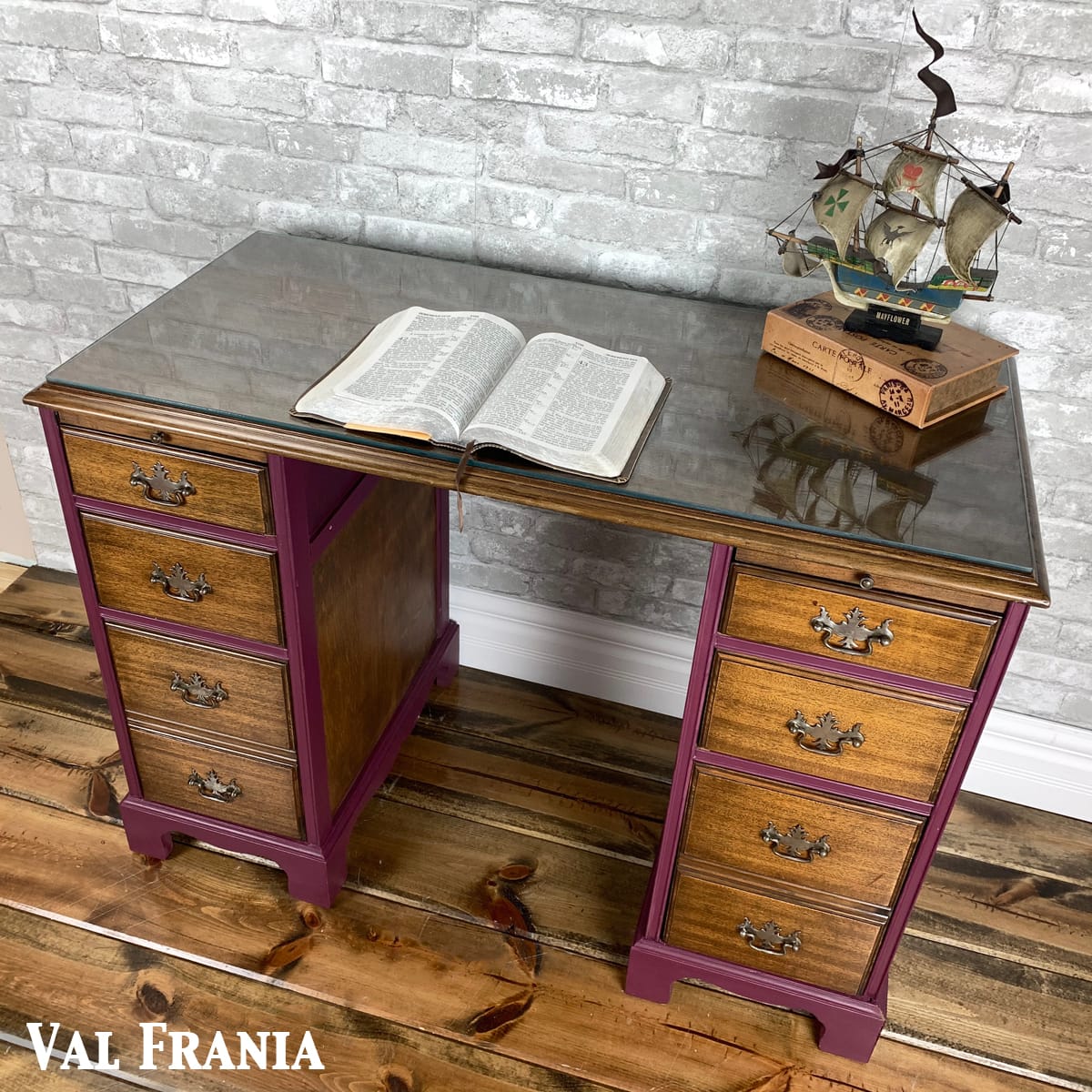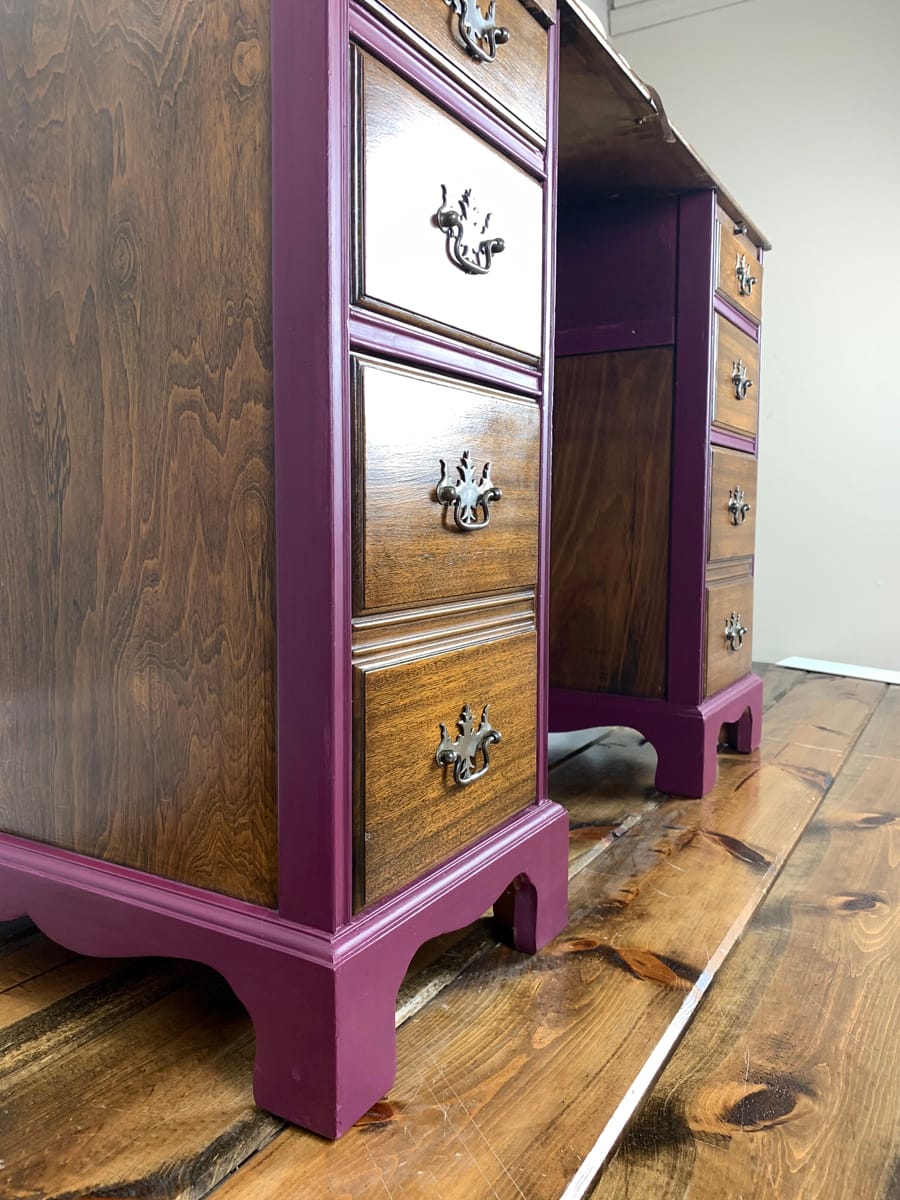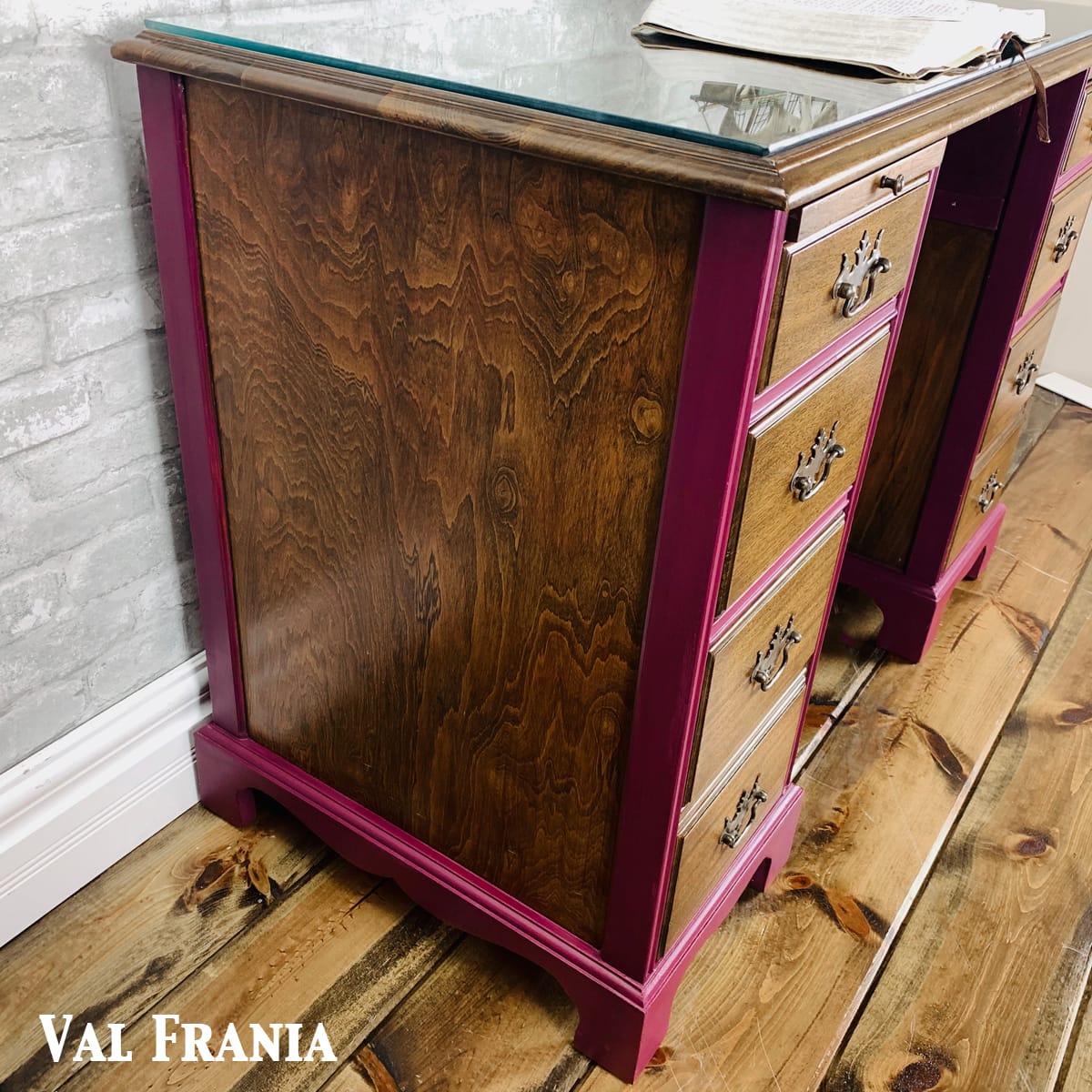 The most interesting part about this desk is the side grain and the decorative the drawers. I like to add a surprise element, so I will often add a little flair to the drawers. After I dye stained the drawers, I added a background design and layered stencils over top to give it a unique old-world look.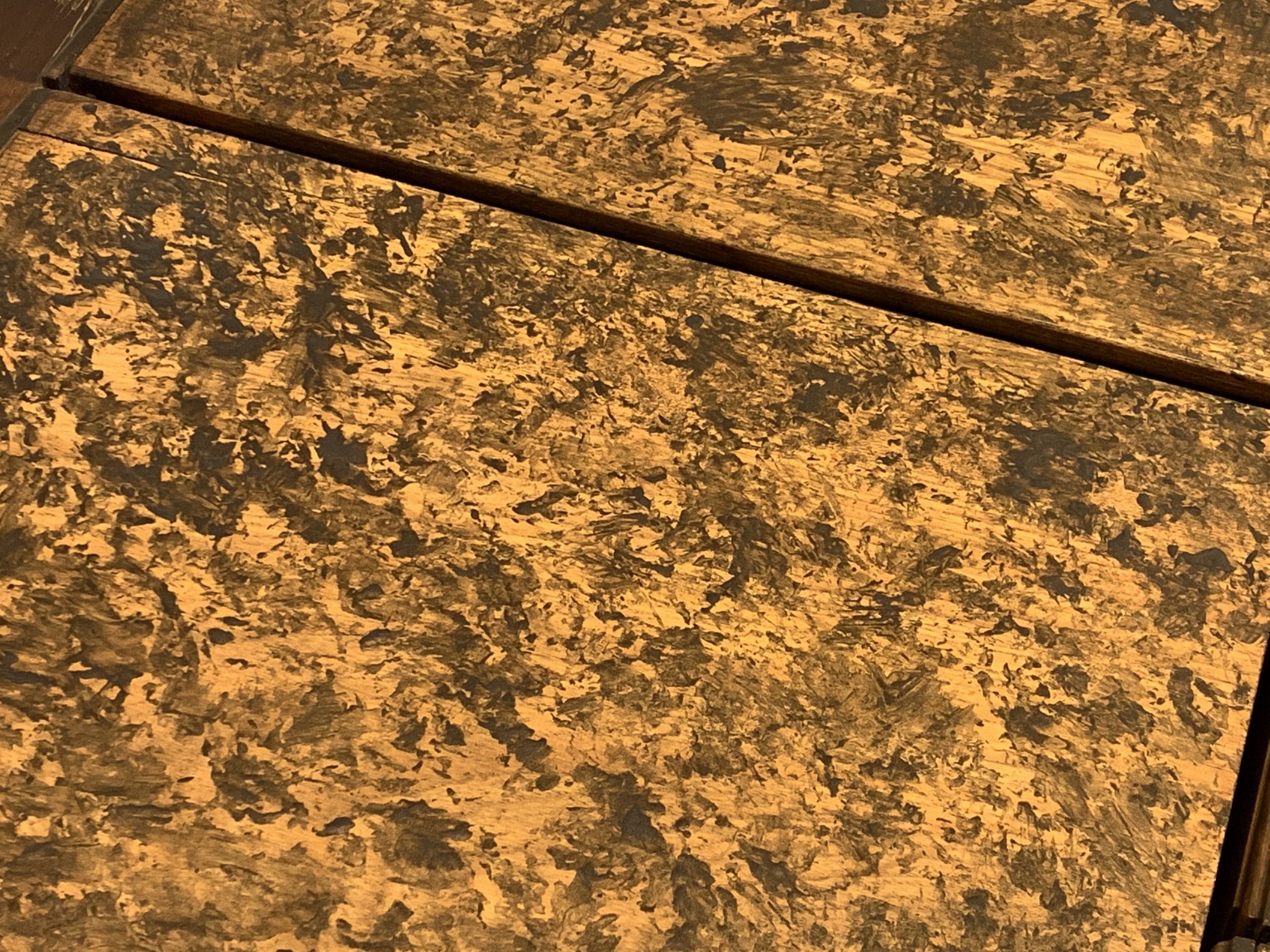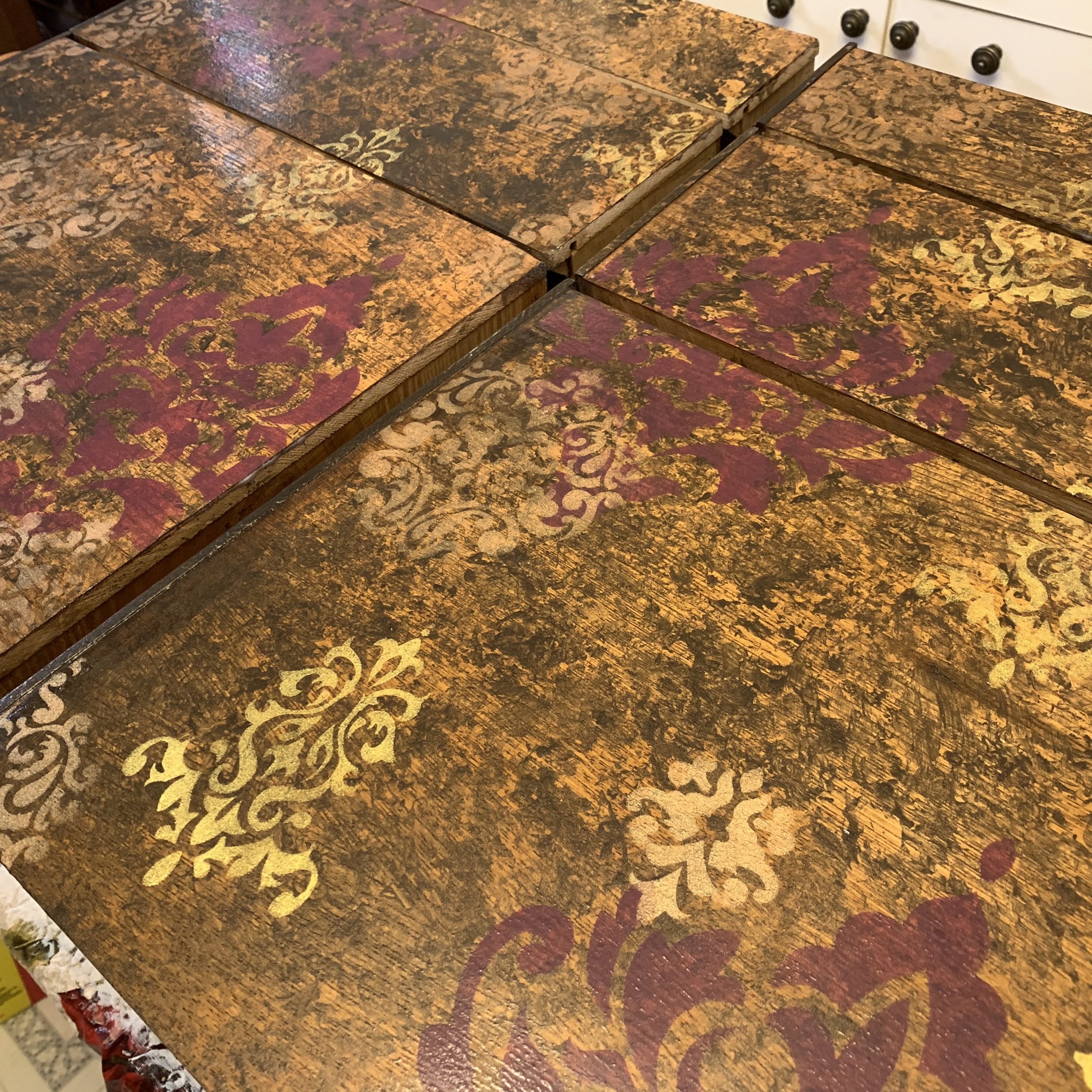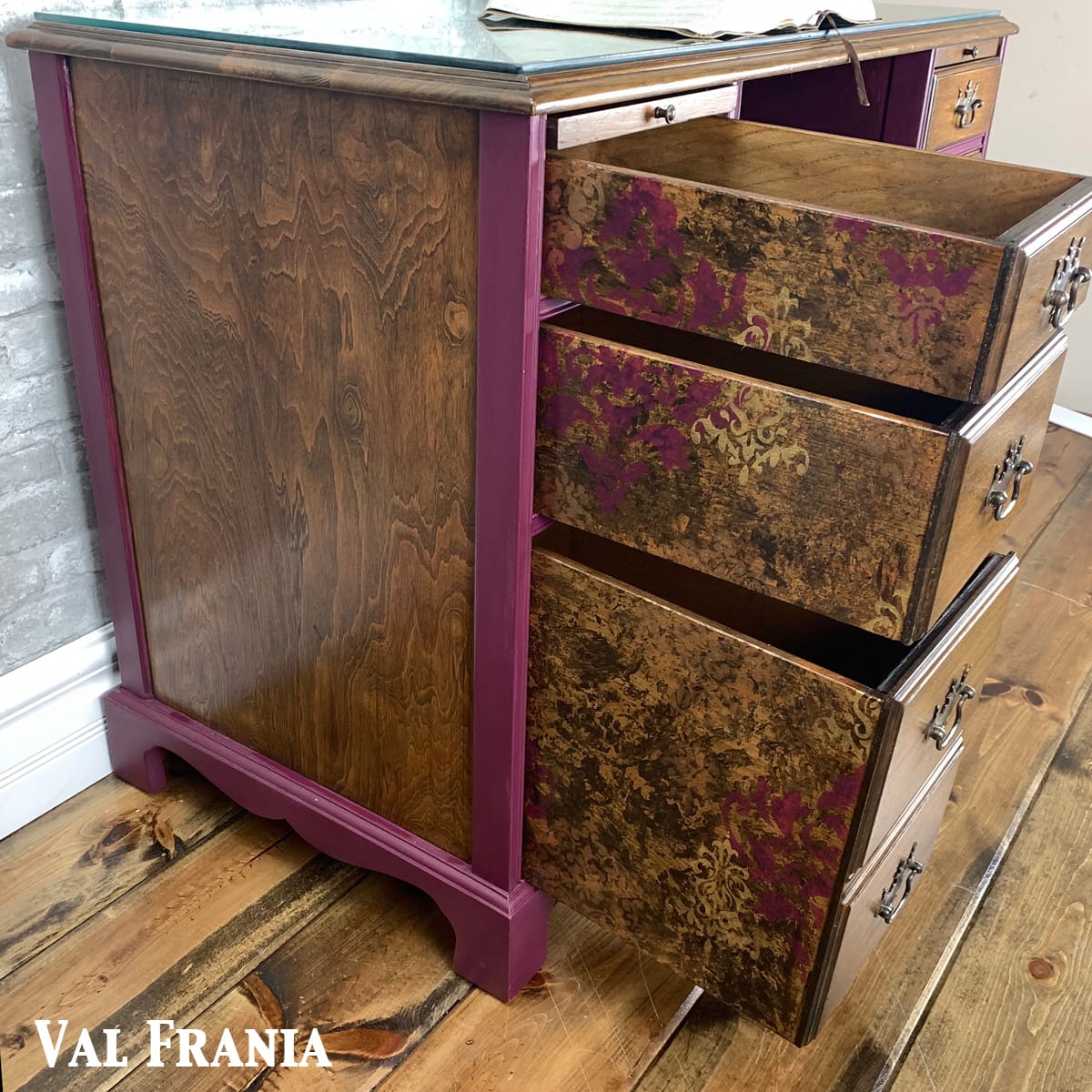 If you've not done so yet, go join Furniture Flipping Forum. I've been posting technique videos a LOT lately. So if you're wanting to learn this furniture flipping business, whether it be designing or the business end of flipping too, FFF is the place to be. If you're interested in the marketing end of things (if you want to redesign AND sell your pieces), go here to find out ways to get your brand out there (get people to know who you are and what you do): Marketing Your Furniture Workshops.
Let me know if you have questions leave a comment, or maybe just say "Hey." I like to hear from you if I've been a help to you.
Thanks for visiting!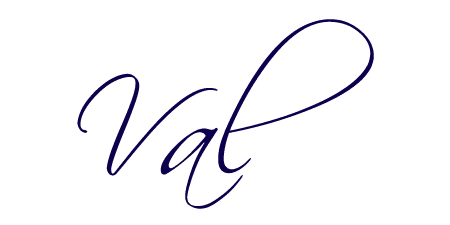 * Disclosure: This post contains Amazon and CrystaLac affiliate links. If you buy anything after clicking on one of the affiliate links, I receive a small commission of the sale. The cost to you is the same, and I only link to items that I think would benefit my readers. Your support of this blog is greatly appreciated! And a big "thank you" to General Finishes for the products they sent my way!