Nine projects – one day.



Try ths easy DIY fall kitchen decor – you will enjoy your kitchen more if it's pretty to look at.
Are you happy with how you store your kitchen goods?



This is how I kept my dry goods for years tucked away in my pantry – pretty unimaginative, I know.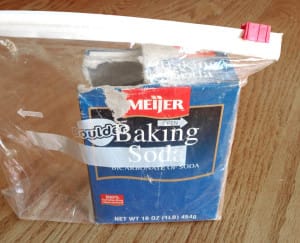 Not being a "pink" person, I was glad to get rid of that bucket. What do you have sitting around that you hate to look at?
There's nothing I can say about the baking soda. It is what it is.
Enter the mason jars.

Five dozen mason jars in varying designs allowed me to pick out some of the unusual ones to use for my kitchen fall decor.
Paint mason jar rings your accent color and then fill them with dry goods. Make use of a wire basket that has been sitting around. Metal baskets are so versatile.
Here they are now – on top of my cupboards.



Pretty and functional. I smile every time I look up at them.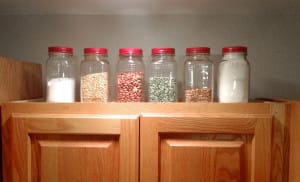 You can see how pretty they are with the lights in my ceiling highlighting them like they're a piece of art – because after all, THEY ARE!
Here is the jewelry holder repurposed as a mug rack.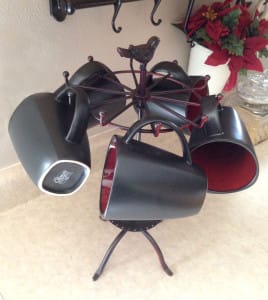 Pile, hang, stack and combine.



Photo frame turned blackboard menu



Next I will show you my fall deco for my deck. Do you fall decorate?
My DD, Jillian, is flying in for a week on Wednesday, so I'm thinking she and I will probably be doing some DIYing together. After all, I did help her decorate her front room, the least she can do is give me a bit of inspiration for mine!
Let me encourage you … take one thing in your house that you can improve on and make it pretty – just for you. Come on, you deserve it.
And then tell me all about it.