There are times when you find the unexpected all around you and are forced to pause for a moment and take it all in.
I know I drove my husband crazy today, but I just couldn't help it.
He's the quiet unassuming humble, let's think about it a while and don't be too hasty kinda guy. We're a good fit, but I didn't always see it that way. Funny how life can change your perspective.
Anyway, back to my driving him crazy today.
We went out canvasing today for our church, Northside Baptist of Wausau. I was uber tired, having been up half the night working on printing a trifold for today's event. Long story, but basically, our printer guy failed to deliver our flyers on time so I was spending oodles of time printing them on an office inkjet so we'd have them in time for this morning's event. All I can say is "ugg." Not my way to happiness for sure, but I was glad my DH bought a nice printer to make the job easier. He is so my "Good Doobie."
So,This  morning we picked some streets and took our flyers and went about meeting our neighbors over on the north side of Wausau (hence our new name of "Northside Baptist"). Since I was basically a mindless walking zombie, it was a treat to just walk out in the cool breeze and take in all the amazing fall colors.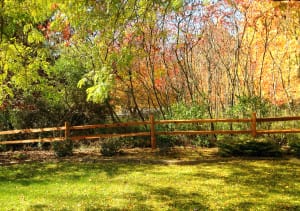 Simple pleasures are the best, I'm thinkin'.
We walked about a mile to our first house and I was just blown away by the beauty of the trees around us...red, orange, bright yellow. Oh my, they were amazing. Fall here in Wausau, WI is just so awe inspiring and I never get tired of it. I was exclaiming right and left about how beautiful God's creation was, picking up leaves for a project at home, ooing and ahhing over the mushrooms growing, etc. Here's the mushrooms, btw...
I'm sure while I was exclaiming about the colors, all Mark was thinking, "My knees hurt, let's get this done and get back." Maybe he was in awe like me, but I think not. We're just different people. Different is O.K.
Moving on...we met this sweet lady on Belaire Drive in Maine that had the most beautiful porch. We invited her to church and then started chatting about Pinterest and fall deco. She kindly allowed me to take some pictures of her porch, since it was so pretty that I wanted to share it with you. I also gathered leaves from her yard and told her about how people are spray painting them with metalic paint. I'm going to give it a try tomorrow afternoon.
Isn't it nice to meet new people who have similar interests?
The combination of her fall porch deco and surrounding fall finery was a beautiful combination.
This is the view as we walked down her driveway.
How do you describe the beauty of nature?
Happy Fall, Y'all!