CLASS IT UP with D. Lawless Hardware
#sponsored post
Until now I've been limited to local hardware stores and Hobby Lobby.
When you redo a piece of furniture, it's important to update the hardware as well…if needed. Which IMHO, is likely. Flipped furniture looks so fresh with new hardware. I'm turning into a hardware junky!
BUT, my new found love can get expensive. My faves range from $4 to $20 EACH, so I'm always on the lookout for a better deal with a quality look.
When the Fab Flippin' Furniture Contest offered to hook me up with England budget garage supplies for some free promo items, I jumped at the chance! My china cabinet turned buffet was needing some new hardware. Not much of a surprise. Most do.
Never heard of D.Lawless Hardware? They are an online retailer of cabinet and furniture hardware. Products include knobs, pulls, hinges, slides, hooks, screws, fasteners, and wood trim used by furniture manufacturers. A large part of this business is mail order and the best part is it is available to those of us who flip furniture.
Why Flip a China Cabinet?
I already own 3 china cabinets:
one I bought a long time ago that is in my kitchen area

one I inherited from my mom that is down in our lower level apartment with one of my Mom's 5 sets of china

one I have up in my guest room that I bought last year at a consignment shop that holds my rare books
Here is the deal – nobody buys china cabinets any more (other than me) because no one buys china. Generations X, Y, and Z are not interested in G'ma's china. China is out. Fast restaurants like Pizza Ranch and Milwaukee Burger are in. So what does one do with china cabinets that belonged to our relatives who have passed or we see on Craig's List from others who don't know what to do with Grandma's old outdated furniture?
They go for cheap at estate auctions – so here is a great opportunity.
The buffet came to me from an estate auction as a china cabinet, which I split in two and turned the bottom part into a buffet. The picture below is the china cabinet at the estate sale just before we loaded it up.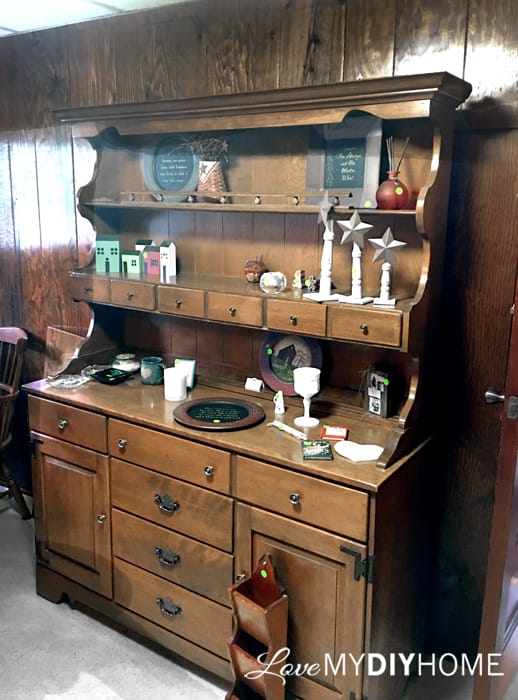 The top part? You'll just have to wait to see that – I'm pretty sure you'll be amazed. DH did himself proud on the repair and redesign of that piece. Proud, I tell you, P.R.O.U.D.
The cabinet had the typical shiny brass colonial hardware, which isn't my fave.
I originally went to Hobby Lobby to get new pulls but I wasn't too happy with what I brought home. They had few 3″ on center pulls in the finish I needed to match the original hinges I kept.
Enter D. Lawless Hardware to the rescue.
The timing of the offer came in the middle of my redo. It's all in the timing! Since the original door brackets were fab and of an antiquey sort, I looked for something to pair with that to keep with the original look, but not brass. I don't do brass.
So I chose Palermo Pulls in Venetian Bronze (The Palermo Pull is at a special price, so if you're interested you need to move on it.) to replace the original pulls on the drawers.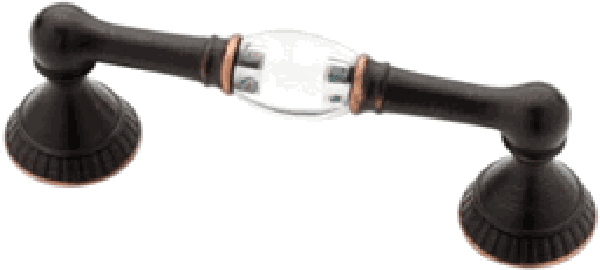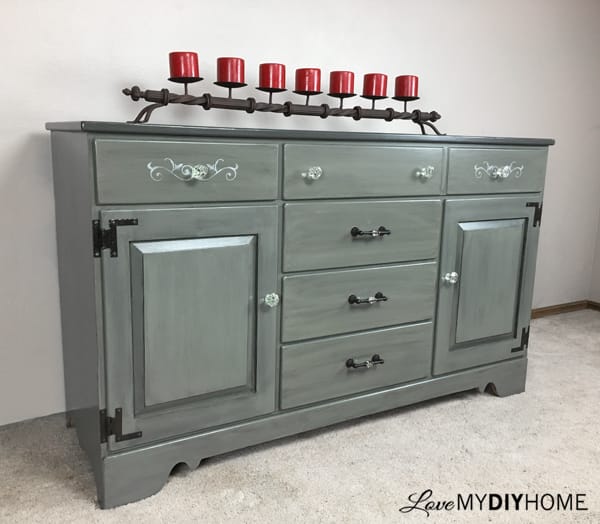 Details Matter
You can have the most creative and flawless paint job on a piece of furniture, but the hardware is the thing that completes it. Crappy hardware, crappy look. It's that simple.
Be sure to match the hardware with the look you are trying to achieve. Which would you use? The cheap colonial brass… or this:

A Huge Change
This buffet took several weeks to redo, partly because it needed a bit of repair. The prepping (pre-paint) included fixing dings and scratches, sanding, removing glued-in felt and cleaning. Then came painting, more sanding, glazing, stenciling, more sanding yet, and drawer liners and then a protective top coat (and yes, you guessed it, more sanding) and then the hardware.
Once the finish was set, it was time to add the finishing touches. In this case, the hardware. I may have or may ot have done the happy dance. I didn't inherit the dance gene. "Nuff said.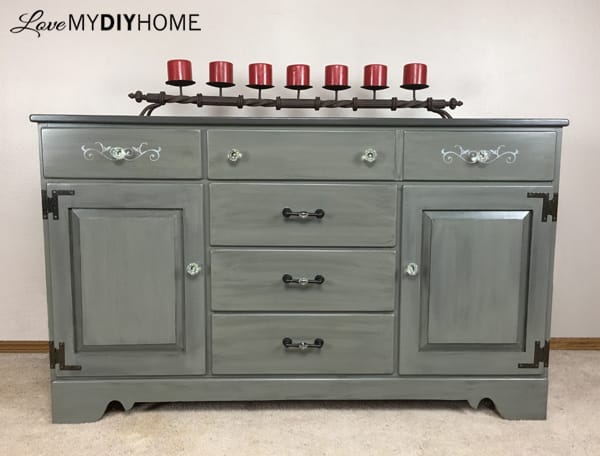 I'll give you a more detailed tutorial on the buffet later.
But for now, go take a look at D. Lawless Hardware's products. They carry some unique hardware you won't find anywhere else. When you create your masterpiece, be sure to finish it off with quality details.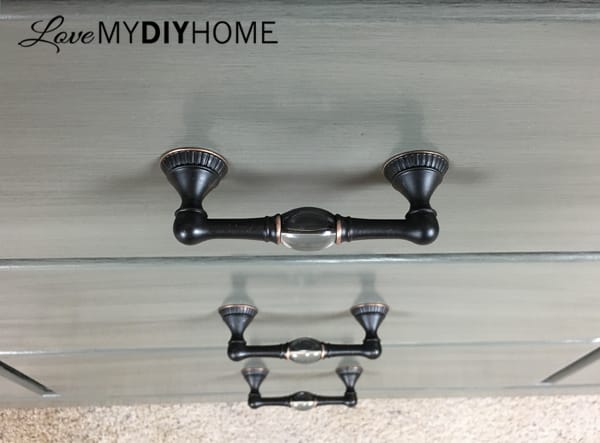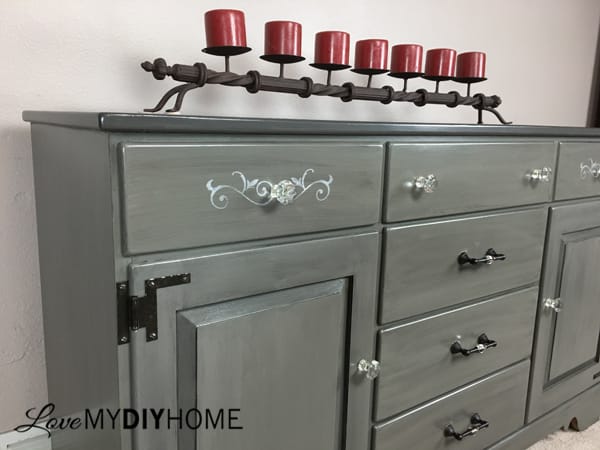 NOTE: Some or all of the Fab Furniture Flippin' Contestants and hosts receive monetary and/or product compensation from the sponsoring brand, D. Lawless Hardware, in order to complete their themed projects. D. Lawless Hardware will also provide the prize package for the contest winner.