You've all heard the overused quote, "If life gives you lemons, make lemonade." I'm here to tell you that if you don't have a mom to send flowers to this Mother's Day, send them to yourself!
The ads for Mother's Day gifts are everywhere, and since I've recently suffered loss, they make me feel lower than a snake's belly in a wagon rut.
I decided to overcompensate.
Instead of bemoaning the fact my mom isn't here to receive flowers from me, I'm sending them to myself. I'm going to plant them everywhere and enjoy them all summer long.
Enter – old crummy pots…
While at a church rummage sale, I found these 5 huge outdoor planters.
They were all stacked on one another, dirty and a bit ragged. Ah, but there was potential.
At first I thought they were that heavy terra cotta material but found out when I picket one up that they were just cheap plastic painted to look "real."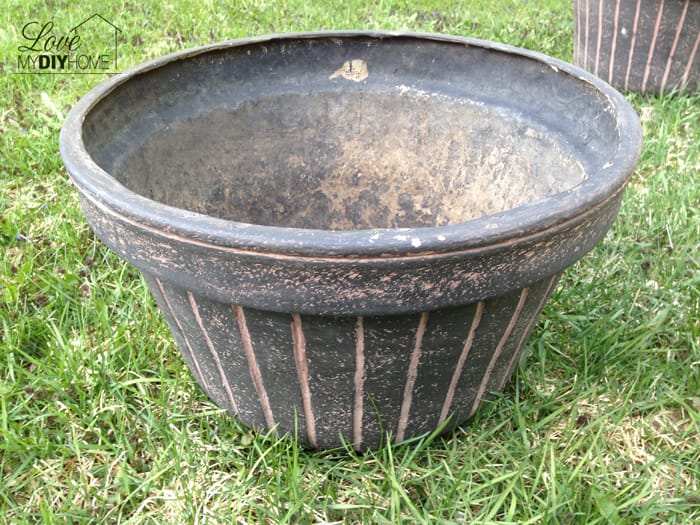 I asked how much the lady wanted for ONE and she said, "How about the whole lot for $5?"
Since I only had $1.75 left in my pocket, I told her so and she said "Sold!… all 5 for $1.75."
OK, I can do that!
I took them home, painted them, and voilà! If I hadn't told you, you would think they were the "real thing."
$1.75 for the planters, about $5.00 for 1.5 cans of spray paint.
The satisfaction of having waited until I could find big outdoor planters for so little price? Priceless.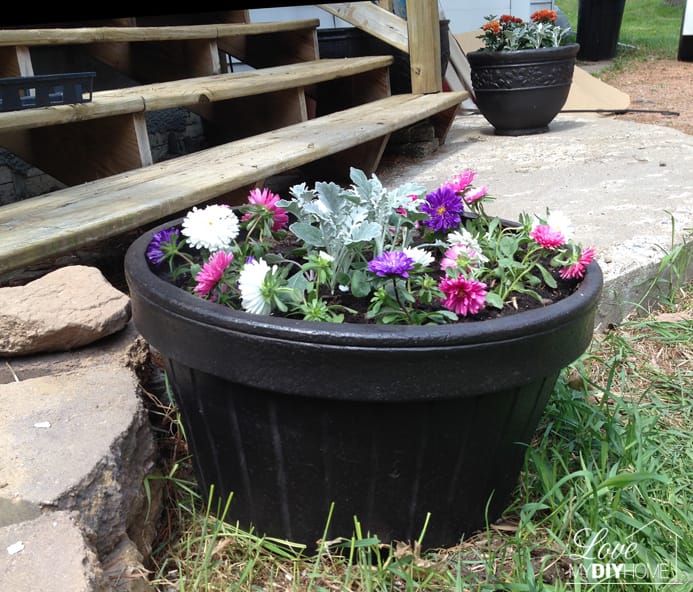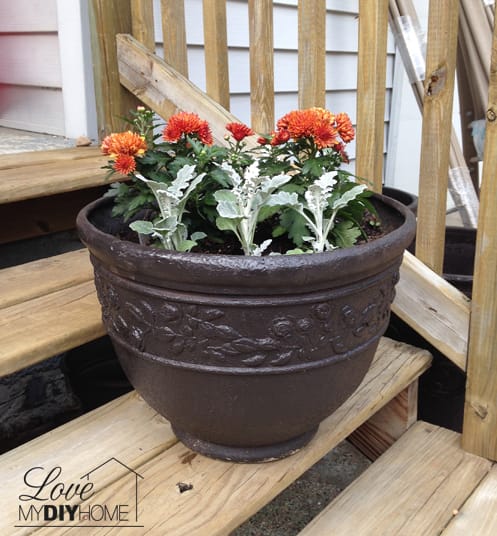 Then, when I went in to work today, my boss gifted me with two beautiful plants that will go great in the planters. I also had a trellis that I bought on clearance last fall, so that will work great since these plants are vines that grow up to 12 feet.
I'm done talking about me. Sorry. I didn't know how to tell this story without a lot of "I" sentences. How about you?
Are you constantly looking a deal as you look to improve your home?
Do you have the confidence to experiment, look for deals and make your own home decor cheaper and more unique than the stores?