Do you throw away the bottom part of your lettuce stalk?
I used to, but not any more.
Once you learn to scrap, you will never go back.
As a matter of fact I beg for everyone else's table scraps now.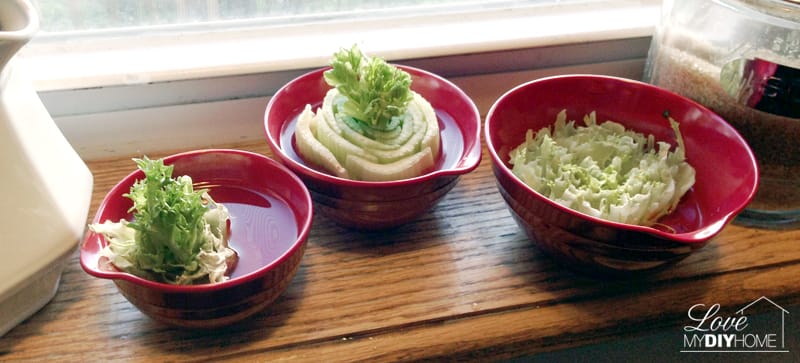 Make yourself a little vegi garden on your windowsill and have reproducing vegis at your fingertips.
When I decided to give this a whirl, I looked back on a

guest post from my early days

:
Cut the stalks off as you normally would, and place the root end in a shallow bowl of water – enough to cover the roots but not the top of your cutting. Place it in a sunny window position, occasionally spraying your cutting with water to keep the top moist. After a few days, you should start to see roots and new leaves appear. After a week or so, transplant it into soil with just the leaves showing above the level of the soil. The plant will continue to grow, and within a few weeks it will sprout a whole new head. Alternatively you can plant your cutting directly into soil (without starting the process in water) but you will need to keep the soil very moist for the first week until the new shoots start to appear.

 
It's been a fun project. Every day you see growth.
The stalks pop right up out of the center in just a day or two.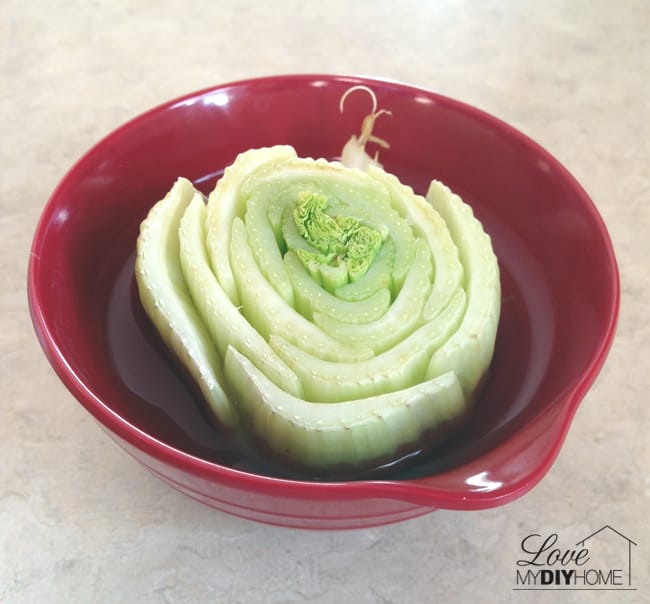 Aldis carries a box of baby lettuce that has 4 varieties of lettuce, two green and two purplish. Those will grow too – the two on the ends are the Aldis lettuce. The far left one has been growing three days, the one on the far right is only one day along.
The celery in the middle is after just three days growth!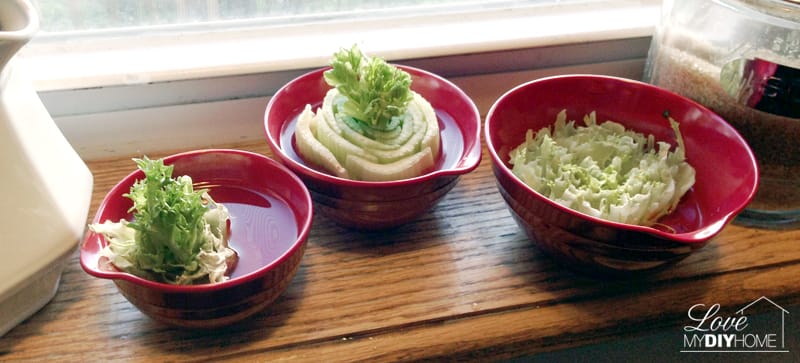 Below is the first celery stalk I started a week and a half ago. I planted it after a week of growing in just water.
The stalks will be thinner than what we normally see in the store, but still very usable. I normally cut my celery very small anyway, so this will be perfect. I have a feeling there will be a dozen celery and lettuce plants growing in my kitchen very shortly. I do tend to be a tad obsessive with this sort of thing.
It's just plain fun stuff!
Don't you just love watching your plants grow?
What's growing in your kitchen?
This would be a great project for kids. I'll update you with more pictures along the way.
UPDATE:
I've been experimenting for a few months on celery and baby lettuce from aldis and have more pictures for you. It's fun to watch it grow and eat knowing you grew it yourself. These are growing in my kitchen on a baker's rack I bought at Hobby Lobby.
If you keep an eye on it and keep it watered every couple of days, it will grow well. Watch it and when it starts to go limp, water it just a bit, not too much or it will rot. After you get the hang of it, you'll know what it needs. Here are some pics of what I have growing now:
UPDATE2:
My lunch today: all the lettuce pictured above – yumm!