To start, the Joneses, and other family members including moi, started ripping down and tearing up. Oh, how I enjoy kitchen demolition! Even the kids got their share of demo, which BTW, shows you and I that if a 6 and 8 year old can do it…
You can do it too.
I'm gonna preach it till the cows come home. Too often we say, "I could never do that." How about, "I could totally do that!"
April took off the scalloped hoop-de-do above the kitchen sink.
Now, hoop-de-doos aren't necessarily bad, I recently painted a shelf with a couple of them for my mason jars and it turned out very nicely. It turned from boring to fab, but here it would only look old and outdated.
So off it came and amazingly enough, made a huge difference. Now if I can only talk them into painting the cupboards white…
What do you think? Should they paint them?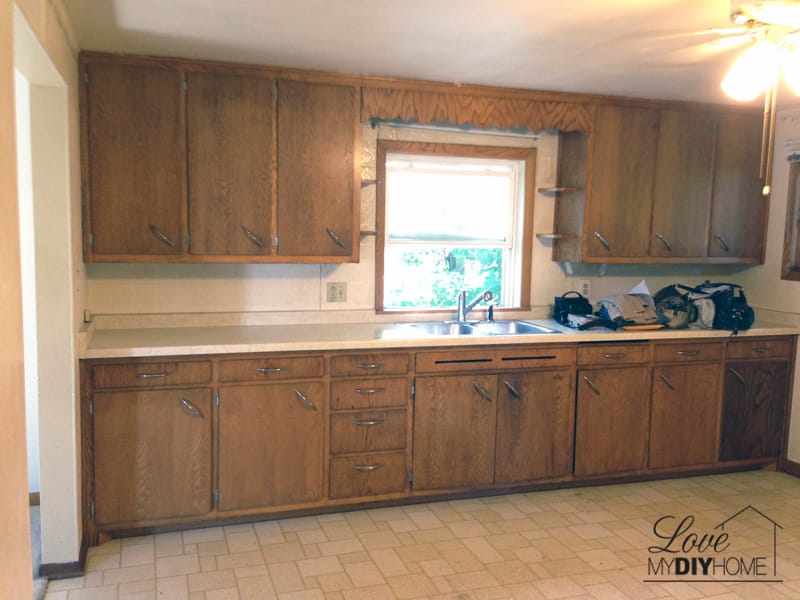 As April pulled down the kitchen paneling, I wanted to shout, "Rip it!" in Madea's voice just like on the movie, Diary of a Mad Black Woman.
Underneath we found plastered walls full of glue from formerly tiled walls. The tile went all the way down the hall at one time.
They will be drywalling since it would be too much work to try to clean off all the glue in order to paint.
The flooring was nasty, so we took off trim and then peeled off the floor only to find another floor underneath with a bazillion staples.
The boys spent a whole day nailing them flat into the floor so Adam can put on a sub floor for the new floor tile.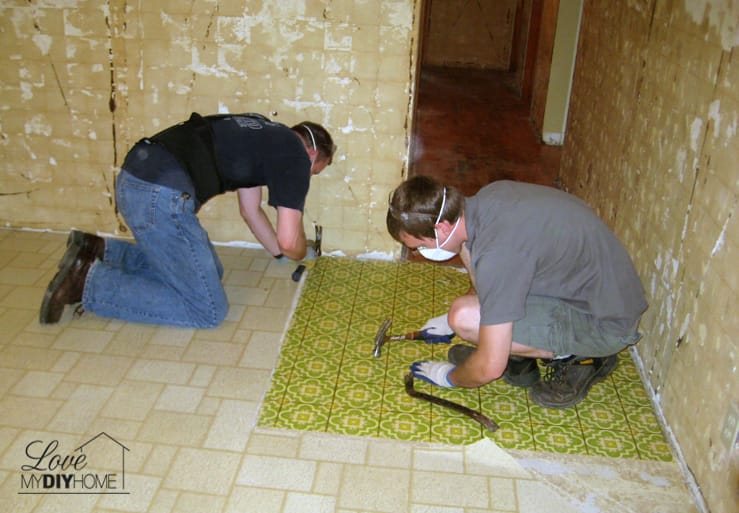 Mark, April and I used a pry bar to get the paneling off the wall. Those bad boys are useful! I think I just may buy myself one of those little ones to have around the house.
I think I'm turning into a female Tim the Tool-man…
If 6 and 8 year olds can do it, you can too! I never thought I could use the word "fun" and "demo" in the same sentence.
I used to tease Mark that he loved the tearing apart, but the finishing, not so much. Now I get it.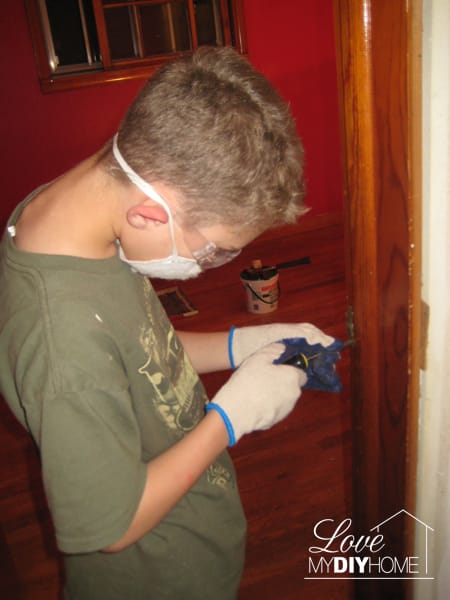 Tomorrow, I'm going over for the whole day to paint the bathroom vanity and hopefully paint some walls.
I'd never painted before I bought our own foreclosed house a year and a half ago. Usually, DH did all the painting, but he was busy re-doing the roof, so the inside painting fell on my rollers. But if no one was available to do the roof, professionals like the local roofing contractors are here to save the day.
I found out I enjoyed it! Go figure. The thing I'd avoided all these years turned out to be fun.
So since I've crossed that bridge climbed that mountain and swam that river, I got this!
That's what happened with gardening too. I'll show you how we used torn up deck parts to make two planters for outside our garage. But more on that later…
Thanks for joining us!
Check out the others in this series: