Occasionally I will buy a piece that another furniture artist has listed that they couldn't sell. They will put it up for sale super cheap. 90% of the time there is something wrong with it like water damage or messed up drawers that they didn't address in their redesign. Those things will discourage buyers and then they get  stuck with a piece that they put effort into that doesn't sell.
Most hate keeping pieces around and will give up and get rid of it to cut their losses. I watch for that scenario and if the piece is solid, just not up to par, I'll grab it.
This happened with this piece. I bought it for $40 on Marketplace. There were some details that hurt its saleability, but it had good hardware and was a brand that said, "quality".
The BEFORE:
Looks good, right? So why was it for sale for just $40? It's an Ethan Allen with really nice hardware! The hardware was worth more than the selling price.
But once you looked closely you could see a few problems. Details matter and that's why I harp on my members to do things right, carefully and completely.
There were drips on the sides of the drawers.
The backing was split and missing pieces.
There were brush hairs in the painted parts.
The overall look was appealing, so I stayed with that general color when I redesigned it along with fixing the problem areas and adding a bit of detail to spiff it up.
The AFTER:
Here are the 12 steps I took to make this a beautiful and valuable piece of art:
1. First to come off was the hardware and then new coordinating pieces were ordered. I get a lot of my hardware from (afflink) D. Lawless Hardware. They have good products and customer service is excellent. The hardware on it was nice, but didn't fit my vision for the piece.
2. My DH sanded it to rough it up using our hand sander and I cleaned it with (afflink) Krud Kutter.
3. The top was laminate, so that would require a little more effort to bring it up to date. I used Retique It Liquid Wood to give it a new surface and grain.
<<< FROM THIS
TO THIS >>>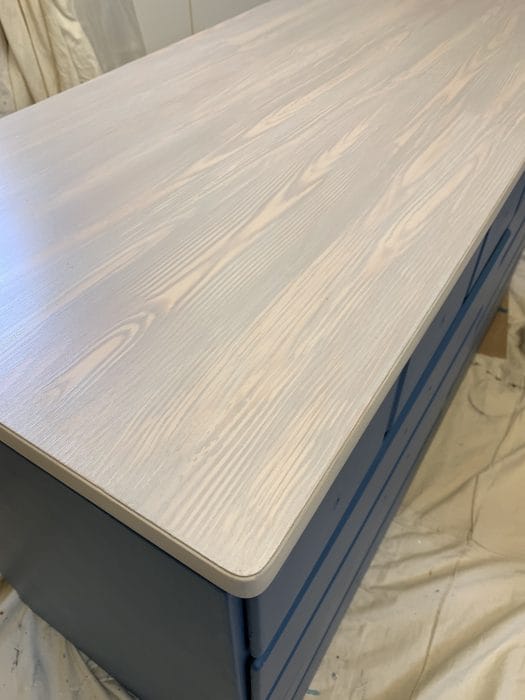 4. Staining it with two different oil-based stain colors, Briarsmoke and Sunbleached, gave it a rustic look. This is a time when you can really experiment to come up with a look that meets your vision. It's not an exact science. Don't be afraid to play with different stain colors.
5. After staining and letting it completely dry, I used Hardwax Oil on the top to protect the new finish. I usually do three coats of anything I use. Other options could have been Polyacrylic, or  Tripletique. I like all three.
6. Since the dresser was already a dark teal, I used CrystaLac's Midnight Blue over it, and dry brushed a lighter color, Totally Teal, over that to give it a worn look.
7. I've found that script to be a great stencil to add - so out came the script stencil for the drawers. I used the original base color and added a water-based black tint to darken the stenciled script and make it stand out - and still coordinate.
I LOVE using colorants to change or create my own paint colors. I just added these to my store, Furniture Flipping Market. Now you can become a mixologist too!
8. The back got some glue for the loose board and some wood filler to smooth it out where the board was cracked and missing parts.
9. The same base paint covered the backing nicely and gave it a fresh look. It wasn't painted before. I don't always paint the backs. It depends on the piece.
10. There were drips and overpaint on the drawers, so I had to get rid of that.
<<< Here is a little video addressing the messy sides of the drawers. I used a (afflink) contour scraper from Allway.
This allowed me to keep the nice looking wood on the sides of the drawers. The drawers slide better when not painted, though paint can add an nice touch to the look.  It just depends on what design you are going for.
11. The last step before hardware was three coats of Polyacrylic for protection on the body.
12. New hardware was the finishing touch.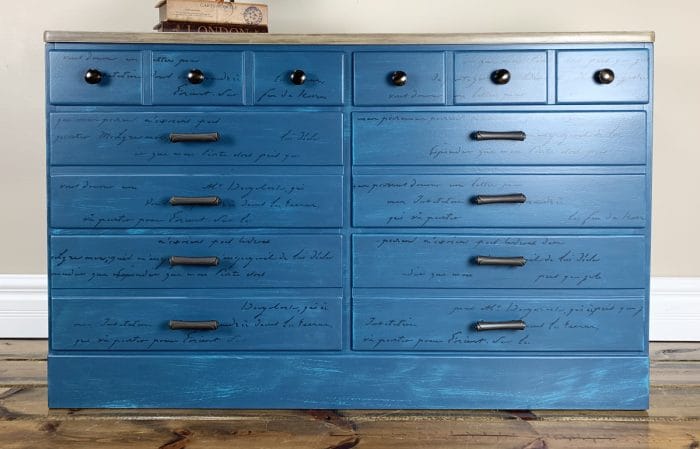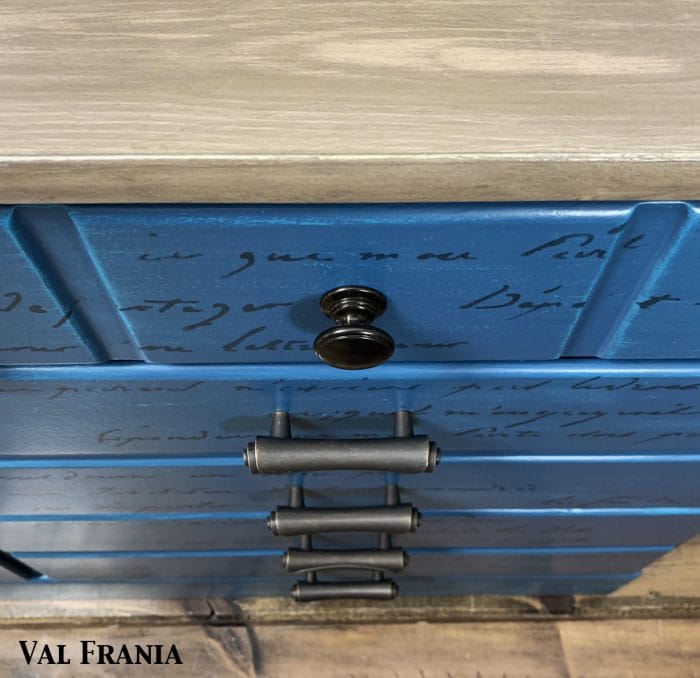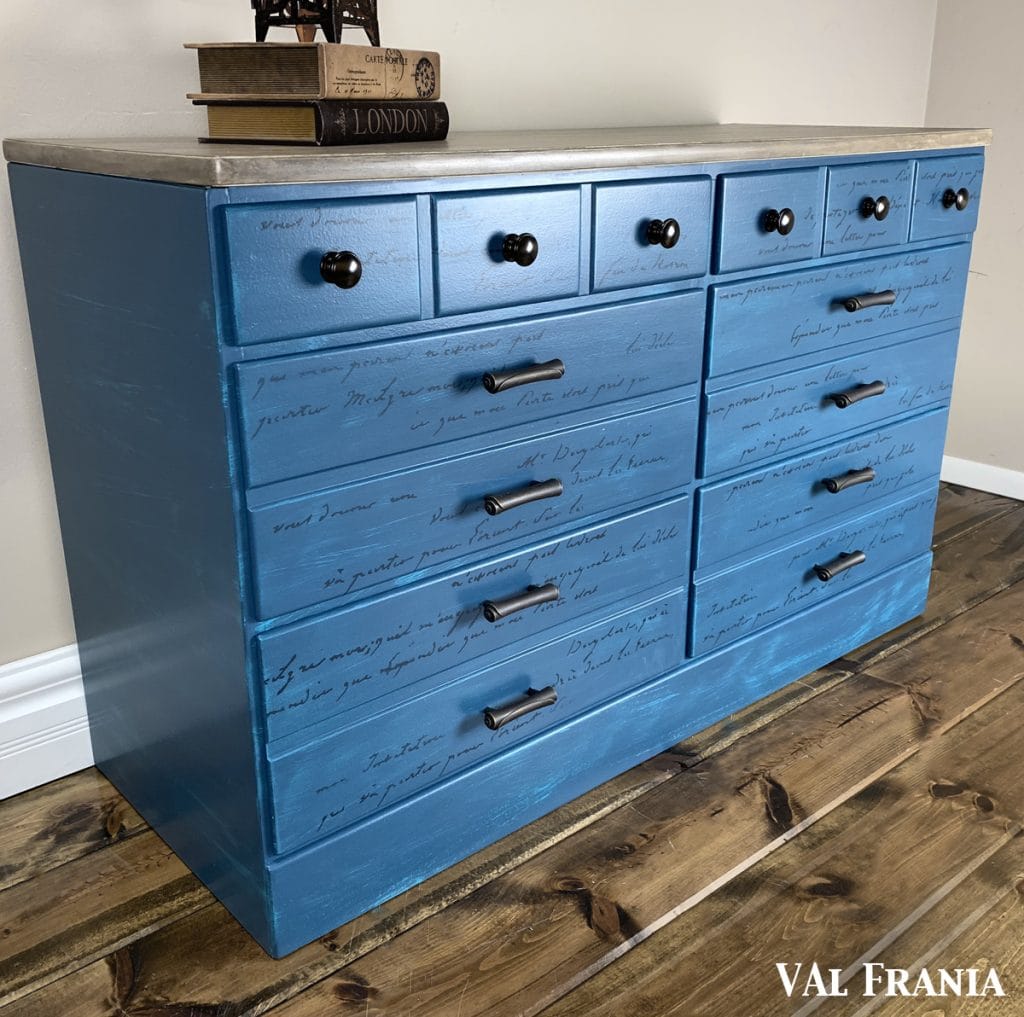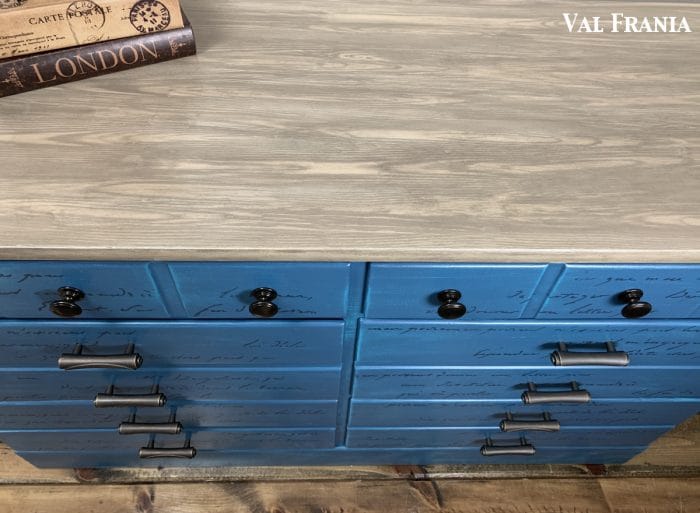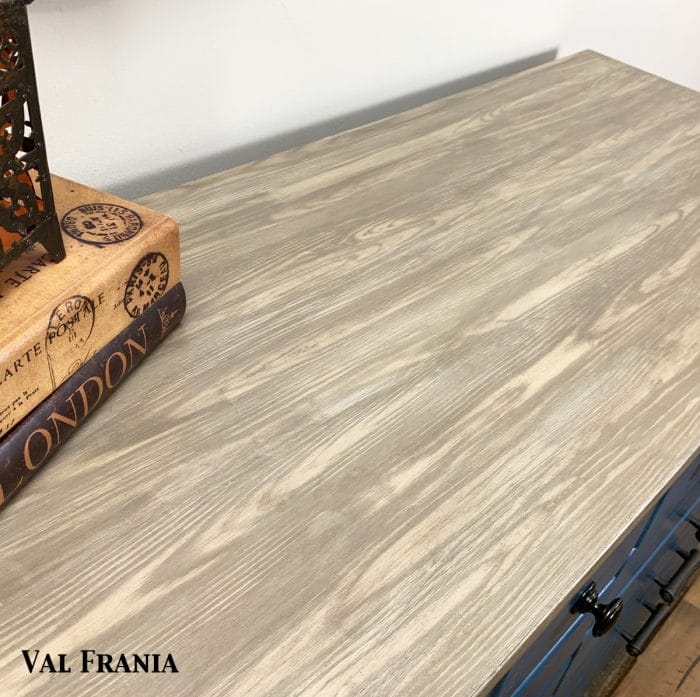 NOTE: After you are all done, stand back and admire your piece. You did good! And don't forget to check your hardware to make sure none of it is upside down!
This was a super fun piece to redesign. It was easy and reflects my style.
Do you create art for others or yourself? What's your style?
Thanks for visiting. You can always find me @ ValFrania.com. I have a lot going on that might just interest you!
Blessings,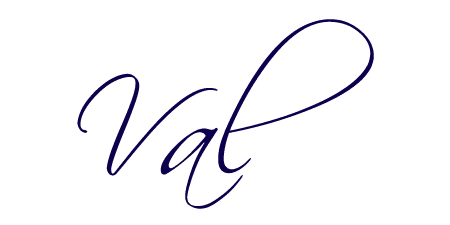 Want to learn to flip furniture and create beautiful furniture art?
I've gotcha covered with an online membership with a built in tribe that will cheer you on to PRO status - at your fingertips, online, all in one place, guaranteed!