My friend, Lisa, picked up a little free standing jelly cabinet alongside the road and brought it to church, asking me if I wanted it.
It was pretty icky…
…bruised and battered with stains and a couple of bandaids stuck to the shelf.
Gross! But I saw its potential.
Wayfair.com has a similar cabinet for $138.99. Amazon has one for $137.99.
Well, when I say similar" I mean if it were new. And clean. And never before touched by human hands.
The "saving" process…
My DH cut off part of the legs so it would fit under my kitchen cabinet island.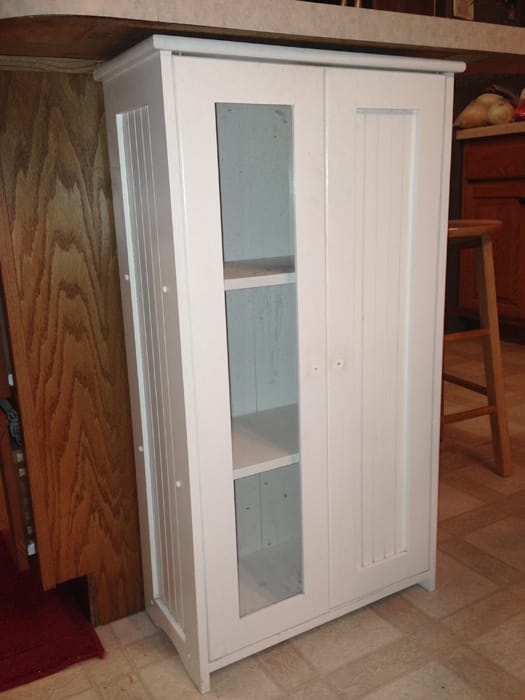 After cleaning it up a bit, I cut paintable textured wallpaper to fit the shelves. At first the plan was to just paint them, but there was no white spray paint to be found. So when trying to figure out what else would suffice (I'm not one to wait when I decide to do a project), I remembered the paintable wallpaper sitting in my craft room bought from a consignment shop for $4.00 .
Amazon sells paintable scrubbable wallpaper for $19.99. Here is some that looks like beadboard.
I didn't paint it after I applied it, but I do reserve the right to change my mind and paint it in the future.
Though cut to exact measurements, it stretched when wet, so take that into consideration if you attempt this at home…
At first the wallpaper didn't appear to be all white after I applied it; the wet paper was saturated so it looked two toned.
But after it dried, it was the pure white.
It's pretty amazing to me how just a little change can be so dramatic.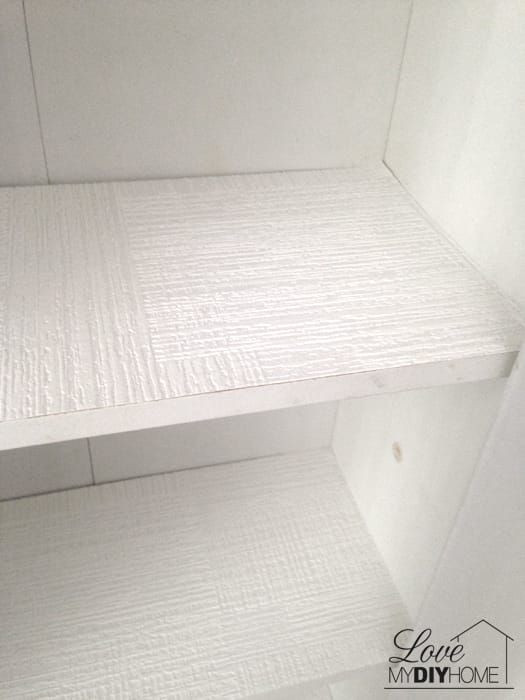 There was no need to fix any of the other "blemishes" because they seemed to belong. The scratches and worn spots gave it character.
I added a little ornament my DH got from one of his students just to try it out – it stays.
To the right of the cabinet are my new stools – Target had them on clearance a few weeks ago. They were regularly $70.00 each but clearanced for $16.00! Score! Amazon has similar stools 2 for $134.90, but they don't have the wooden seat.
That just goes to show you that patience wins out.
They are very sturdy and quite industrial looking.
The "new" island look brings functionality as well.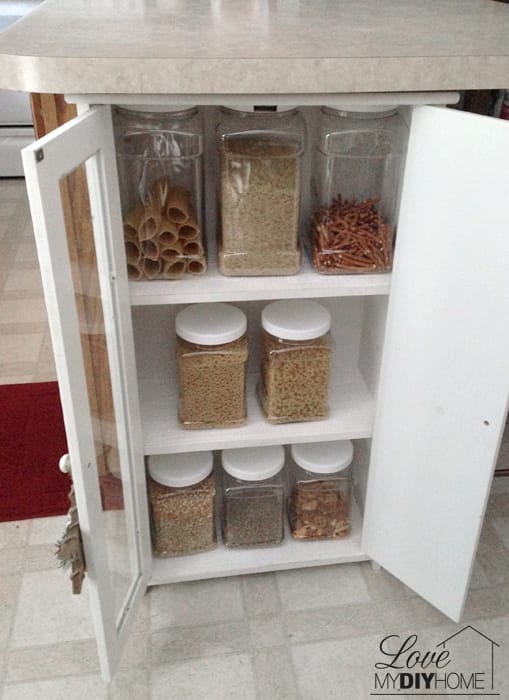 The containers came from my pantry and now they've found their forever home. Don't you just love an organized kitchen?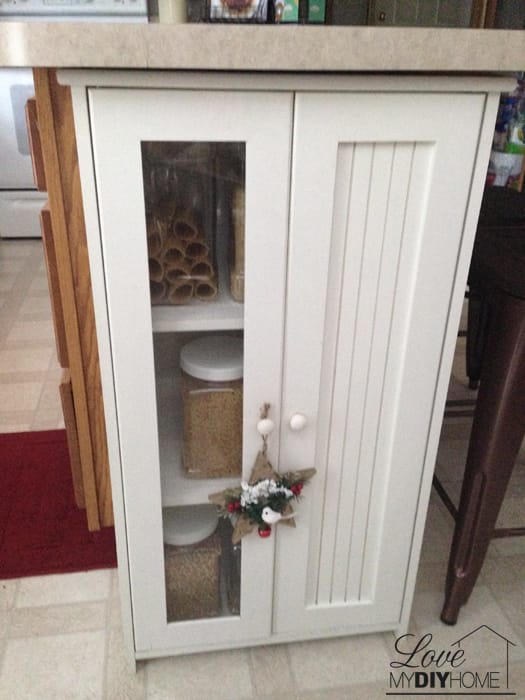 What little changes have you made in your kitchen that changed the whole look? Are you working on decluttering and efficiently using your spaces?
Are you a storage fanatic like me?
Do you dumpster dive or shop alongside of the road?
Do you have a friend who shares their finds?
Perhaps you could share a picture or two – maybe even be featured on Love My DIY Home!