I ran a challenge for my Facebook group and want to share some of the projects that were completed. There is some rare talent out there! If you are familiar with furniture redesign, you'll appreciate the results and understand the type of work that went into each piece.
So without further ado, let's take a look:
Martie Blignaut artist at Jeshurun

"This solid wood end table was painted with chalk paint - still showing off the lovely wood grain of this piece, sealed with top coat for durability, rounded off with white and black flower fabric print. Not only will it be lovely to look at but also a great conversation starter."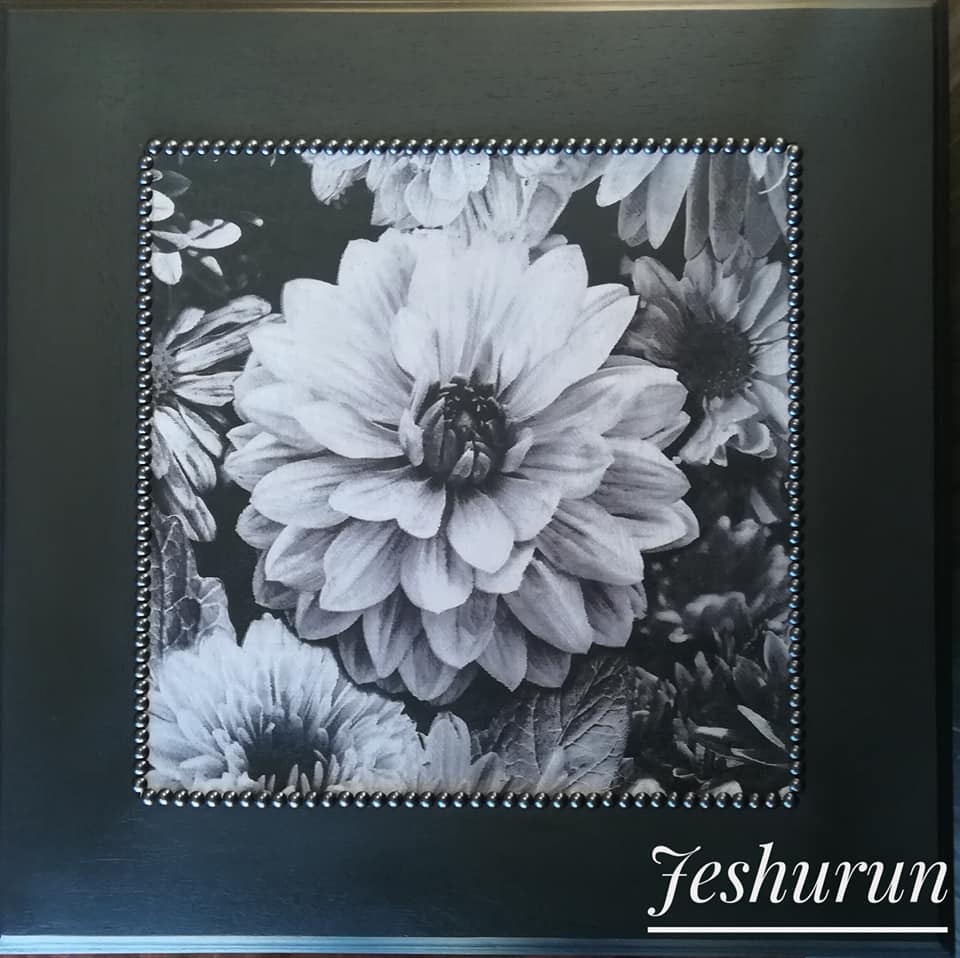 Mary Appelgate artist at Sublime Design
"Charming, solid maple Tea Cart, painted in medium grey and off white. Three coats of non yellowing, highly durable polyacrylic to insure easy cleanup and longevity. Grey and black lined decoupage inside of drawer."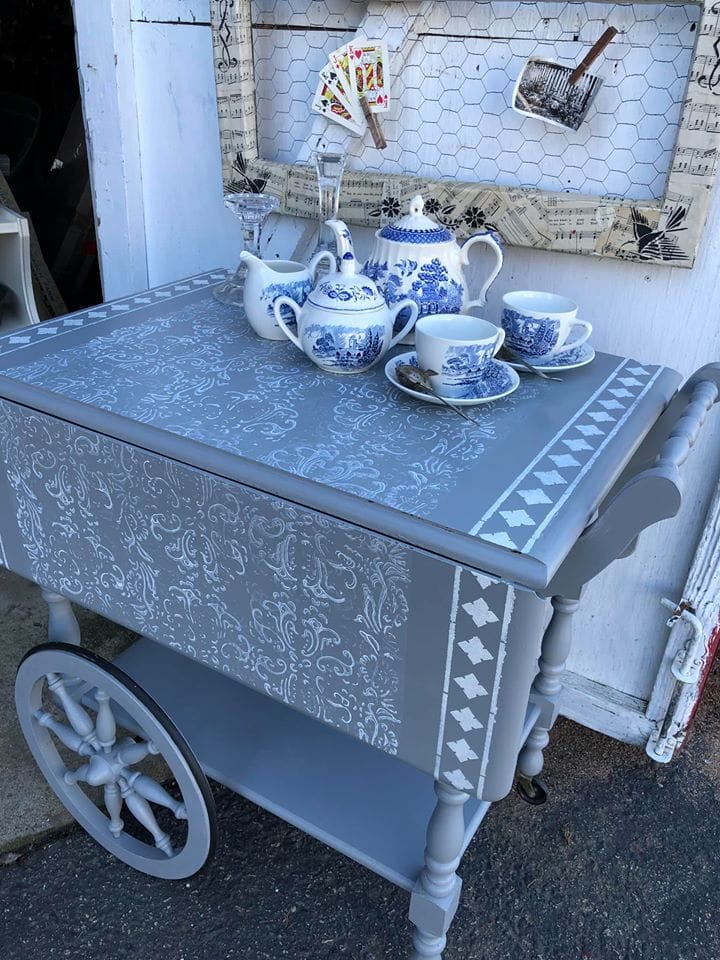 Elizabeth Spengler
"Introducing Queeny. This fabulous gal is ready to add her sassy sense of style to any room of your home in need of a pop of color. Nobody puts Baby in corner - that makes Queeny the perfect corner piece to showcase your Milk Glass or Hob Nob collection. She is dressed in DIY Paint Queen Bee, Kissing Booth, and Mermaid Tail, and her gold-leaf highlights are her crowning glory - swoon!"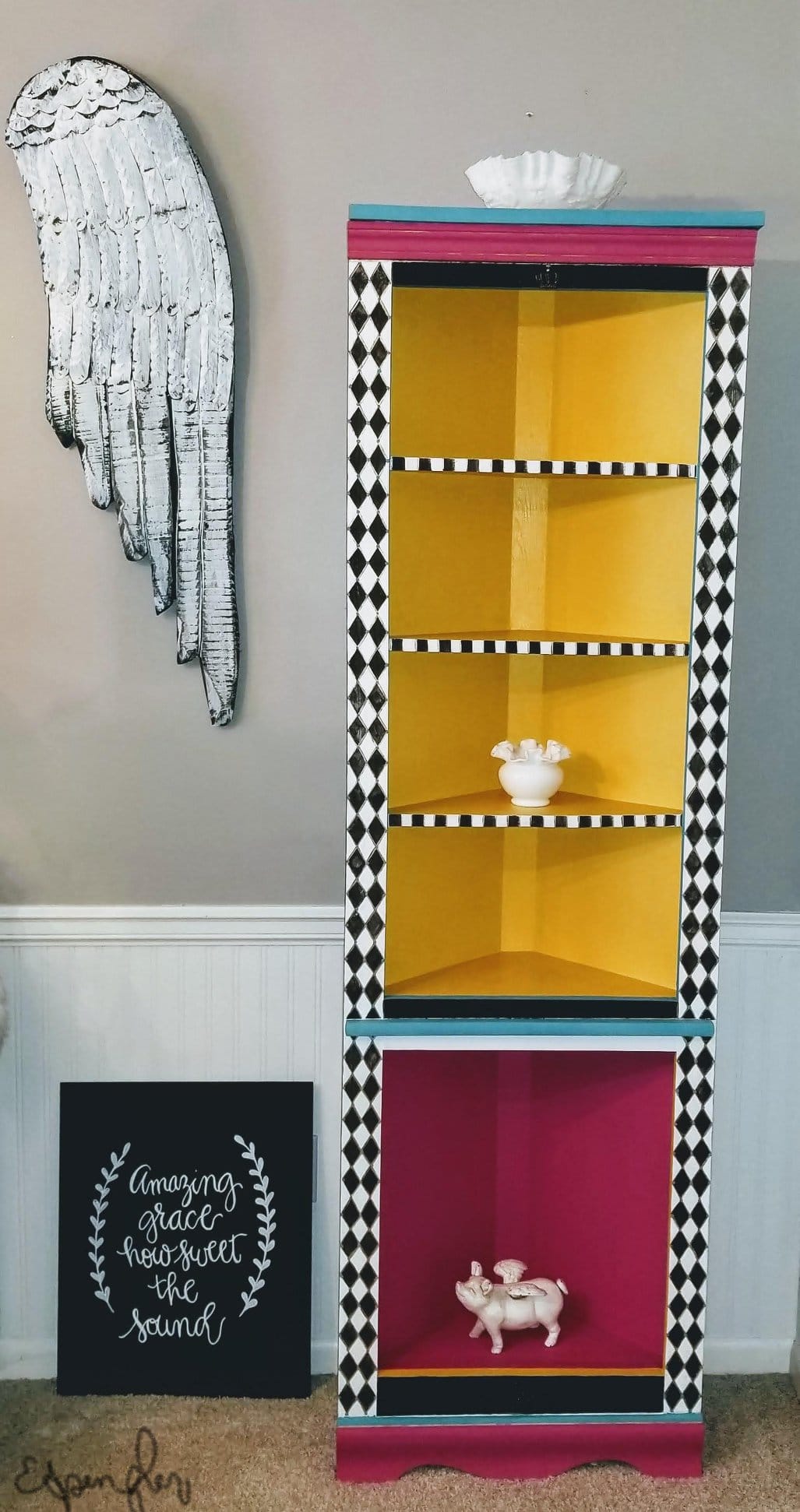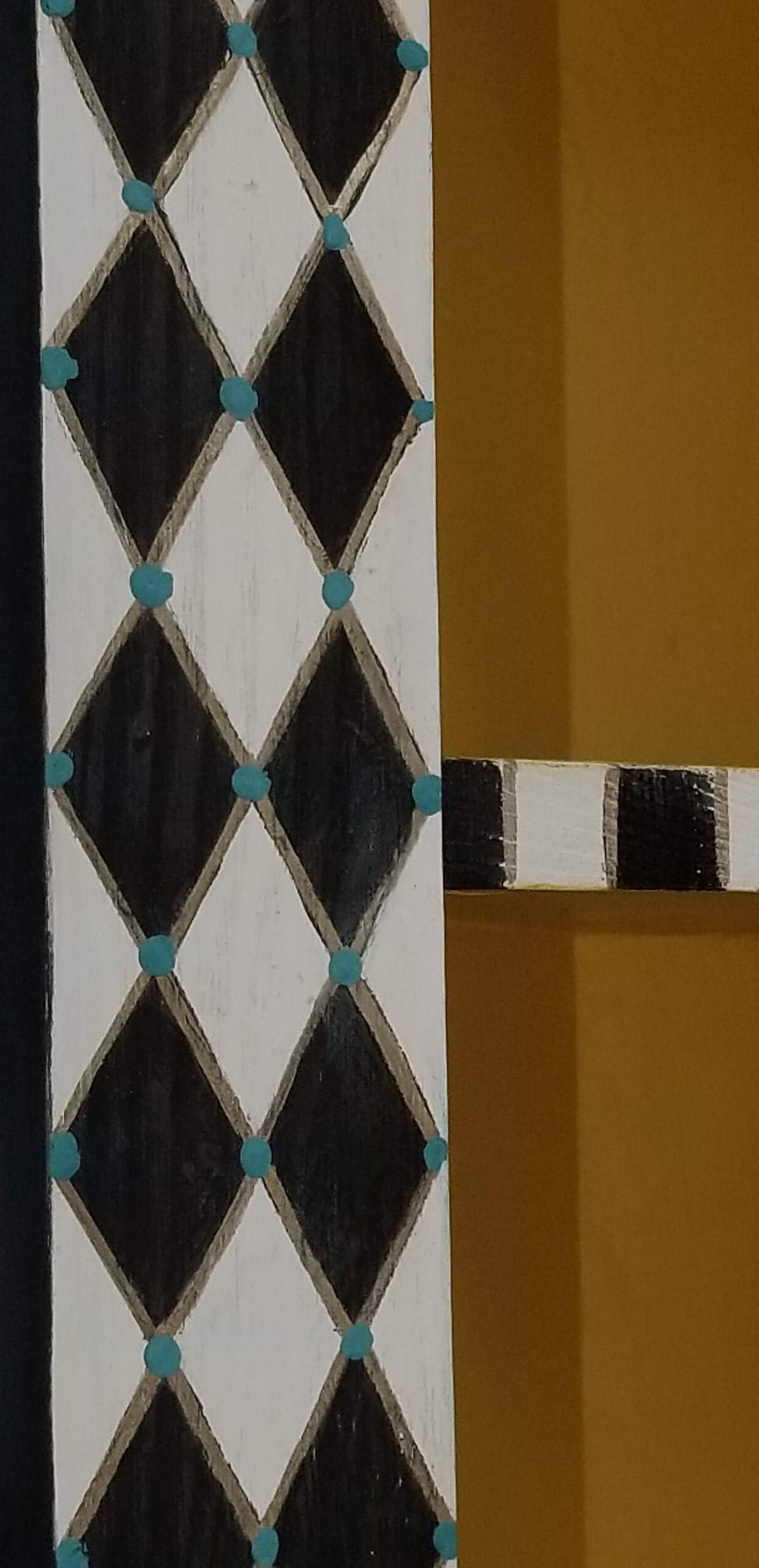 Cidnea Baskinger

"This beautifully hand painted, solid wood cabinet could be the statement piece you've been looking for to be the perfect addition to your home. Fourteen lined drawers give you plenty of storage space to organize all of your treasures. The updated styling will make it a piece your family will admire for years.
This unique, handcrafted cabinet was given a modern makeover by refinishing it in a gorgeous navy blue, accented with a rich black onyx wax. The lower drawers are dressed with a subtle raised stencil and each drawer was given a stylish new satin chrome knob or pull.
The stunning combination of navy, black, and chrome give this cabinet a stunning modern style, while the beautifully stained top drawers retain its classic charm. New 30 inch black steel hairpin legs were added to raise this beauty up, bringing everything to your fingertips."
Misha Evans
"Stunning unique hand painted dressing table and matching stool. Olympus Furniture was originally sold by Harrods in the 1950s so as you can imagine this beauty is of very high quality and craftsmanship.
The outdated and worn finish has been professionally hand painted in a beautiful and unique finish that emphasizes and compliments this beauty. The drawers fronts have been treated to a complete facelift with a raised french motif stencil that works hand in hand with the beautiful reupholstered stool in a light grey velvet to make this a one of a kind statement piece. This piece includes the 3 spacious drawers for plenty of storage space, the trifold mirror for added elegance and last but not least the stunning stool.
Would make a fab addition to your master bedroom or, if your really lucky, a specially designated dressing room."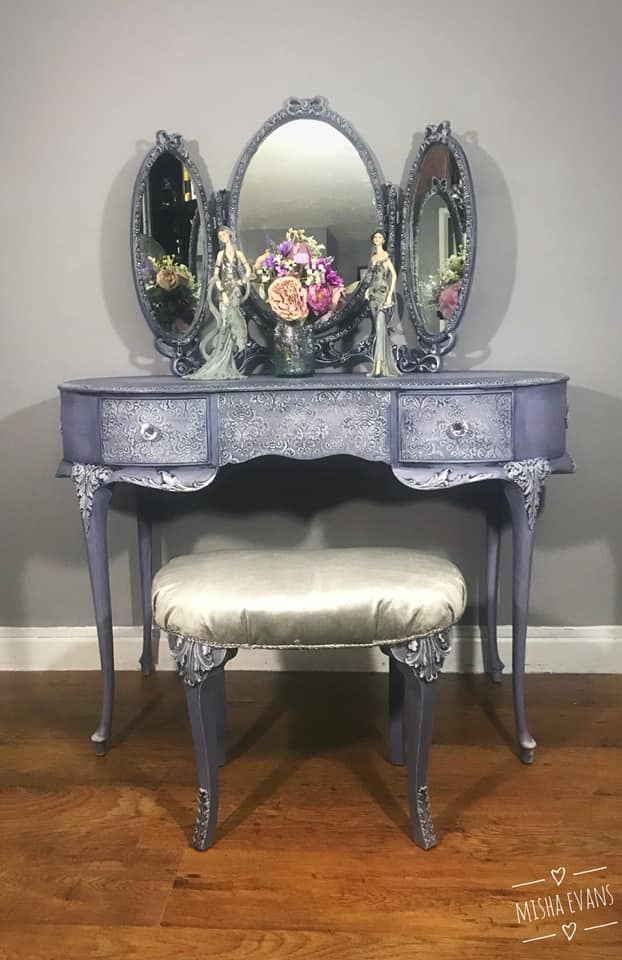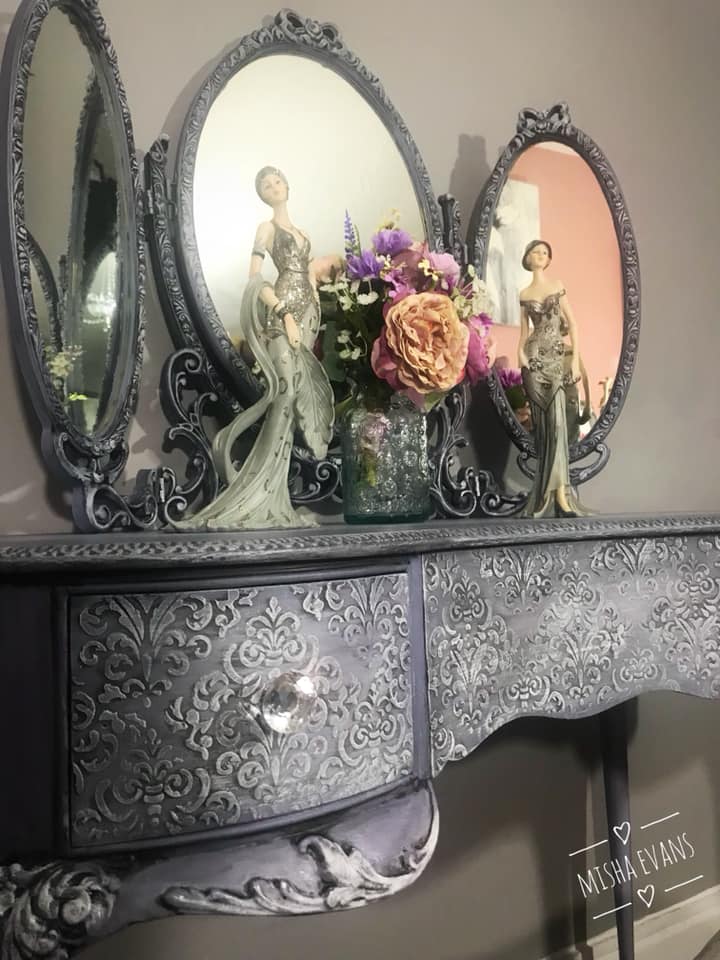 Dayna Palmer
"Gorgeous master bath double vanity upcycled from a quality Bassett dresser in solid wood. Done in a nice neutral greige from Benjamin Moore with a weathered-look wood top, it's perfect for any style bathroom from elegant to traditional to rustic glam! This custom vanity is sealed with several coats of a water based clear poly that will not yellow over time.
There are 9 drawers for tons of storage, three of them hidden behind the middle cabinet door, and each with a different beautiful metallic accent that coordinates nicely for a pop of interest. All drawers are dovetailed wood and very well constructed, and the original hardware is heavy solid brass, hand painted in a shimmery metallic silver. Shown with two Kohler cast iron semi-vessel oval sinks and ready for faucets of your choice, this is guaranteed to be a one-of-a-kind show stopper! Comes from a smoke free environment."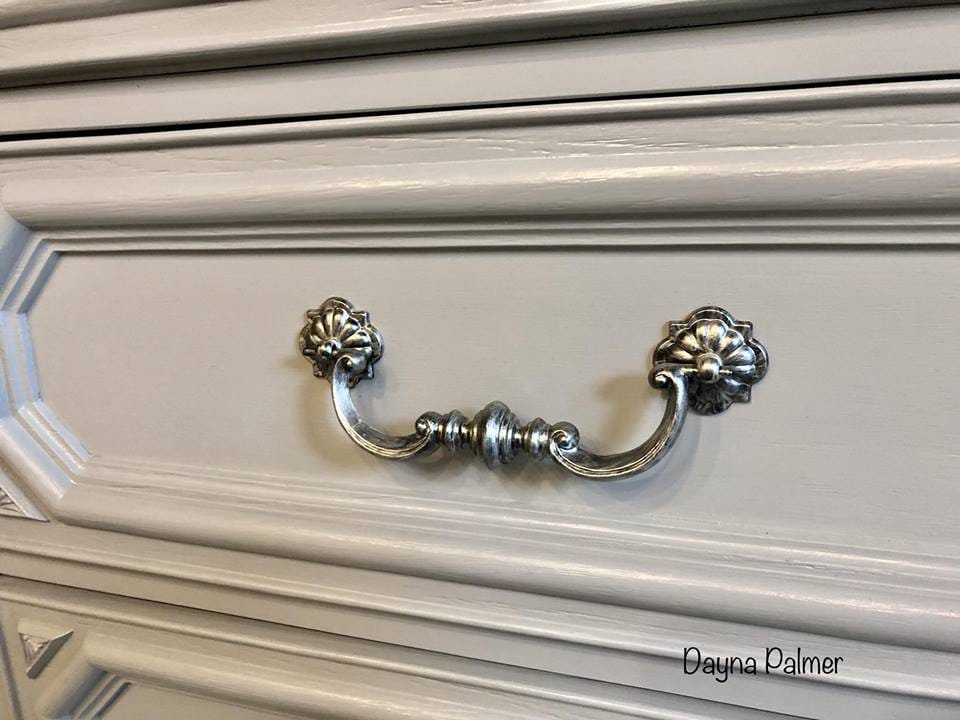 Bobbie Swoverland
"Twin headboard and foot board fit for a Princess. Finished with a top coat that makes it super durable and easy to clean.
Blanket not included but all the hardware needed to assemble is, all you'll need are a mattress and some beautiful bed clothes."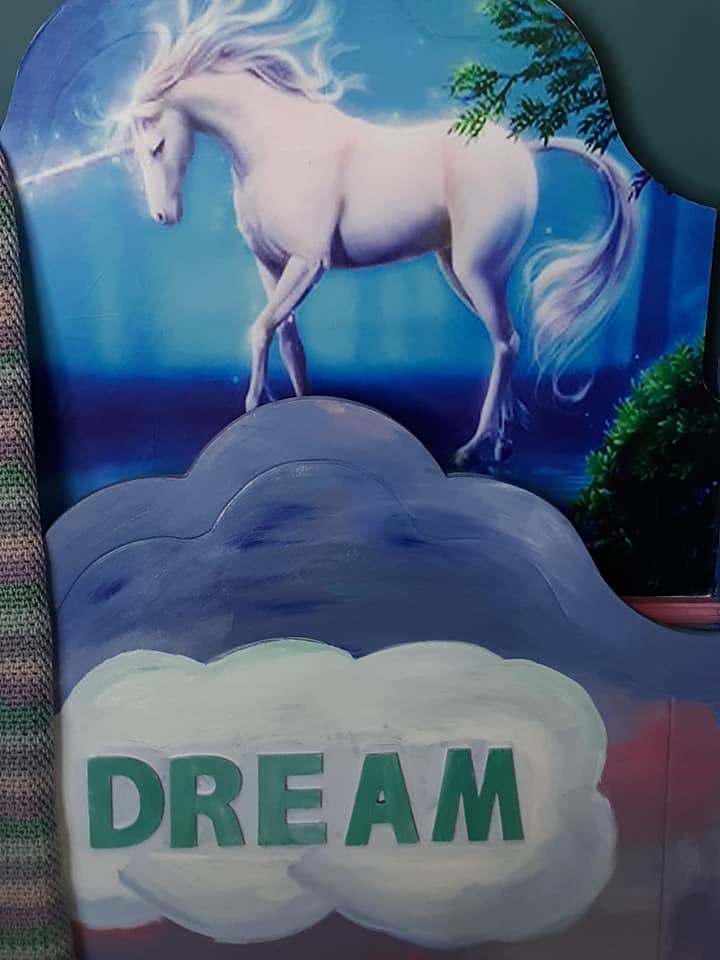 Lynn Murrell artist at The Butterfly's Wing
"Unique 4-drawer unit lovingly restyled and hand painted in Blues and Gold with raised stencil detail on basket-style drawer fronts. Hand painted in Fusion Mineral Paints Liberty Blue, Renfrew Blue, English Rose, Coral, Azure and Pale Gold Metallics. Sealed with a topcoat for durability.
This multi-functional piece has four basket style, loose drawers and a pull out shelf and could be placed easily in a bathroom, bedroom, playroom or art and craft studio."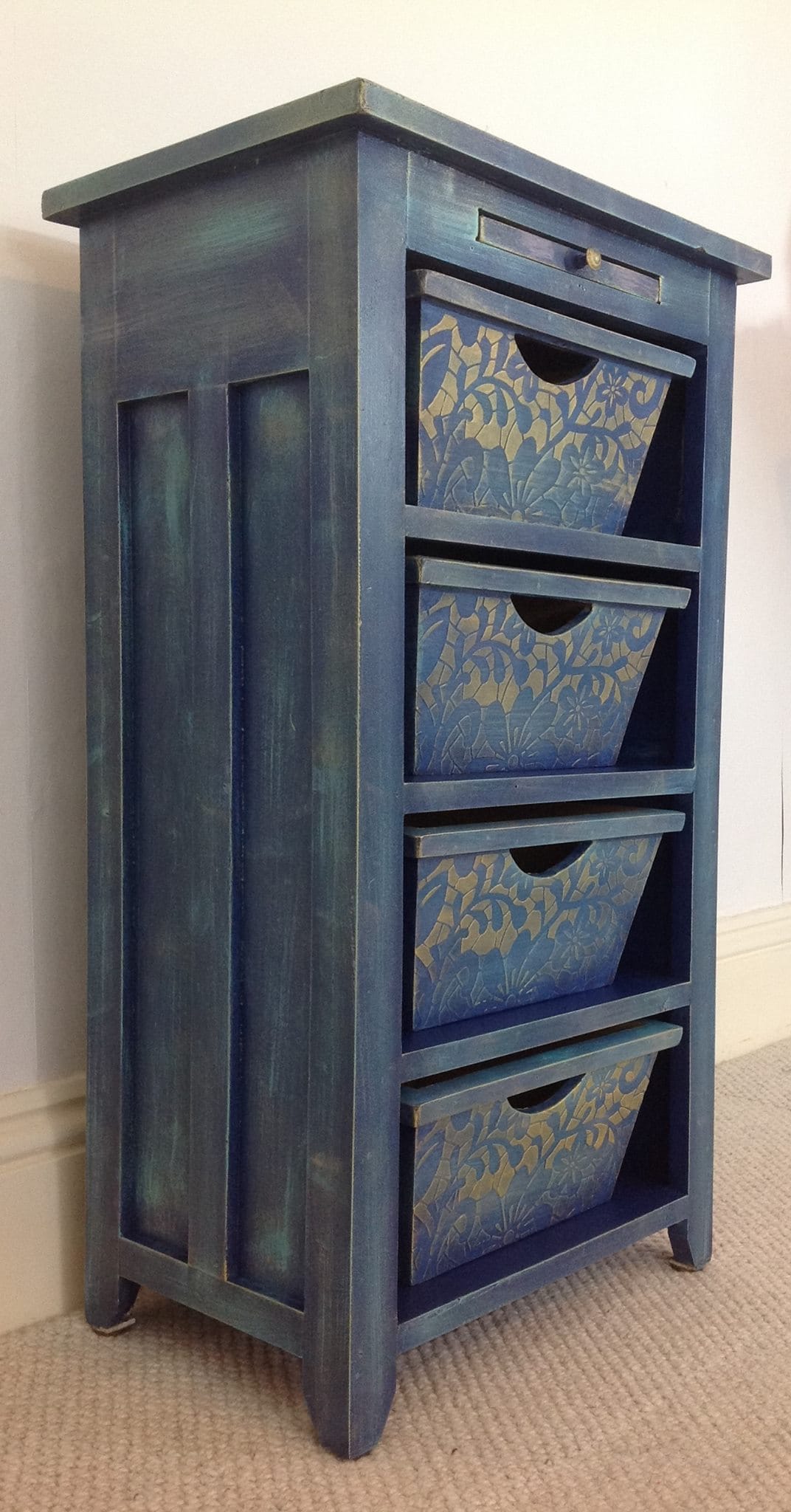 Kenzie Lynn artist at 4gotten Furniture
"This trio adds the perfect amount of dramatic touch to any bedroom. Staying neutral with color the smooth lines and blending make for a relaxing environment.
This group of men have strong new hardware, while the big guy in the middle has dovetail drawers.
The twins, fraternal not identical twins, are each their own beautiful while maintaining their similarities."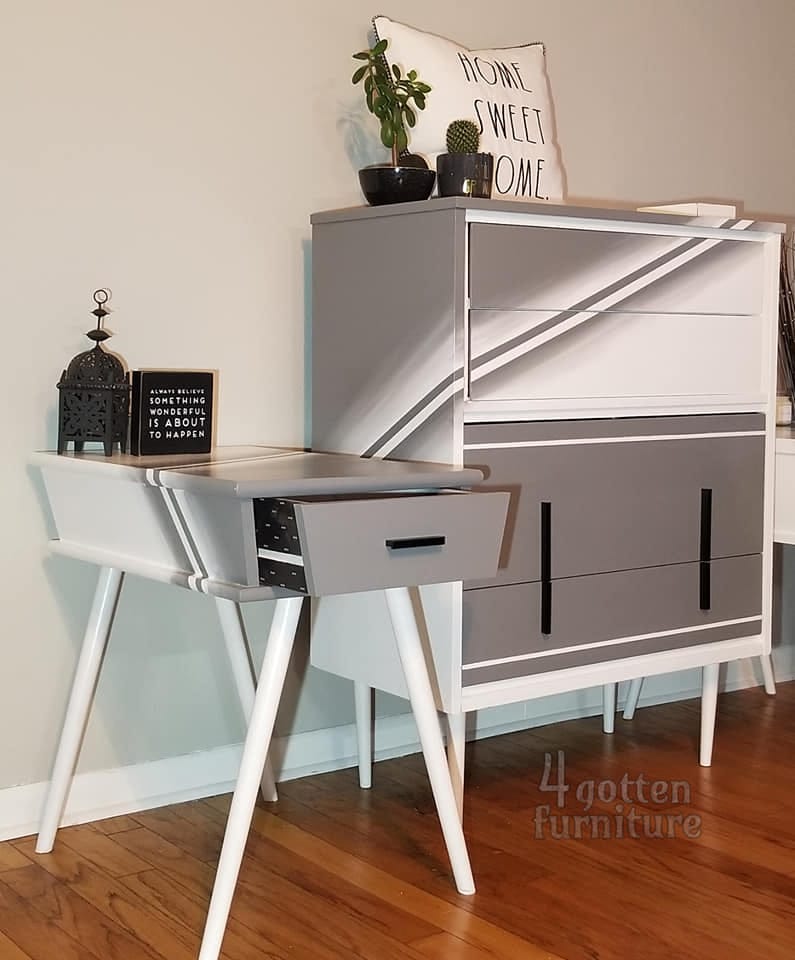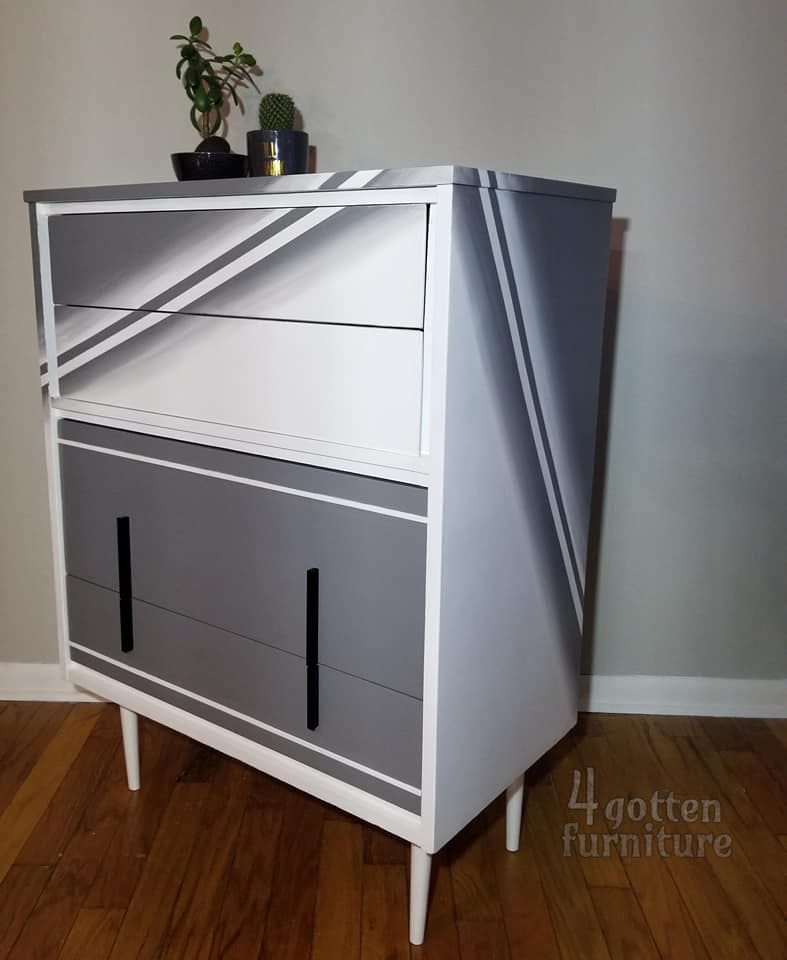 This and other challenges are a benefit of my free Facebook group, Furniture Flipping Forum. Feel free to come join us! If you'd like to fast-track your furniture flipping skills and grow your business come check out Furniture Flipping Blueprint. Enrollment opens every few months for those who have goals.
Thanks for visiting!