The Pepper Party – a Funeral Alternative



Pepper Party:

pep·per

/ˈpepər/

par·ty

/ˈpärdē/

n. 1. a. A ceremony or group of ceremonies held in honor of Pepper, a mom, grams, and meemaw. A non-funeral in celebration of life for the benefit of those left behind.
Be a rebel with a cause – do things your way, do it yourself and thumb your nose at tradition – change the rules for your family.
Sometimes DIYing is the best way to care for your family.
Let me show you what we did, but first…
Choose which photo warms your

heart and gives you hope.

This one…


Or this one?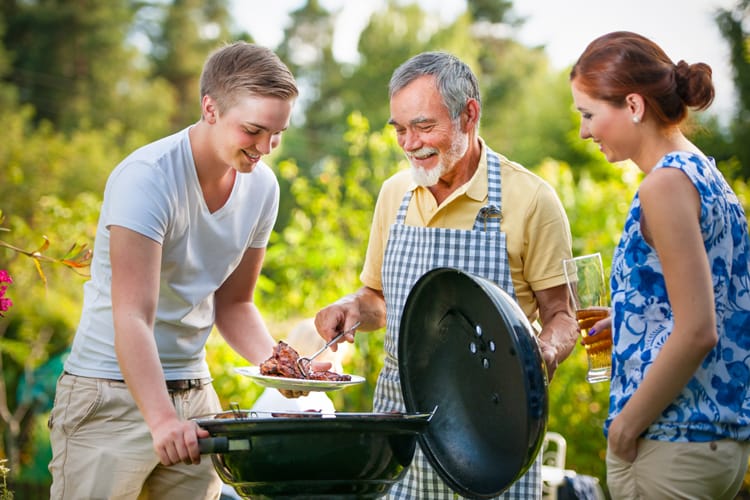 Do you know anyone who found comfort in a traditional funeral?
The thought of three days of standing around in a funeral parlor greeting visitors and then sitting through a funeral wasn't very appealing to our family. Have you ever faced something that you just knew you couldn't do? UGH. Besides, Mom made it very clear she didn't like funerals and didn't want one for herself.
Hence, we took the non-traditional route after Mom passed away.
She passed early on the 23rd (at 12:23AM on 12/23), just two days before Christmas.
We elected to have three Pepper Parties in her honor. The third was held in the summer because many of our family members had to travel and the weather here in Wisconsin can be a bit unpredictable.
Since Mom passed so close to Christmas, many felt sad for us, thinking it would interrupt our Christmas celebration. But we found it to be providential because of all the family time that was already planned.
We elected to celebrate her life

rather than mourn her passing.

The same day mom passed, we went with our daughter to hear the heartbeat of her baby (Maddie) for the first time.
The next day was Christmas Eve, so we were once again with family. And then, of course, came Christmas – more family time. Those days gave us very good memories (unlike how it would have been with a funeral home visitation).
It was the best thing we ever did.

Party #1



We had a local friends Pepper Party at our house on December 30. Friends from around Wausau came to support us and hear my stories of how Mom had her surgery, rehab, stroke and then hospice. They brought flowers, desserts and well wishes. We had food catered in from Dickeys BBQ and hors d'oeuvres from local delis. It was a blessed time. I was able to tell them of how God managed every moment and how His grace was sufficient.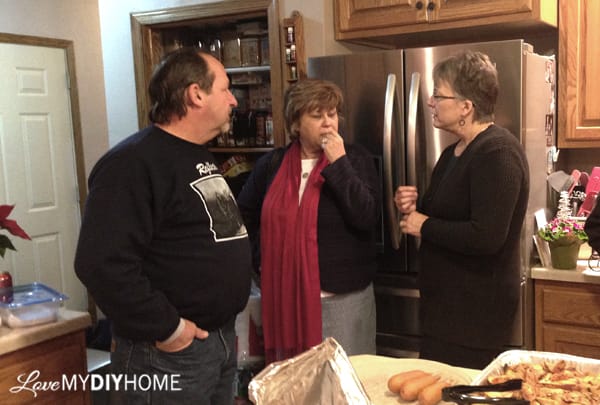 Party #2
We had a family Pepper Party at our house December 31. We laughed, we cried, we went through paperwork and Mom's stuff. We talked about G'ma and our memories of her while we sat in her room. We ate the leftovers from Pepper Party #1. It was very low key and intimate.
Party #3
We had a family reunion Pepper Party in Tomahawk, WI on the July 4th weekend. It actually turned out to be nearly a week long family celebration because we wanted to have many opportunities for our family to be together since we are spread out all over the country.
Thursday my DH and I went up to Tomahawk to spend time with my brother and his family.
Friday afternoon (July 3) we siblings and our spouses got together and went through Mom's boxes of photographs. We took a walk down memory lane together and since I'm the youngest, I found out things about our family history I never knew.
Friday night my three siblings and I along with our spouses had a very nice dinner at Iozzo's Italian Restaurant while my kids got together and had a cookout at our house.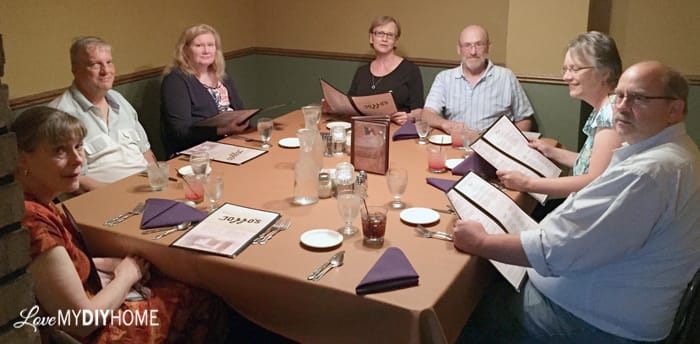 Saturday morning we drove out to Tomahawk for breakfast and then another cookout. My Brother's entire family spent the whole week at the lodge in Tomahawk and then hosted our reunion that Saturday.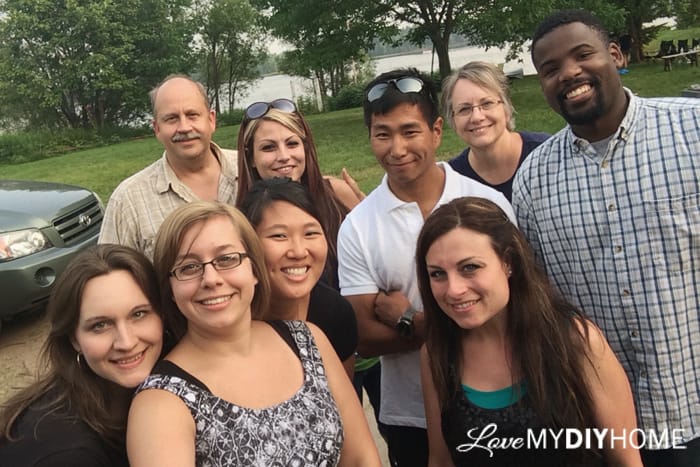 I brought a huge table full of Mom's belongings for the family to look over and take home to the lodge. Everyone left with at least one momento.
Sunday morning several family members went to church with us and then we had baby showers for both of my daughters, April and Katie.
Do I look like I am mourning here? Mom would have loved all of the family celebrations.
After the showers, we planted a memorial flowering crab tree with Mom's ashes in our backyard. I asked all of the men from age 56 to 18 months to help dig the hole for the tree. Everyone placed a flower at the base and took a moment to reflect.
A frie
nd took pictures for us.
The next morning we had a birthday celebration for our son-in-law at a local restaurant.
Tuesday was our last day with our Virginian daughter and SIL.
A couple of days later my sister and two brothers had a memorial service for our Michigan friends and family in Michigan where they buried Mom's ashes next to my Dad.
A week of family celebration. No sadness. No pain. Just remembering and renewing.
I highly recommend it. How would you plan your perfect goodbye to your loved one if you could choose?
How do you feel about funerals?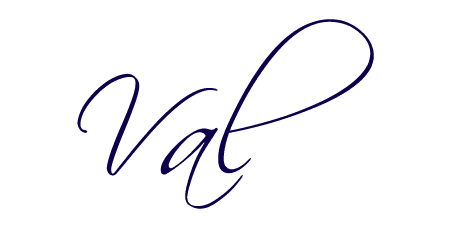 More in the series: