You might want to call me a "crazy cat lady," and you probably wouldn't be too far off.
I love my Mia. She's a great companion. I work from home and she keeps me company. I was very lonely before we got her 3 years ago. With hubby working till 5pm every day, I spent my days working as well, but missing having someone to talk to...or just be around.
I usually had the TV on just to hear voices and feel less alone. But then my DD suggested I get a cat. I've always had a cat, but when we moved to Wisconsin, I decided not to get one because I had a couple of kids who were allergic, which one of them was this DD that suggested I get one - she felt my pain. The one son who is allergic doesn't visit often, and for the other, my DD, I do super cleaning before she comes to limit her exposure to the dander, or whatever it is she's allergic to.
I enjoy my Mia and she's great company. Right now she's sleeping in her little bed next to me that I made for her out of a drawer, cabinet door and pvc pipe, as I work in my office. She has a comfy bed on top with a heating pad beneath that. We keep our house at 62 degrees, so I find it a small thing to provide her with warmth.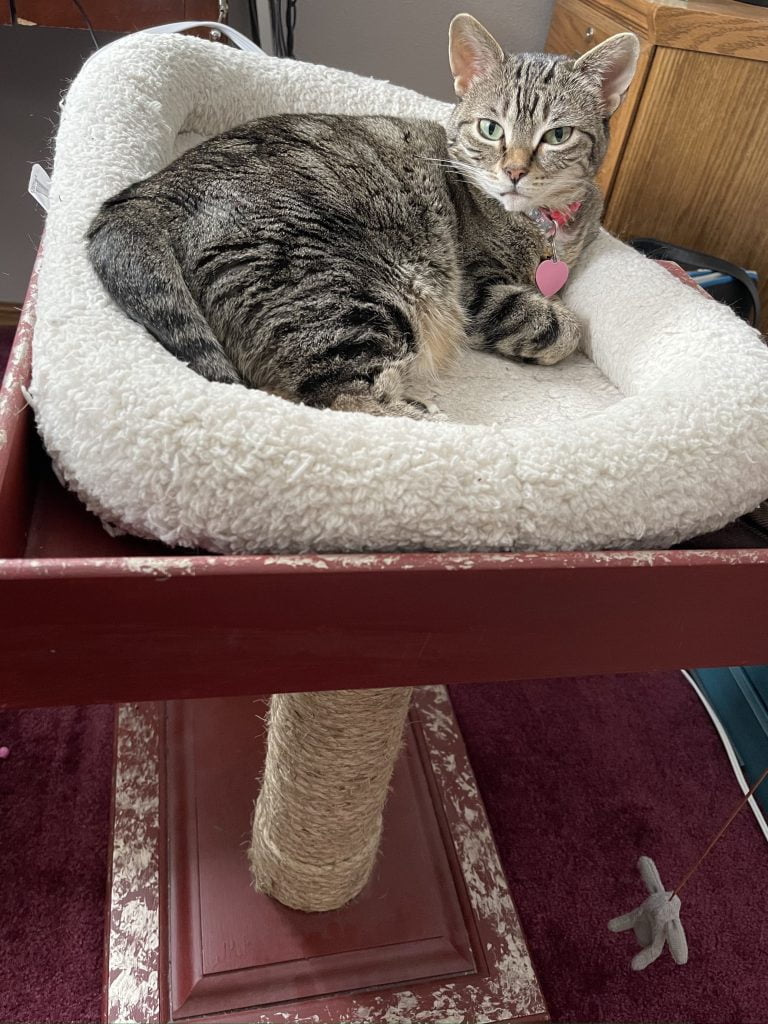 Honestly, most everything I create or buy for her can be considered self serving. I enjoy seeing her play. She makes me smile. So I buy her toys, create play areas and such just so I can watch her. I have a kitty playpen, backpack and leash for when I take her outside. I had a zippered enclosure/kitty house for her at night, but had to change it to a pen when she figured out how to escape by unzipping it. We put her to bed in our walk in closet from 11pm to 6am to keep her out of trouble and off our bed. I like to move around without having to worry about smushing her.
I had a little tent for my kids when they were toddlers and she likes playing in there. I bought her a kitty tunnel. We play hide and seek with that. She has lots of toys. She makes us laugh when we watch her play with her beanie monkey or floppy fish. DH bought her a toy for Christmas. He calls her neurotic but then tells her sorry when he accidentally steps on her. He loves her too but would never admit it.
When we go away for the weekend, my oldest daughter kitty sits for me. I can't bring myself to take her to a kennel or leave her home alone for three or more days.
Yes. I'm a crazy cat lady because I love my cat and so enjoy watching her play.
Why did I tell you all this? Not really sure other than the fact that my next pampering for Mia is never going to be understood by non-cat owners. When I mentioned it to DH and showed him a picture, I was quite surprised when he said, "let's do it" and helped me figure it all out, and then took the time to put it together.
We Built Mia a Kitty Climbing Wall.
I had a wall in my living room that was blank, waiting for just the right picture or shelf configuration. I wanted just the right look, but didn't seem to find an affordable option. Then I saw this photo to the right - a kitty climbing wall. Mia likes to be high up, as does all cats. She's constantly trying to get higher - we've had to be careful not to put a chair near our entertainment center because she's will jump up there and that's the only place in our house she can't scale. I put things up there I don't want the to get.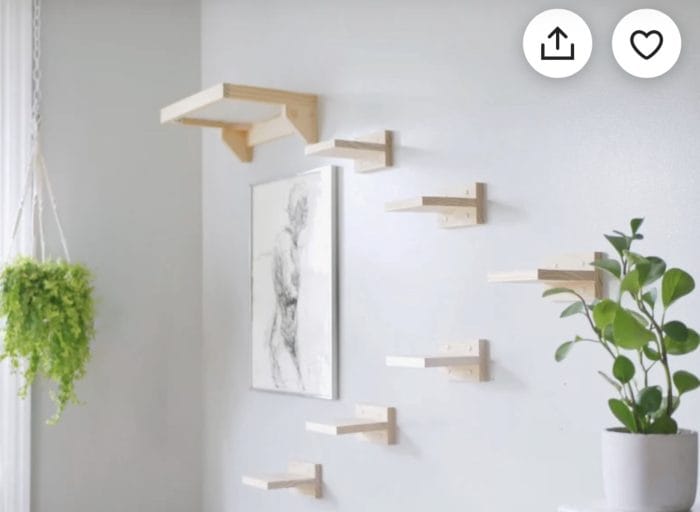 So when I saw this, I thought it would be fun for us to have something like it. It was too expensive to just buy the set offered on Etsy, so we did some research and found some very sturdy AND pretty shelves and a couple of decor items to create something similar. I wanted decorative AND functional. DH put it all up for me and it's so fun to watch Mia climb and sit like she's the queen of the house, which of course, she is.
Here's the steps to installation:
Taped the wall to test out a layout for the shelves.
Checked for studs.
Predrilled holes and added anchors.
Added the supports.
Tried out Mia on the shelf to make sure it was a good size and stable enough for her to feel comfortable.
Measured her sitting and laying down height and width to make sure the shelves were placed properly for her to make the climb and comfortably sit or lay on the shelves.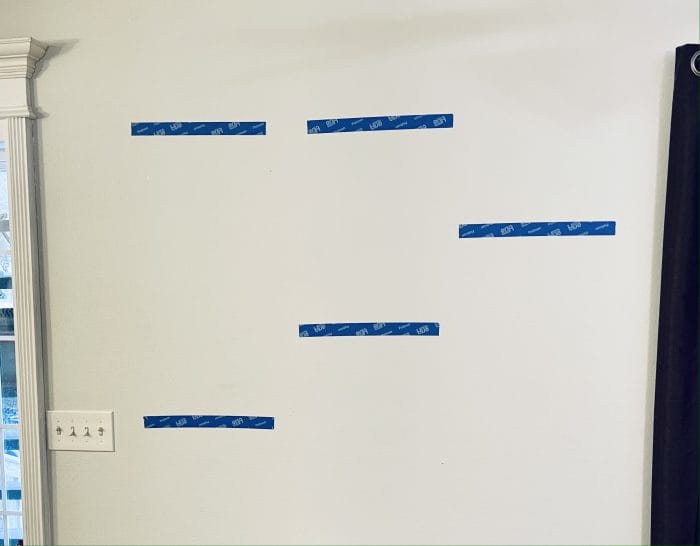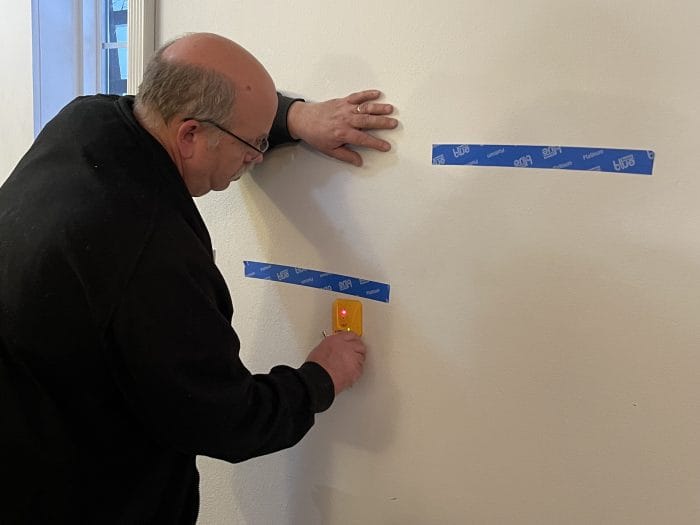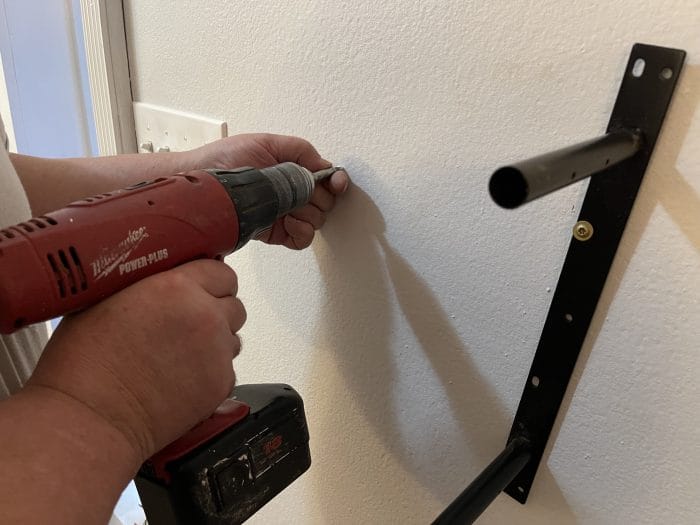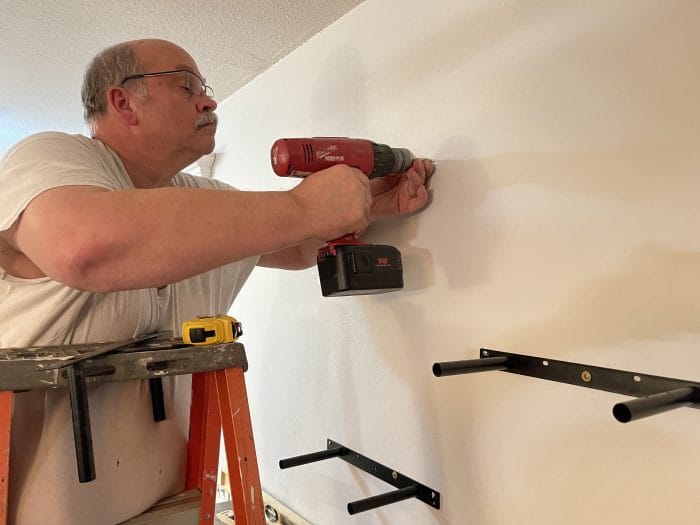 To get Mia started on the wall, I first put a plastic anchor on the shelf next shelf above her after I put her up on a shelf to pique her interest.
The next day I put her monkey on the top shelf to encourage her to climb it from the floor. She was sitting on my lap and happened to spot her monkey on the top shelf. You could tell she was intrigued and hopped of my lap and promptly climbed the shelves to the top and knocked her monkey off to the floor. We proceeded to play the game a dozen times after that.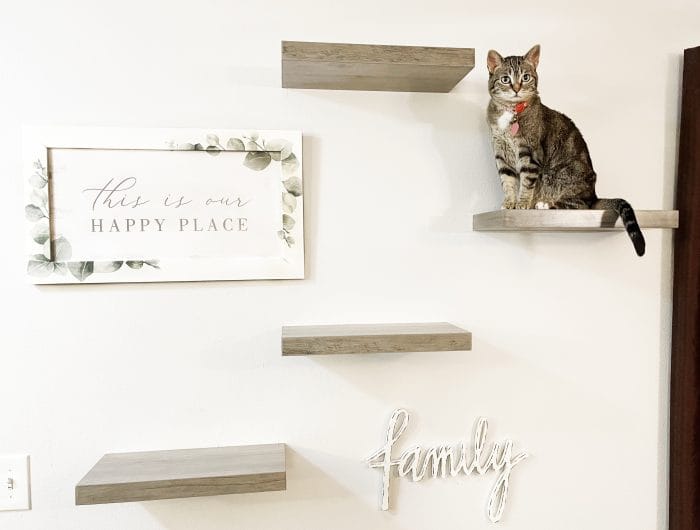 I captured Mia's victory lap on video.
Are you an animal lover? What special things do you do for your fur baby?
Whether you are a dog or cat or a lizard lover - you know how they can enrich your lives just by being there. If you don't have a pet, you'll most likely not really understand why we do the things we do. It's OK. We are just a little bit crazy and proud of it.
Blessings,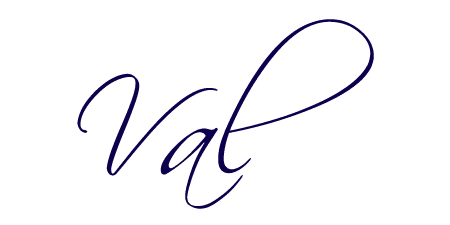 Are you a furniture artist? Visit Furniture Flipping Market for all your paint needs as well as other high quality products that will make your redesign process easier and much more enjoyable.