Let's Talk Brushes
Over the years I have collected so many different kinds and I thought I would share some of my favorites with you. I don't think I could do anything the way I do it without them.  I bet you have heard it said that it's not the paint brush, it's the painter. While there is some credence in that, you know, I could probably take any paintbrush and get any job done, but how much frustration would I go through because I don't have the right brush?
Years ago when we bought our house, I had a friend come over to help me paint my mom's apartment, which is now my workshop. When we were painting it, a friend came over and she was quite an experienced painter.
She said, "Get yourself a nice paintbrush. You know, you could paint this with the brush you have, but trust me, go put out 20 bucks, get a good brush. You'll be amazed at how easy painting is when you have a good brush."
I was taping off when I was trying to do some of the trim work and she said, "You're wasting your time. Just get a good brush."
So I took her advice.
I think I put out about $15. I went and got myself a good brush and I discovered I could hand paint and I no longer had to tape off. Now that I've learned that lesson, I seldom use tape. I hand paint.
I have some really great brushes and I save time, money and frustration now.
Let's start right out with the cheapo brush. You know, these are the kind that you can pick up at like Menard's and get a rebate and they end up being free. I use this for when I sand down my piece. I brush it off with this and I made sure that I labeled it so I don't accidentally dip it into my paint.
I have several of these brushes that are real quick and easy to grab.
You're probably familiar with the round type brushes. I use them for a couple of different things. I do use them for wax, but I make sure that I label it "only for wax" because you don't want use it for wax and your paint.
I use a round brush for painting when I want to get a piece painted really quickly and I'm not concerned about anything other than getting a quick coat on. I use it with my chalk paint and just paint the thing and have it done in two minutes. I have a couple for wax as well.
Then I have a ClingOn. Everyone loves ClingOns. Right? I have a really hard time putting out more money for brushes. This is absolute favorite of any brushes that I own.
When people say, "Why cling on?" My answer is, "Mostly because it goes where you tell it to go. When you're painting along, you want to make sure that your paintbrush is going to go where you want it to go and the ClingOn is great for that."
It does not lose bristles. It's very soft. The paint goes on like a dream. Love my ClingOn.
One of these days I'm going to get myself a couple more, maybe a bigger one. There's a really short handled one too.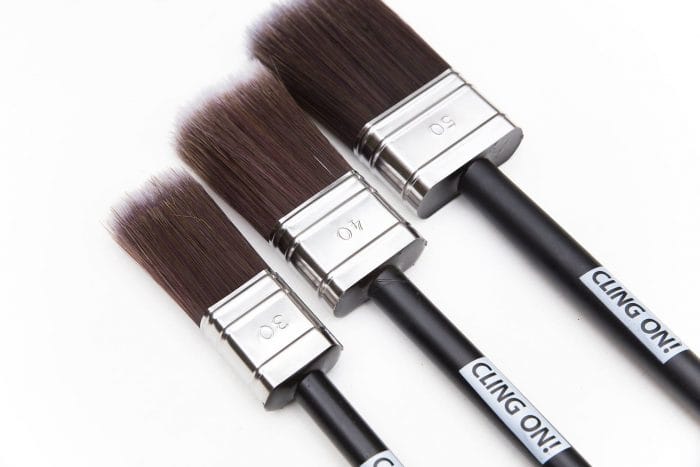 Speaking of short ones, when you're in tight spots, use a Zibra or short Woosters are good too. When you're in tight spots, it's really great to have short and even angled brushes.
It's just so much easier to paint when you have a brush that fits what you're painting. Zibra has several different types of brushes - angled, wedged, rounded etc. The wedged brush is really great for painting along on flat surfaces that you need to get a good amount of paint on your piece.

I stumbled across a really great deal at IKEA. IKEA calls these "kids brushes" and I just happened to buy a package one day to try them out. They're like three bucks for six brushes. I think I have three packages in my workshop drawer. These are amazing brushes if you buy them right from IKEA. I've given these to a lot of my Furniture Flipping Blueprint members because I love them so much. They're super soft and the bristles do not come out. These nice little detail brushes hold a lot of paint and they're just great for painting in small areas.
Everyone should have these brushes in their toolbox.
Since I like to use several different colors or layers when I stencil, I've found it helpful to have a few different stencil brushes on hand. I've not found one brand to be better than the other, other than I do look for the ones that are more dense. I use several different sizes when I stencil, depending on the stencil.
Small, medium, large and extra large. I keep several mediums on hand since I use them the most.
And then, let's talk a little bit about sponge brushes. I use sponge brushes quite often now, especially when I'm applying my CrystaLlac water-based polyurethane. Sponge brush works fabulous, but there's two different kinds of sponge brushes.
When I first started using sponge brushes, I used the plastic handled ones. I thought, yeah, they're cheap. Okay, I like to buy cheap, but they're CHEAP. They're not inexpensive. Well, they ARE, inexpensive, but they're cheap also. The wood handled ones are a little bit more expensive, but they have dense foam. These work so much better.
Unless I'm doing something real quick and I don't care what it looks like, I will not use the cheapo sponge brushes anymore. They're super thin and because they're super cheap, you get tons of bubbles when you use them. I will never buy these again. Be careful when you are buying sponge brushes. Get the quality ones. Compare before you buy.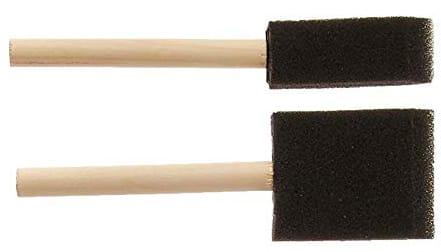 Caring for Your Brushes
When I clean out my brushes, I use blue Dawn dish washing liquid. I work the blue Dawn into the bristles and then rinse them out really well. I squeeze out the water, pat them with a towel, and hang them to dry. Do your best not to get the paint in the ferrule when painting and if you hang them it helps keep water out.
Take care of your brushes, and they'll take care of you.