My DD, Jillian, is my Social Media Specialist for my furniture flipping business and is way under paid. Picture her holding up a sign that says, "I work for paint." Not to mention the patience her DH, Taylor, has shown in regard to her time spent on the forum.
So I figured I'd grab one of the pieces she's hinted that she'd like to have one day with a, "So...what do you plan to do with that piece?" We find so many cool pieces, and she spends so much time on my social media accounts, how could I not paint her something for Christmas?
So here is the "before." Nothing special, just an old outdated three tiered plant stand. BUT, "nothing special" can be so easily turned into, "This is amazing," with a little paint and creativity.
BEFORE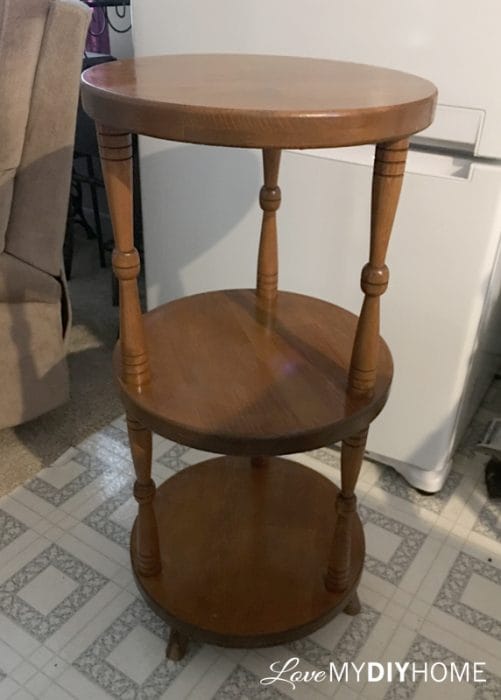 I never did get any ideas out of her as to how she wanted it painted.
So I got a little creative and tried out some new products and techniques I've wanted to explore. I won the (afflinks) Key West Blue and Lamp Black in a General Finishes contest, so I have been looking for a project I could use them both on. On my way home from the General Finishes EXPO in September I stopped off on the way home to the Woodcraft store and bought the Pearl Effects I tried out in a workshop at that same EXPO. This was a great time to see if (afflink) STIX, a bonding primer actually worked too since the finish was glossy. Experimenting is such fun!
Materials Used in This Project
(Affiliate links for your convenience)