A Fall Front Yard & Deck Project You Too Can Do!
NOTE: This post is from 2015. It is now 2022 and looking back, I am so thankful I decided to learn about landscaping and curb appeal. I hope this will encourage you to do the same.
We bought our house a few years ago and it was in a shambles. The yard looked like it was a backwoods farm that hadn't been touched in years.
Here are before pictures of our house just before we bought it. It was pretty sad looking.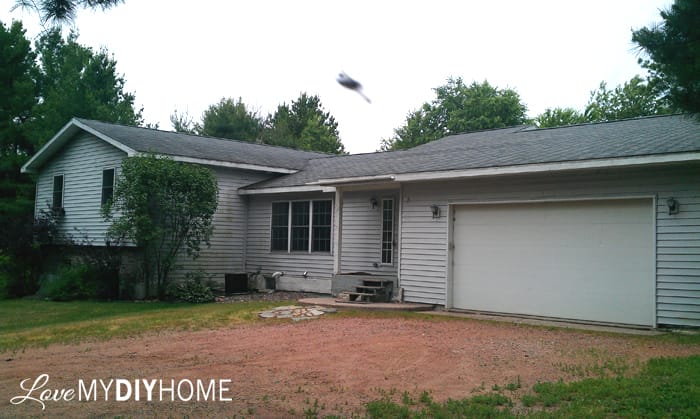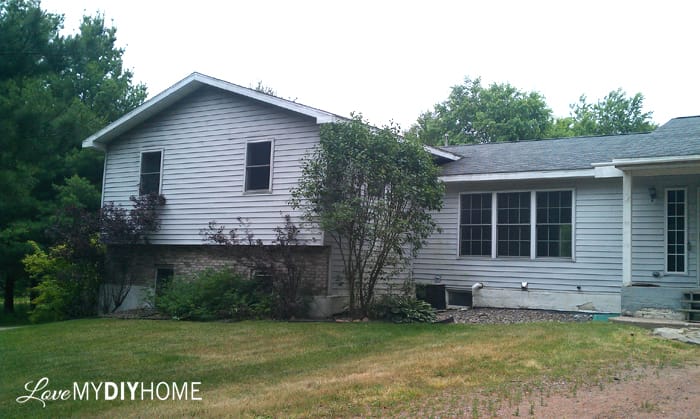 The front was nondescript with overgrown greenery and stones full of dirt and dried up greenery.
After a year of not addressing the stones in front, tons of weeds took root and made it look even shabbier. 
I did manage to put up the heart my son, Andrew, bought for me years ago. VBG
It All Starts With a Vision
I had a vision of lush green shrubs and flowers gracing the front of our house like those in the Home and Garden magazines.
BUT...I'd never done ANY landscaping E.V.E.R. But a lack of experience should never stop anyone. It doesn't me because I know I can figure it out.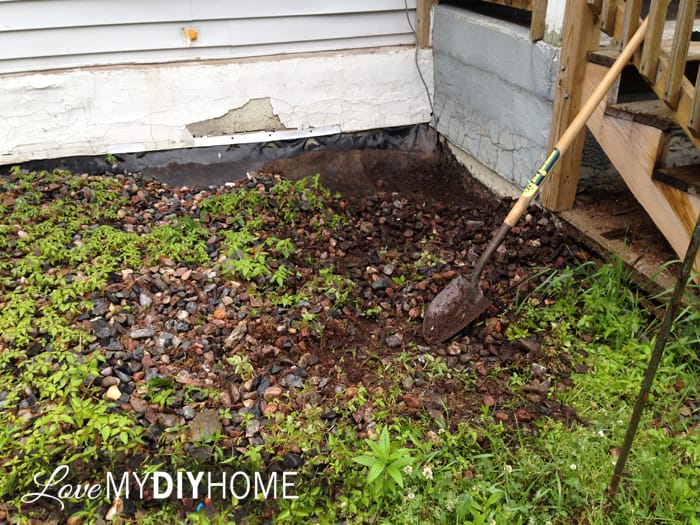 I must include an actual picture of me working so you don't think I got my DH to do the work. He had enough on his plate to do this project for me. Besides, I enjoyed doing it - believe it or not.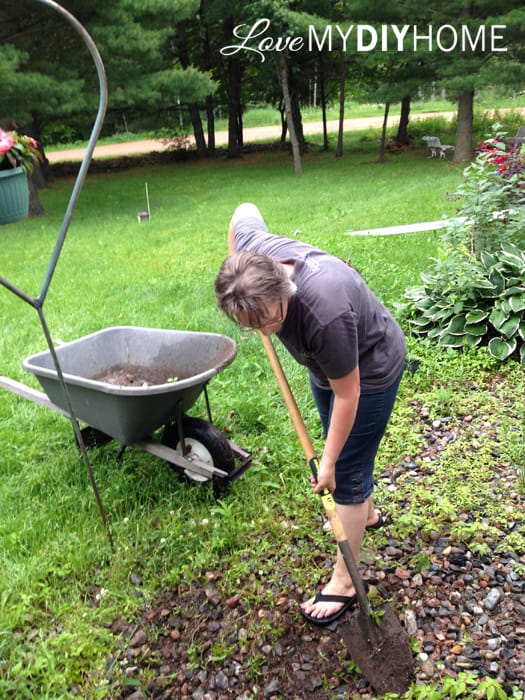 This was my 2014 summer project that extended to summer 2015 (Mom's illness/surgery/rehab and stroke took me away).
To start, I dug out the stones in the front and threw them into the driveway. They were so weed infested and dirty that I couldn't figure out any way to clean them that didn't involve a rag and 9000 hours of work.
Having been a stuck in the house person for so long it was nice to get out and do the work, but remember... endeavor to work smart, not necessarily hard.
30 years of raising kids tended to keep me tied inside, so the outside adventure was intriguing to me.
After I dug out the rocks, I found plastic.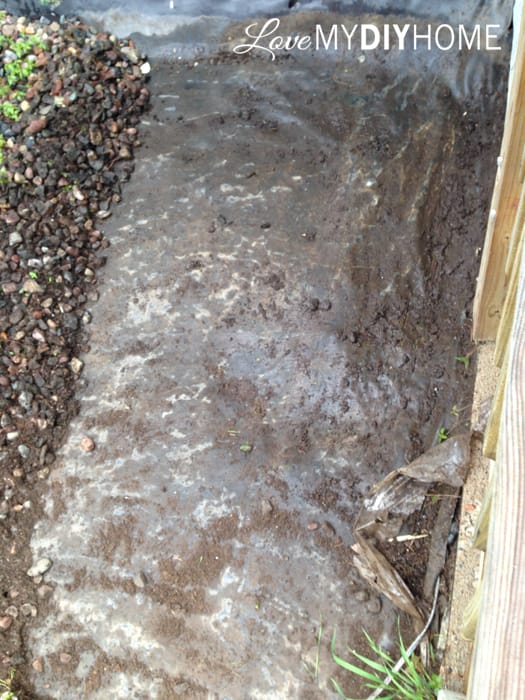 This is not uncommon, but it's awfully hard on the dirt below. Dirt prefers to breathe. After first doing some research, I decided to either use landscaping fabric or mulch and compost with nothing beneath. This time I didn't use the fabric.
I started out with some clean dirt from our local supplier and mulch we got from an auction house. We got it for a good deal because the bags were ripped up and taped.
I added a coconut compost blend from Olsons. We had bought some to fortify our garden, so I used some of it here. Love that stuff!
Even though I didn't put down landscaping fabric, I had few weeds to contend with.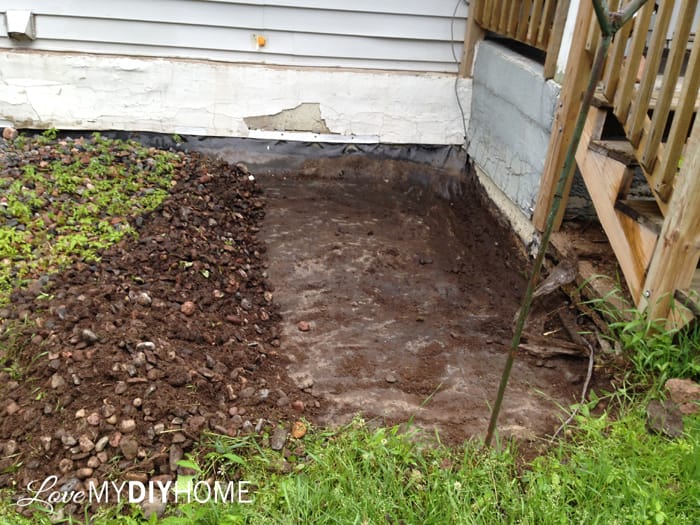 Here is a picture of how it came out last year. It was cute, but not quite complete. Hold on, there's more... A LOT MORE.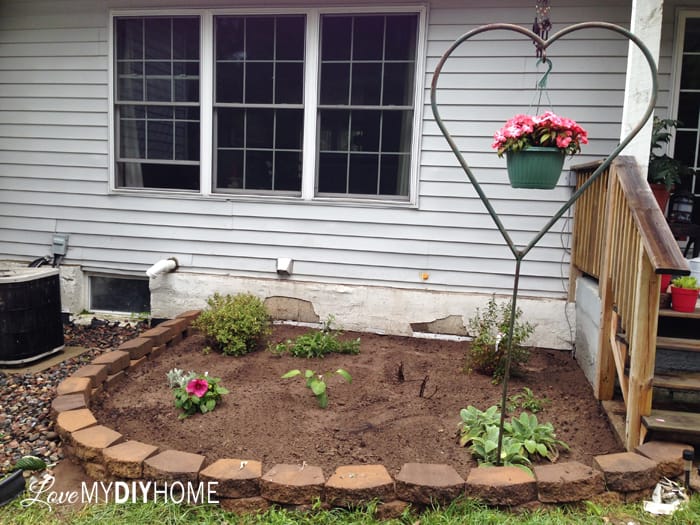 Sometimes you can hide an awful sight until you can repair it.
As you can see, there was still a lot of work to be done. That awful looking background needed fixing - the foundation coating was falling off every time I touched it, or sneezed. Or looked at it. Or even thought about looking at it.
Once the greenery (and whitery) grew, that space looked much better. I believe in hiding the ugly stuff. Hiding is good. Hiding is less work (though I know my DH will get around to fixing it I must one day fix it).
It's OK to work at it over time.
Part of the mindset in a DIY passion is that to have a true DIY that saves you money and creates a uniquetivity (like my new word?), one must be patient. You can't necessarily get a job done in one day, one week or even one year.
If you are truly frugal, you will watch for sales, look for just the right additions to build your site little by little (whether it be a site online or a site in the front of your house), creating your own flavor while saving money.
Would I like to snap my fingers and have it all done? Sure. But that doesn't fit into a frugalista's goals. To save money, to have a one of a kind personal design and be able to look back on it with pleasure a body must be patient.
UPDATE 2022: Was it worth all the effort and time? It sure was. I've enjoyed this little garden for years.
Do you ever look through blogs or magazines and see amazingly gorgeous projects and think to yourself, "Self, I could never do that"? 
I'm hoping to encourage you to go out there and give DIY a try. It really is worth the effort.

Some of what you see was a total surprise to me. I had no idea the three little Lambs Ear plants would grow like crazy. I bought it because it was on sale and the leaves were soft...wait for it...soft as "lambs ears."
They went from this the

first

year:
To this the next:
I also cut a lot out because it was growing out of control PLUS dug some out for my daughter's MIL to take home to Ohio it grew so well.
UPDATE 2022: The Lamb's Ear is still alive and well, coming back every year.
*Side note: The house across from where I work has a beautiful front yard complete with all the trimmings. It is a sight to behold and obviously done by a professional. The funny thing is...they have about 25 small Lambs Ear plants off to the side. 25! If they had just planted about 8 of them, they would have more than enough to cover the entire area and saved a ton of money! Experience through DIY really is the best teacher.
It wasn't my talent or special anything that got the job done.
I picked up a shovel and put it to use.

I walked through many home and garden areas looking for deals.

I asked questions.

I read about compost and dirt and perennials.

I combed through blogs and Pinterest for ideas.

I dug and weeded and watered.

I asked more questions.
Are there things you wish for?
Do you have projects in your head that are screaming to get out?
If I can do this, you can too.
You can choose different types of plants that flower or turn colors at different times throughout the summer and fall. I had no idea how or what. You can just jump into it all and learned as you go along. I'm living proof.
Being a newbie to gardening, it was a great surprise to watch my little flower/bush garden change over time. I still have one plant that hasn't flowered yet and I'm anxious to see what happens. I don't even remember planting it last year!
It was probably an afterthought. "Oh, I'd better dump this out of my planter into some soil to try and save it for next year."
Living presents are the best
My boss gave me this plant in May, a Tropic Escape Vining Mandavilla. It's amazing how it has changed just this past week.
With several days of rain came a burst of flowers I'd not seen all summer.
Good for the gardener and her flowers, not so good for the yard keeper-upper!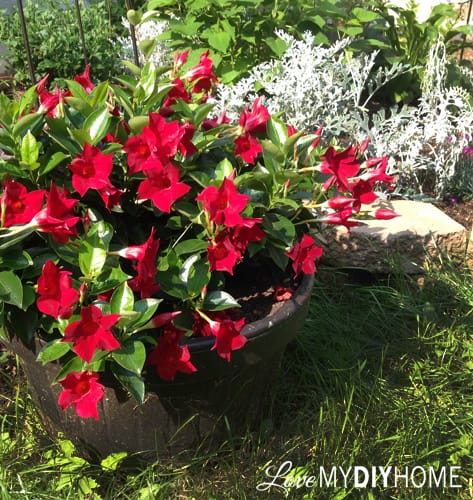 This year I added more plants called steppables (on sale at Menards) and pretty little pink flowers ($3 rebates on $4 plants at Menards), Dusty Millers (on sale at Shopko), Lavender (on sale at Menards) and a plant from my daughter's back yard (FREE).
UPDATE 2022: The steppable have come back every year as well.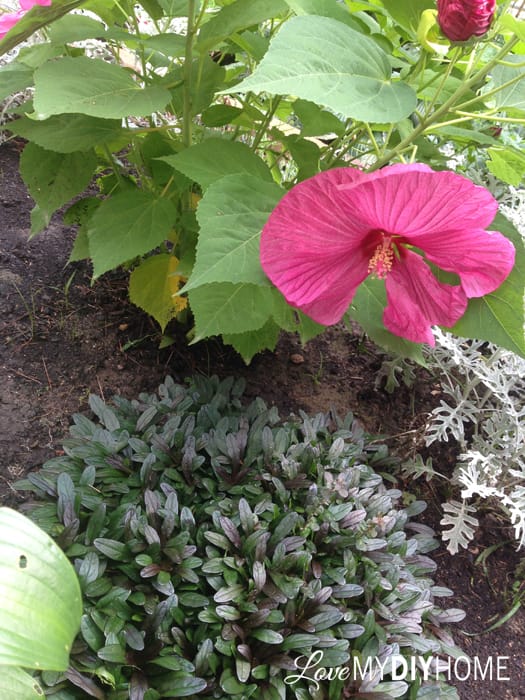 Much to my surprise my hibiscus bush ($3 at Shopko on clearance) came up again this year. I was supposed to mulch everything last fall but honestly, I was too involved in my mom's health situation to care. I wasn't even sure it was that same Hibiscus plant until it flowered.
The Dusty Millers were labeled as an annual but turned out to be a perennial. Cool, huh? Those came up too for three years straight. 
My basil and a bunch of other herbs grew well this year. Here's the basil in some hanging baskets - you don't always have to put flowers in them, right? They smell so good!
Have you figured out that I had NO idea what I was doing when I started this project?
DIY is good like that. You can learn as you go along.
I even found a cute little lantern with lights that change colors at night for $3 at CVS last fall at their end of summer sale. It's hung on a shepherd's hook (Clearance sale, $3). OK, I must admit, I bought 8 lanterns, but who's counting?
My front porch is small, but that doesn't stop me from working on that too since it is right next to my new little garden. Do you decorate for fall?
Your front door and entryway are the first thing visitors see when they enter your home. Does it say, "Welcome, I'm glad you're here"?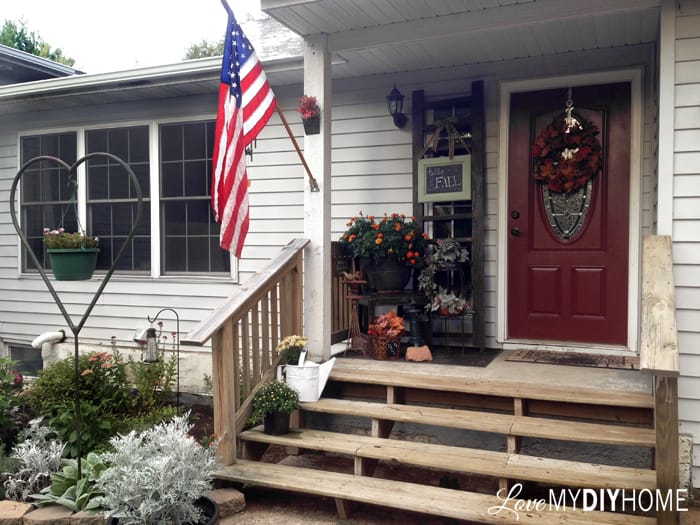 My DH painted our front door for me today, just for this picture. Such a good doobie!
UPDATE 2022: Over the years we have worked on our property and enjoyed a lot of success - because I dared to try something new. Our property is so inviting and we truly enjoy it now. Too often we avoid doing something because we have no idea how to do it, or we hire it out. I am challenging you to DIY. It's not only helpful for the budget, improves our home's value, but you also get a real sense of accomplishment.