While in Virginia visiting our DD and SIL, we worked on a couple of projects – an island made out of pallets and a rocking chair painted with homemade chalk paint.
This is a tutorial on the DIY Deck Island.
Project List (affiliate links):
Hammer
3″ Deck Screws
Cordless Drill
Pry Bar
Spray Paint
Glue
2x4s
Ceramic Tile
DIY Deck Island
Since pallets come in all different sizes, we won't give you exact measurements, since it would do you no good anyway. BUT, I am giving you detailed pictures and will try to answer any questions you may have – just leave them in a comment.
Find two pallets that are the same size.

Pry off pieces that you won't use, carefully.
Build a Frame with 2×4's.
Keep in mind what size you will need the frame to be in order to accommodate the size of tile you plan to use on the top. DH used his (aff links)
cordless drill
to assemble the frame with
3″ deck screws
.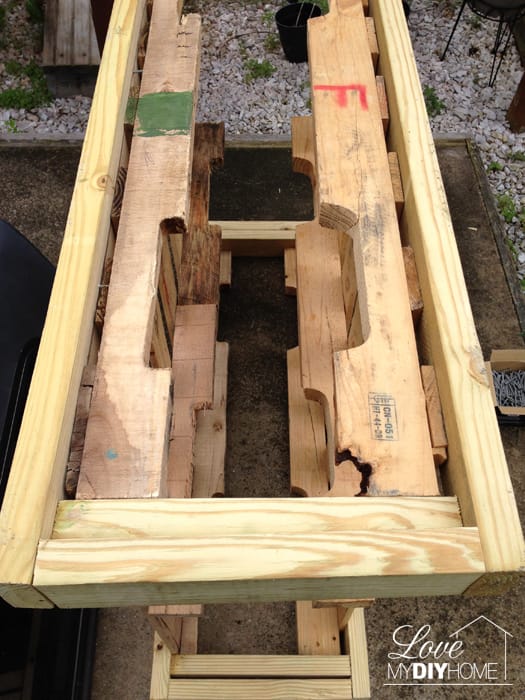 The middle section didn't match up. We wanted a middle and bottom shelf, so in order to add that, the center and bottom pallet pieces needed to be level. DH and Taylor pried off the inside support and added new supports. My DH leveled up the bottom supports.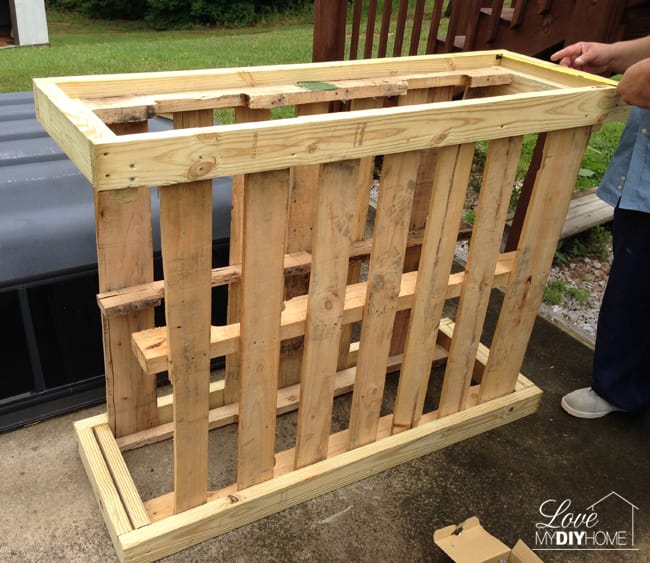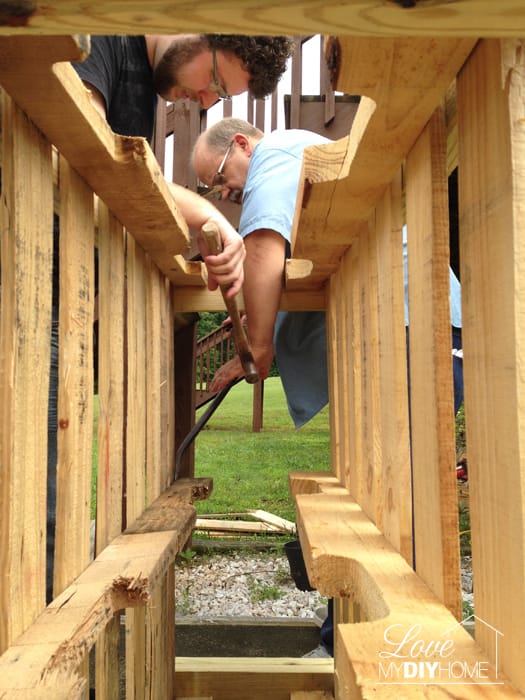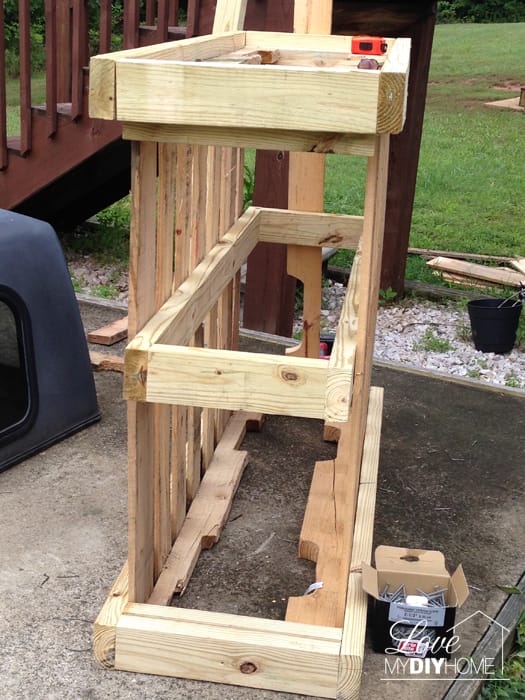 We added slats to the middle supports to make a shelf.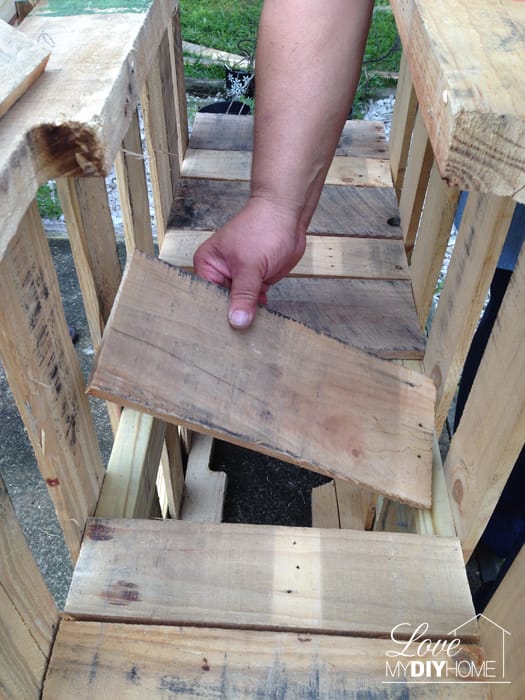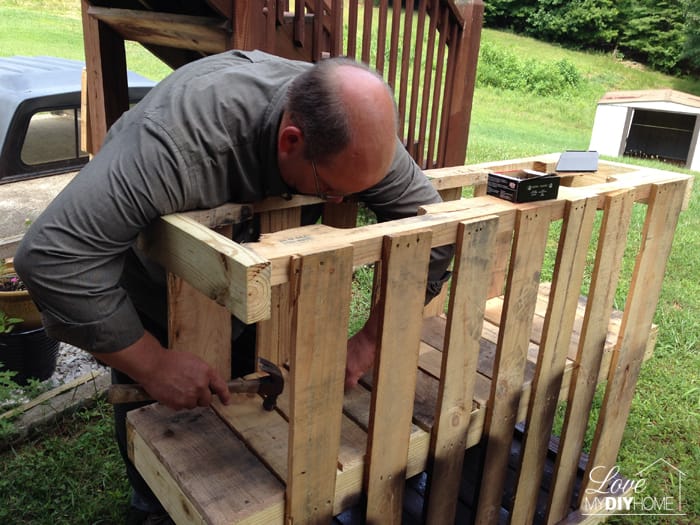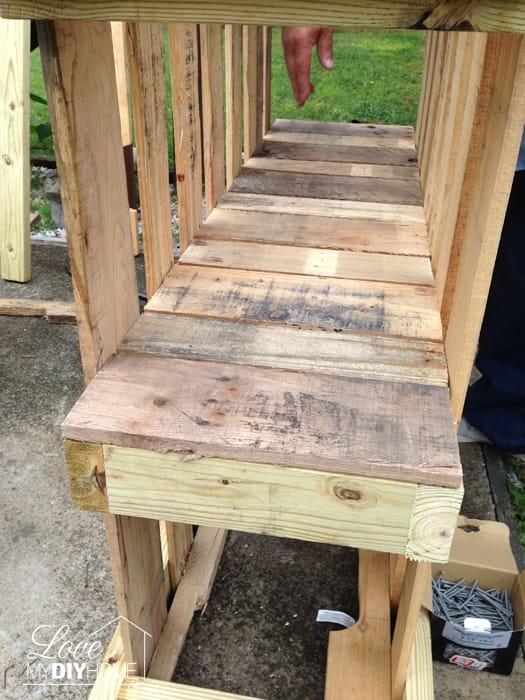 DH built a top piece that would set right on top using 2×4's and pallet slats.
Support, cut, nail, repeat.
As you can see we worked past sunset – family projects are so fun!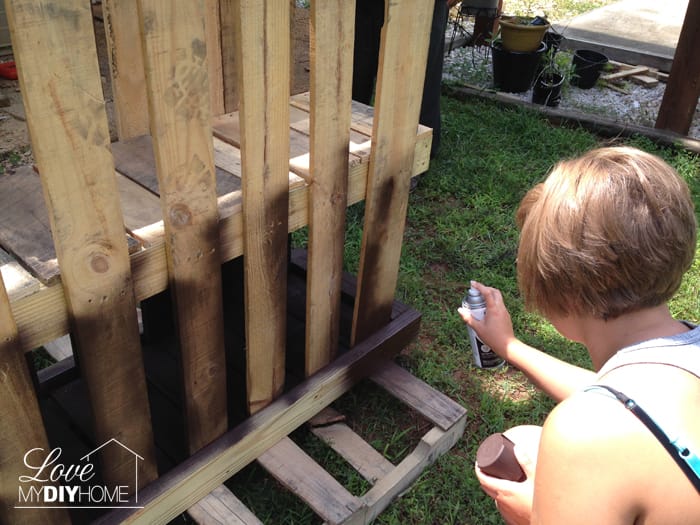 We walked around Lowes looking for table top options. Ceramic tile was perfect and inexpensive.
Taylor added glue and placed the tile.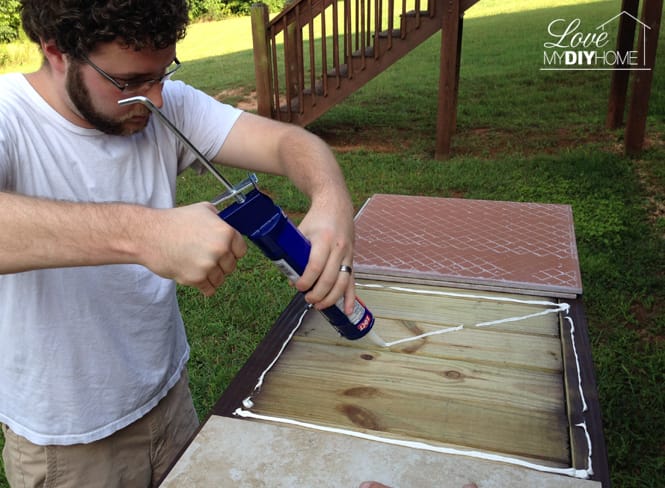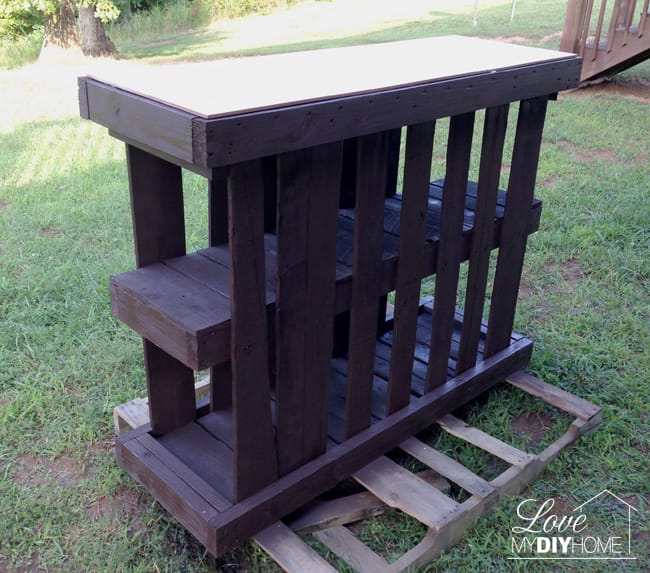 The tile looked unfinished so we added trim.

We couldn't find quarter round that was slim enough, so we used simple square wood pieces to trim it out.
No, those aren't my hands, BTW.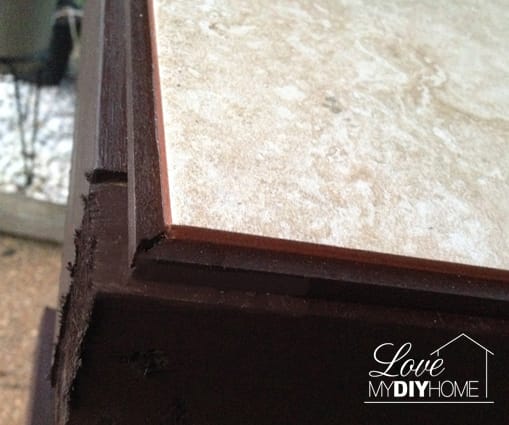 Trash to treasure – a deck island out of pallets.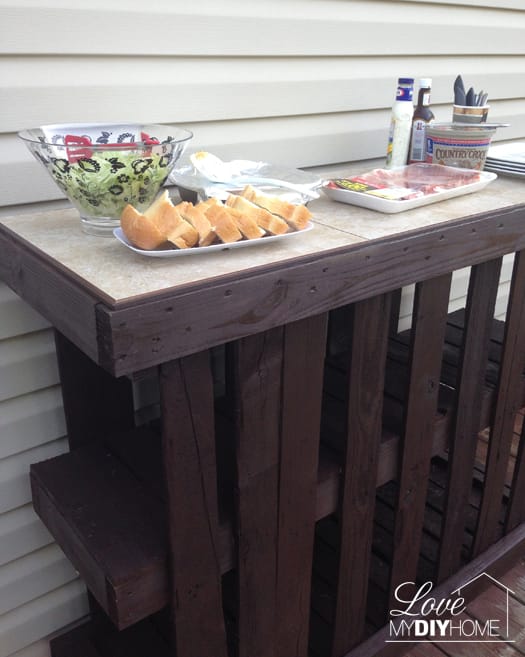 I'll never look at a pallet the same.
It does take vision, but if you can see past what a piece is and see how it COULD be, then you can have something useful and pleasing to the eye.
This pallet deck island was made in a weekend without plans or specific directions. Between the four of us, we figured it out and added and subtracted as we went along to come up with a one of a kind deck island. What have you dreamed up that you want to build?
Have you ever worked with pallets?
Can you wing it or do you need specific plans?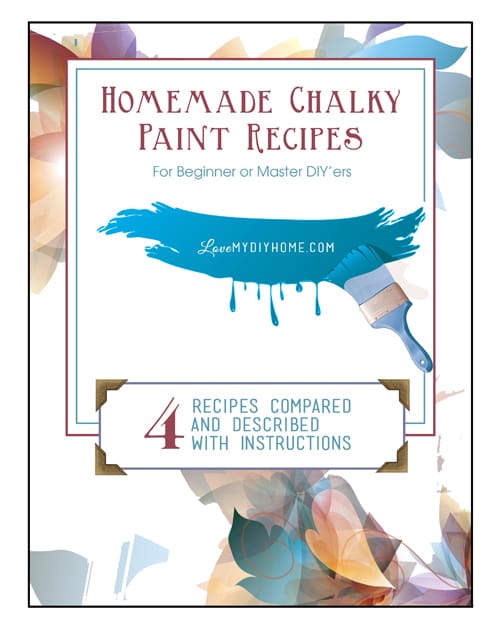 If you are interested in using chalk type paint download my

4 Homemade Chalky Paint Recipes – compared and described with instructions

PDF and then make it yourself and save $$.
Doing so will put you on my mailing list but feel free to unsubscribe any time. Really. It's OK. I may cry a little, but I'll get over it. 🙂
Have a great DIY day!
XXOO
Planning a project? Shop Amazon:
* Disclosure: This post contains affiliate links. If you buy anything after clicking on one of the affiliate links, I receive a small commission of the sale. The cost to you is the same, and I only link to items that I think would benefit my readers. Your support of this blog is greatly appreciated!