We're on a roll! The wood floors finally dried and got a second coat – oh boy, just wait until you see 'em in the final reveal!
Kitchen DIY Flooring
The kitchen floor had two layers of linoleum. Here is a peek at the lovely green and yellow kitchen floor before. OK, not so lovely…
They took off the top linoleum, but left this second layer (the green yellow) and laid down a luan sub floor over it ($10/sheet). The sub floor insures a level flat surface for the new floor.
Once that was in place, Adam marked the middle of the floor and made sure it was plumb for the first square.
They used self-adhesive vinyl floor tile – AKA place and press squares ($21.36/box, 8 boxes from Menards). Easy on the eyes, easy on the budget, easy to lay.
Once you get the first one laid, the rest is easy. Just peel and stick!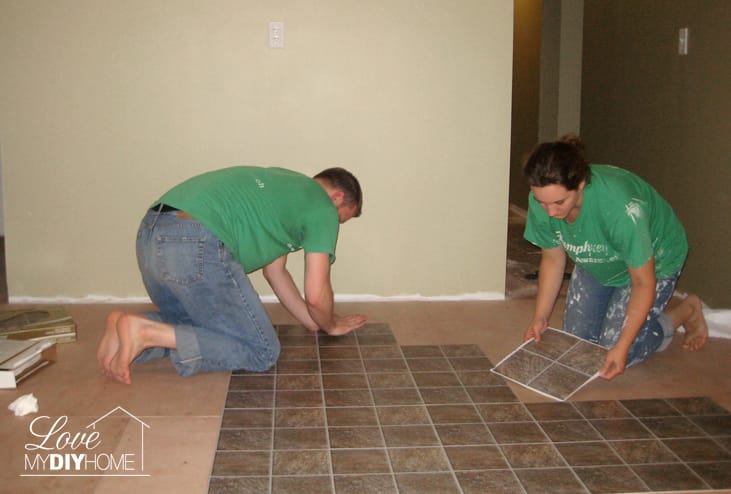 The change is amazing.
Bathroom DIY Flooring
The bathroom also had two layers of linoleum.
Can you say, BLECH?
The Joneses chose to use a one piece flexible linoleum from Menards that was very soft and pliable. Once again there must be a sub floor before the new floor can be laid.
They had to get a 12 x 14 ft. piece because of the odd dimensions of the bathroom ($166/$.99 per sq.ft.). They had a bunch left over – Hello, Craig's List.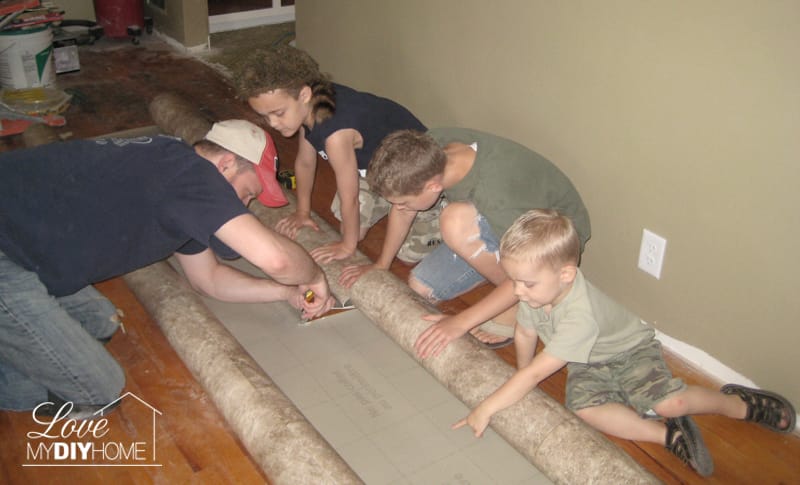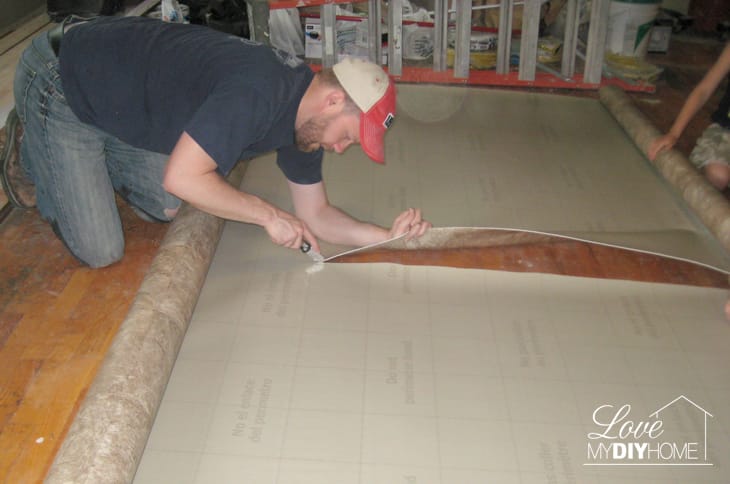 See how it molds around the wall, making it easy to cut to size?
Huge change. H.U.G.E.
The kitchen cabinets are almost done along with the bead board back splash; I'll show you those next.
They are expecting to move in next week!
Of course, Meemaw and I told them go ahead and move…
But they have to leave the grandkids!