Hi.
Welcome.
Merry Christmas!
I'm glad you came for a visit.
I'd like to share my home with you for Christmas.
Tell me about your day; grab a cup of coffee and sit with me a while.
I don't know about you, but I'd like to put my feet up and just enjoy the holiday.
Have you been crazy busy trying to get everything done for upcoming festivities?
It can be such fun, but it can also be so exhausting!
Shopping?
Wrapping?
Cleaning?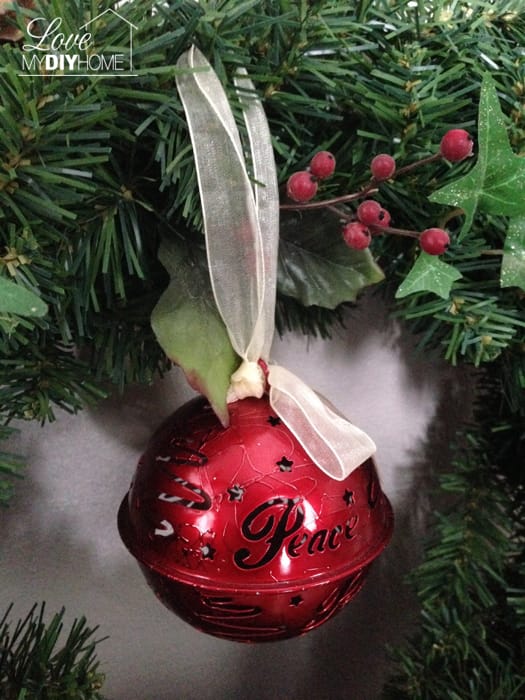 My Christmas time has come. My house is D.O.N.E.
My kids have arrived and it's time to enjoy!
Here's my little angel I got the day after Christmas last year.



Yep. I do the day after Christmas sale every year – It's a family tradition.
Most of my Christmas decor was 70 – 90 % off. I'll list some of them for you as you tour my house.
Angel – $3.00, Cinnamon pinecones – 16 for $2.50
Garland – $1.49
No presents under the tree yet, but I will share soon.
I used painter's paper…
My DH made the tree stand years ago from leftover 2x4s – free
Bulbs and ribbon – 50% off. Tree $24 from Cracker Barrell. Yep, from Cracker Barrell.
The sleigh came to me from one of my DH's auctions – free
Flowers – $2.67, MERRY $.50 and the metallic painted leaves are one of my DIY projects.
Christmas pillow – $4.00
Silk poinsettia plant – $12.00
Added white poinsettias and bow – $2.00
Clock – $8.00
Christmas wreath – $12.00, Wreath stand – $3.00
Candle stand – $1.50, Lantern (DIY project) – $.68
White pillows $4.00, Big brown pillow – free
Ugly but comfy dating chair – $100 (auction)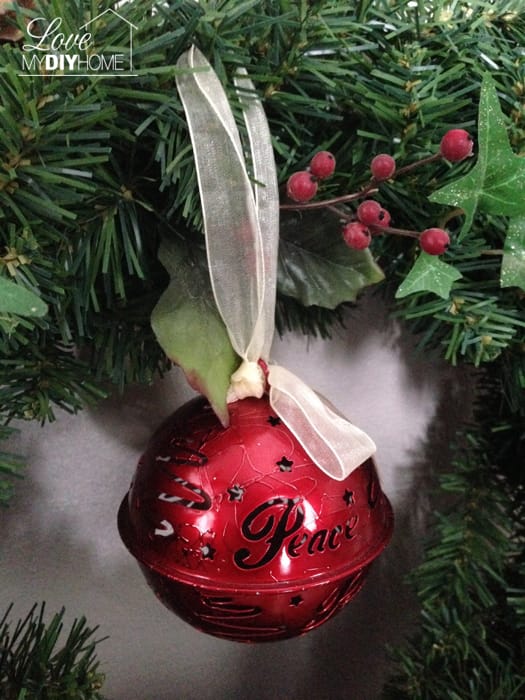 Nutcracker – one of a dozen we've used every year since the kids were little.
He's the only one left intact. Anyone remember where we got these from?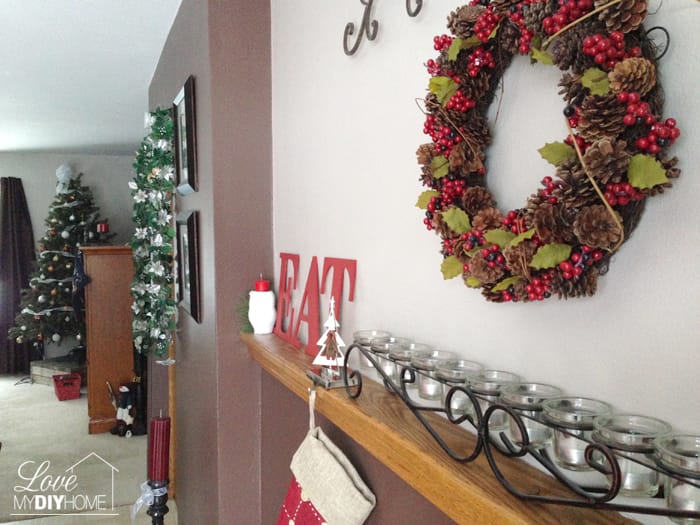 EAT (DIY Project) – $3.00
Wrought iron candle holder – $4.00
Stockings & holder – $3.00 each.
Owl – free
Wrought iron filigree thingy – $12.50
Poinsettia and vase (DIY projects) – $2.00
Bistro – free, Spoon – free, Bell wreath – $2.00
I'm rooting clippings from my poinsettia plant from last year, so I just stuck them in a snowman mug.
It was so cute I had to take a picture for you.
Chalkboard (DIY Project) – $1.00
Candle bowl – $1.25
Most of what I own comes from auctions, consignment shops, garage sales, etc.
Thanks for visiting.
Have a VERY MERRY CHRISTMAS!