My daughter sent me some pictures of a candle stand she bought at Goodwill and had spray painted with Rust-Oleum Multi-Color Textured Spray, Autumn Brown.
When she arrived for Christmas she asked me if I'd done a post on her project.
I hadn't, because she never sent me a picture of the candle stand in her living room, finished.
The subject was dropped until she brought it in to me and said, "Merry Christmas."
It was so unique – I L.O.V.E. unique!
It was the perfect piece to finish my master bath re-do.
Here is the before picture of our master bath.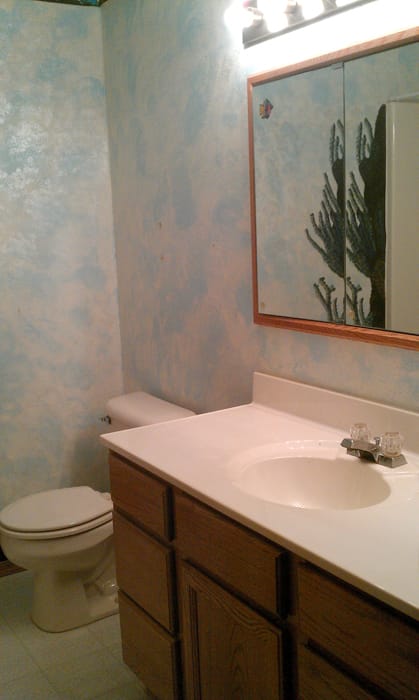 Wait, it gets worse…
The former owners of our house took the adventurous avenue and used the master bath as an experimental canvas.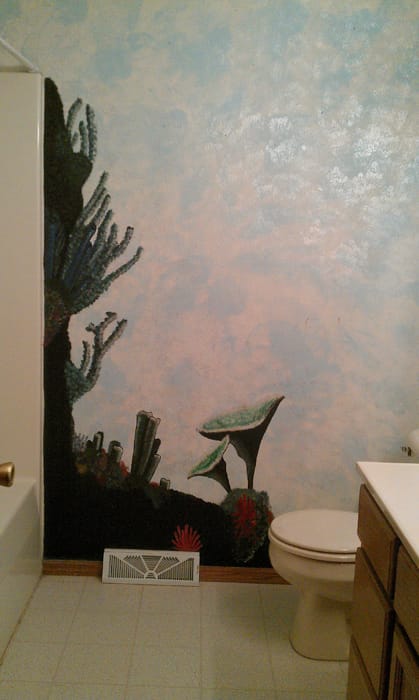 Not my style…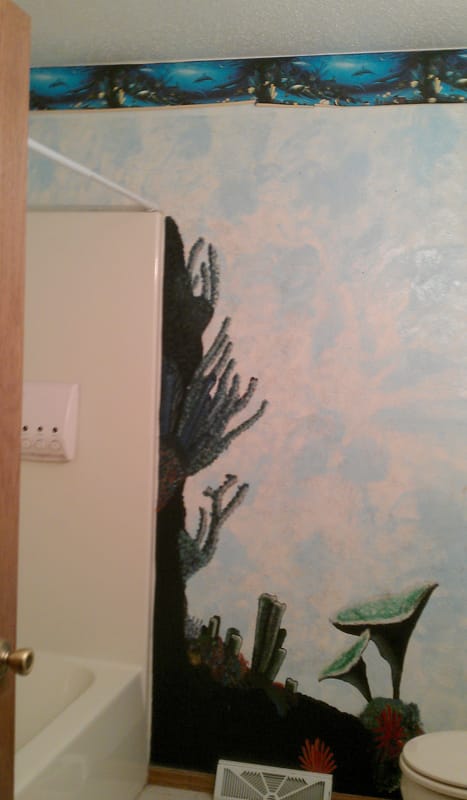 We called it the Under-the-Sea bathroom.
It was a fairly easy DIY project, but the wallpaper WAS a bugger to get off.
The ceilings were popcorn – that added to my "Oh, I can't wait to get this room done," pit in the stomach feeling.
It also had a shiny brass light fixture. That had to go.
I started by scraping off the popcorn ceiling and then painted the bathroom a medium brown – not dark enough to be depressing, but not the typical light tan everyone else uses.
I'm tired of being conservative, so using darker colors is my way of coloring outside of the box.
Here is my wine rack turned towel holder and the candle holder Jillian gave me for Christmas.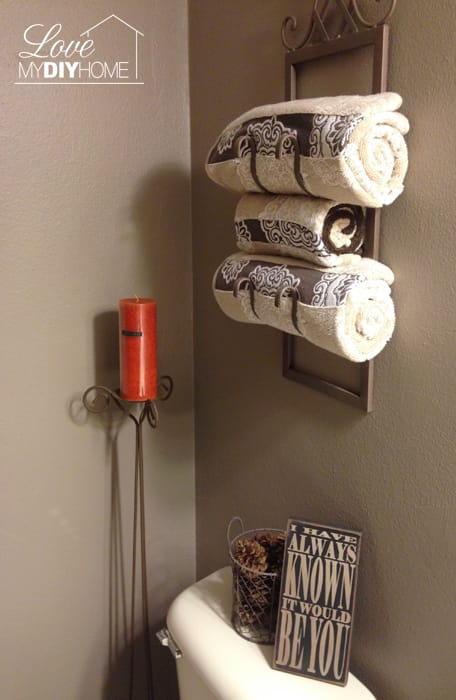 Here are her before pictures of the candle holder.
It's pretty simple. Find it. Buy it. Paint it.
Turn something old and undesireable into a collector's piece.
It was the last item I was looking for – but I didn't know what I was looking for.
When I saw this, I knew IT was IT!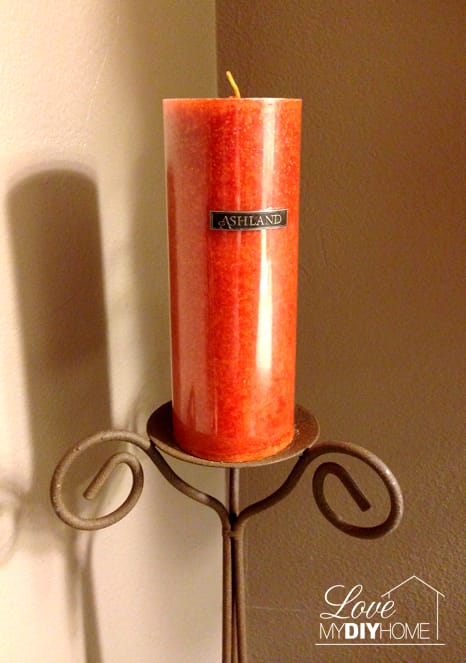 I discovered the brown was a warm, inviting color that is perfect for first thing in the morning.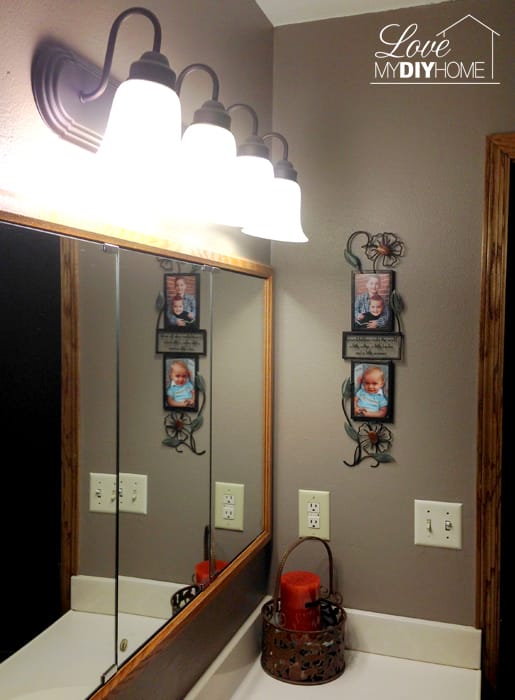 We are singing, "Under the Sea" no more!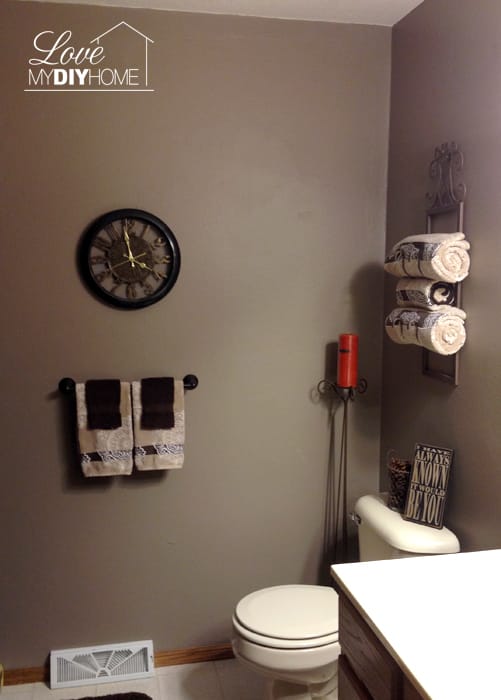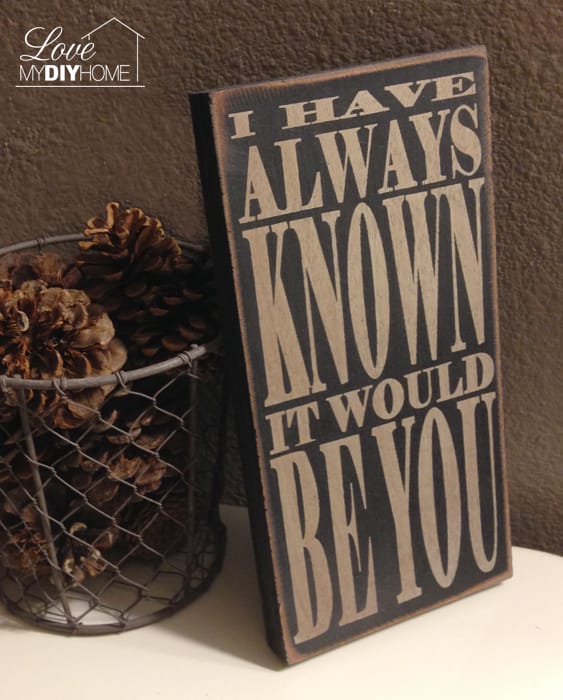 The best part of decorating is using deco that has sentimental value, tells a story, or reminds you of someone you care about.
Pictures of grandkids, basket from my visit to my daughter's in VA, sign I bought for my DH, candle holder from my DD – all add up to good memories.
I want to be surrounded by good memories – in every inch of my home.
What do you have in your home that evokes good memories?