What's hiding in your basement?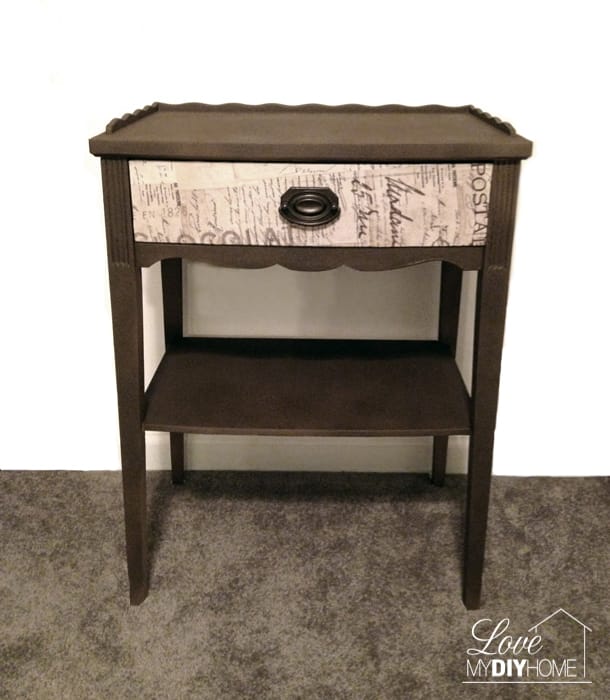 A couple of years ago I gave our daughter, Jillian, a night stand that had been a family heirloom from my husband Mark's aunt, Aunt Emily.
She had painted it white, but wasn't happy with the results.
I had a 2 1/2 week stay in Virginia with Jillian where we spent a week decorating her living room/dining room at her new place. This is one of the pieces we hauled out of her basement to try to salvage.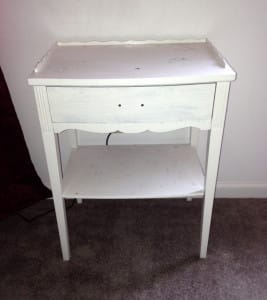 Newly married, in school, and on a tight budget, this had to be another "use what you have to save money but it's gotta look good" project – right up my alley!
Spray paint is an easy and cheap fix.
The dark stain shows right through and the paint peeled right off where it had bubbled. We honestly didn't know if we could fix it, but refused to give up!
Step 1
We went to Walmart and bought a medium grit sanding sponge.
They are inexpensive and easy to grasp – good for getting in the nooks and crannies, around the edges, legs and scalloped wood.
Jillian sanded it after we peeled off as much of the old paint as we could.
Since she was going for the Old World look, it didn't hurt to have a little bit of texture to the night stand. I suggested the spray paint by Rustoleum that had a texture with different colors of brown flecks – Rust-Oleum Multi-Color Textured Spray, Autumn Brown.
Step 2
She first sprayed it using a tan spray paint to give it a base so she wouldn't have to use as much of the more expensive textured spray paint to cover it well. We used just regular spray paint, but you could use primer. (And probably should!)iv>
Step 3
While she painted, I worked on applying fabric to the drawer to give it an old world look that I got at JoAnns. I only needed enough to cover the outside front panel of the drawer, so it only cost about $2.50 since it was on sale for 40% off.
I painted the outside of the drawer with Mod Podge where I was adding the fabric using a foam brush.
Step 4
I laid the fabric on the drawer and smoothed the fabric until I was sure it laid flat without any creases. I had cut the fabric about an inch and a half around the drawer to give myself enough to wrap around to the back of the drawer. 
Step 5
I painted more Mod Podge on the sides and underside where I would wrap the fabric around to secure it out of sight. Basically, you are just gluing the fabric onto the drawer using the Mod Podge.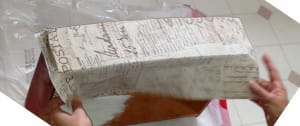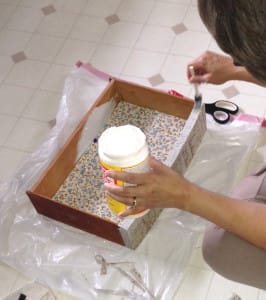 Step 6
After it was secured, I painted the Mod Podge right onto the fabric to give it a nice finish.
This will protect the fabric from fingerprints and add to the texture.
Step 7
The drawer already had a nice drawer pull, so I just added it by using my scissors to poke holes in the Mod Podged fabric through the holes that were already there. This was a very easy project, though I had never Mod Podged with fabric before.
Here is the drawer after I added the original hardware. I was amazed at how nice it looked.
Notice how I applied the fabric at a slant so the artwork wasn't perfectly straight. Perfection is not always our friend!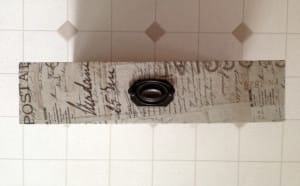 There is no reason we can't re-do our old furniture to look like the more expensive pieces we see in stores. It just takes a little money, ingenuity, and creativity. Now Jillian has an heirloom from her Great Aunt Emily that fits into her decor.
Now, tell me again why I gave that to her?
Click here to see some of the other pieces we worked on and then here to see the "before and after" of her front room after our week of DIY projects.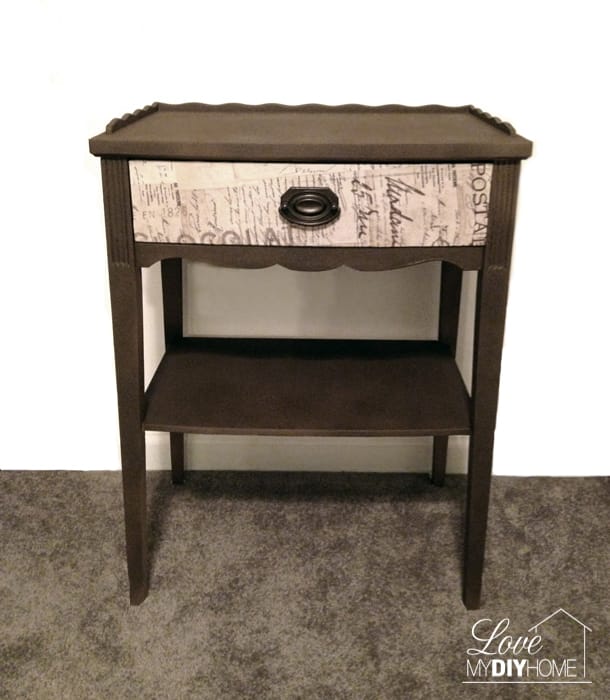 Do you have any old dusty family heirlooms you need to revive?
I would be interested in what you have done with them. Let's use what we have and make something beautiful!
If you prefer a chalky type finish, I have a PDF with 4 Homemade Chalky Paint Recipes, compared and with directions. I will send it to you via email. You will also receive the occasional newsletter with more tips and offers. You can easily unsubscribe any time.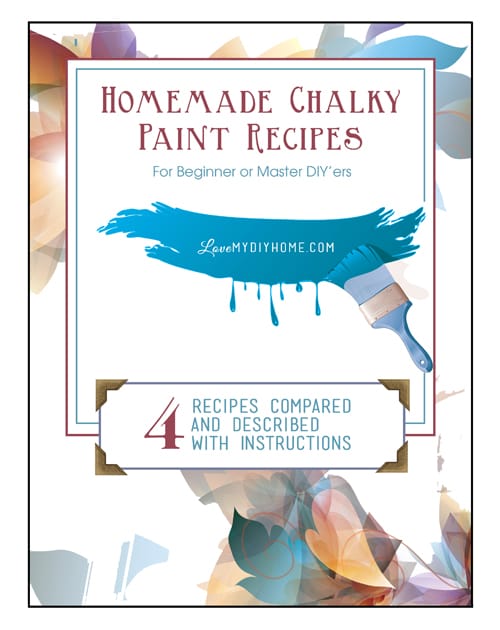 Before I forget, I wanted to offer you a check list of guestroom essentials. Jillian got me thinking when I spent the time at her house staying in their guest room. She was the hostess with the mostess and made me want to be just like her when I grow up! I came home and spiffed up my guest room using some of her ideas.
After questioning all my guests the past couple of years, I compiled a list of guestroom essentials based on their comments. Feel free to download the PDF below by clicking on the 7 Essentials for Your Guestroom. I will send you the PDF.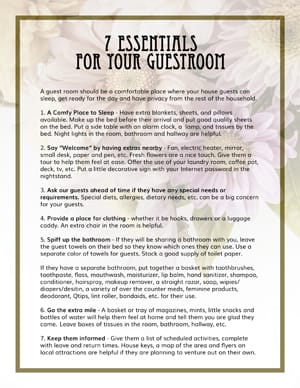 Meanwhile, have a great week and tell me about the antiques hiding in your basement, keeping your memories safe.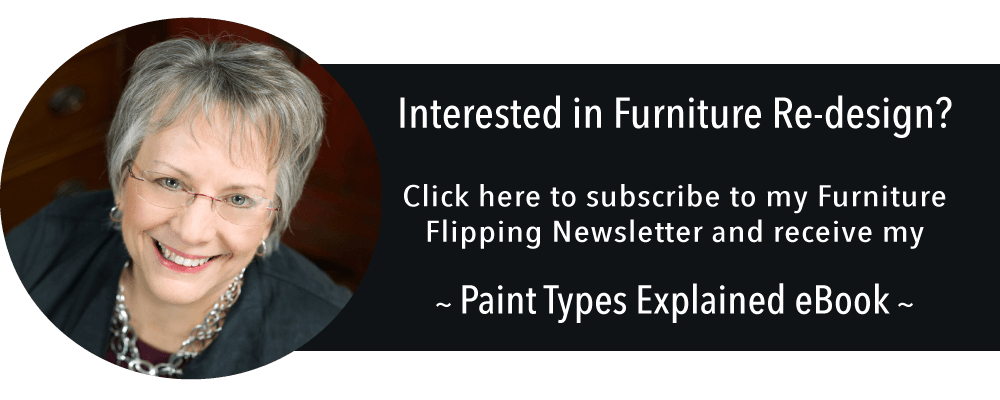 Disclaimer – there are affiliate links in this post to help support this blog.