Pepper - An Empire Case Goods Co. Antique
This is a Sponsored Post
I found a sweet little antique bedroom side table from the Empire Case Goods Company at an estate auction. It was in bad shape and everyone was passing it by like it had no more life to it. I knew better.
I immediately knew it was a great find and fought till I won it. It was a bit pricey, but totally worth it. Pricey for me might not mean the same thing to others... 
Upon a bit of research, I found the manufacturer of this side table, the Empire Case Goods Co., listed in a 620 page

library book of Jamestown, New York 1915-1916 Town Directory. From what I've read elsewhere, the company was formed in 1912. 
This side table was sold by the Donath Furniture Company in Milwaukee, Wisconsin. Their tag was stapled to the bottom of the table.
I couldn't find any information on this store, but it is quite intriguing to know that it traveled from New York to the store in Milwaukee, WI and eventually to Stevens Point, WI, where we bought it and took it home to be updated and preserved with Old Fashioned Milk Paint and Hope's 100% Tung Oil.
It is fitting that

OFMP

covers this piece since the milk paint exactly replicates the paint finish of Colonial furniture using milk protein, lime and earth pigments. The look and feel of a surface painted today with

Old Fashioned Milk Paint

mirrors what was found on furniture, walls and floors in country houses in Colonial America.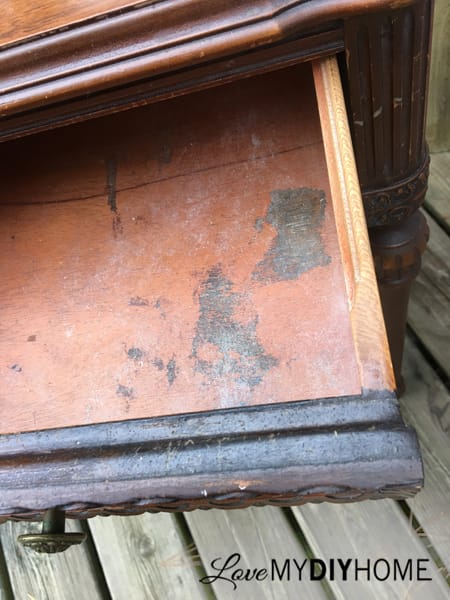 The Transformation
Materials Used in This Project
~ affiliate links for your convenience ~
The table was in rough shape and needed some repair and a good cleaning.
First I cleaned it with (affiliate)

Awesome spray

(check for this at your Dollar Store) and then scrubbed it with a green scrubbie and a 50/50 mix of water and (affiliate)

denatured alcohol

. It was so very filthy! Then it got a good sanding to be sure it would take the paint.
My DH sanded the shelf and top down to bare wood since it was a bit rough.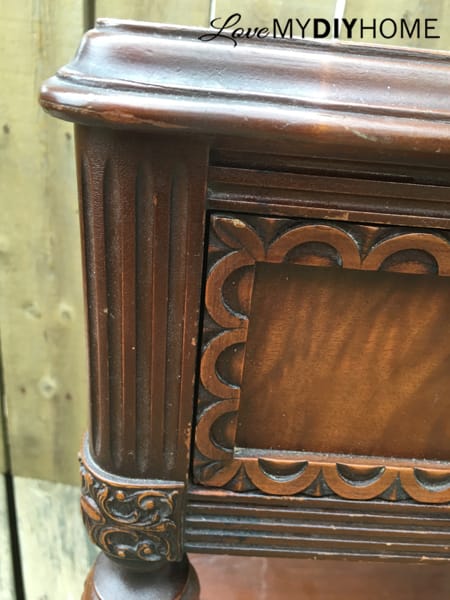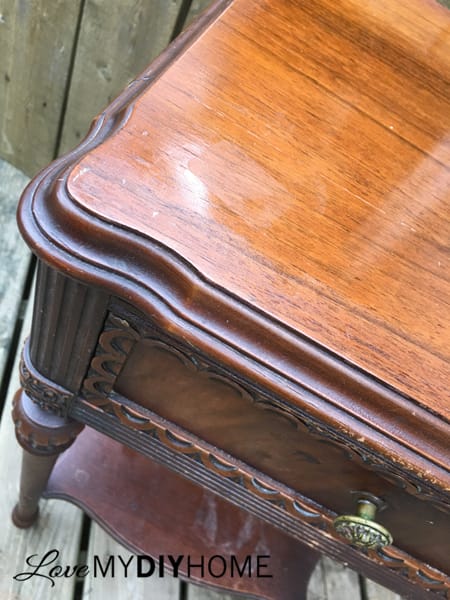 The first plan was to paint it a coral color, but it turned out more of a pink - I couldn't get the mix right because I didn't have any yellow to add. So I just played with it and came up with a color that I was quite pleased with.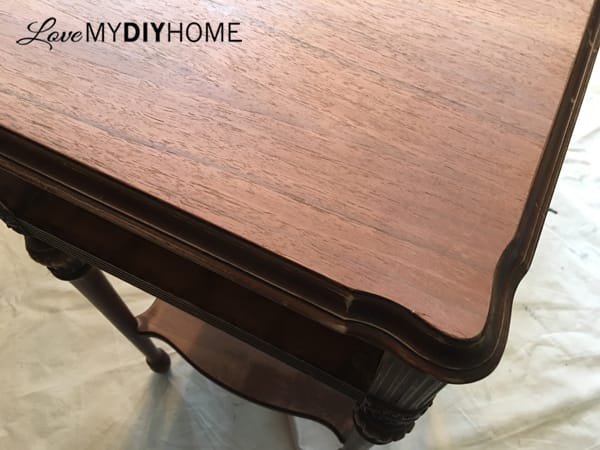 It's a kind of dark brown gray plum-ish that changes colors with the time of day. It looks brown under my kitchen lights at night but purplish in the daytime with natural light. As the day darkens, it takes on a grayish cast.
I used a mix of (affiliate) Salem Red, Oyster White, Snow White, Driftwood, and Pitch Black. It's a one of a kind color. That's the beauty of OFMP. It allows you creative license. It went on very smoothly with my Cling On brush.
In the first coat I added (affiliate)

Extra Bond

to my newly created Pepper Paint in order to be used as a primer. (I call this side table "Pepper" because plum was my mom's fave color and her nickname was "Pepper.") Extra Bond is

environmentally safe and non-toxic, hypo-allergenic, low odor and voc-free

.
The second coat of paint was just paint, no

Extra Bond

.
I lightly sanded before and after the second coat.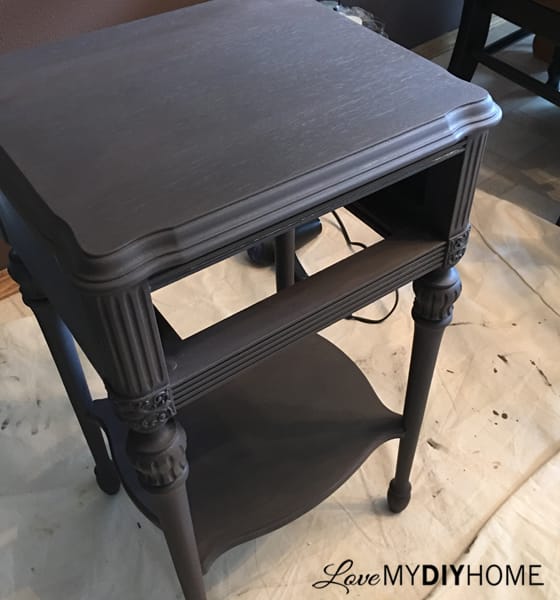 If you look closely, you will see variations of the paint color. Since I mixed this Pepper Plum using several colors, there are streaks of those different colors here and there. This is part of why OFMP is so unique. The beauty of the blended colors can't be matched by stock paint. 
To add dimension, I dry brushed the detailed carvings with buttercream stencil paint from Luxe - a paint I got on clearance at JoAnn's. Using the same color, I stenciled the side of the drawer.
With stencils, you can create your own unique combinations to match or coordinate with the details carved into the piece of furniture. I used one large and then added a small one on top of it. Then I sanded it just a bit to distress it. 
I chose one similar to the carved details on the table.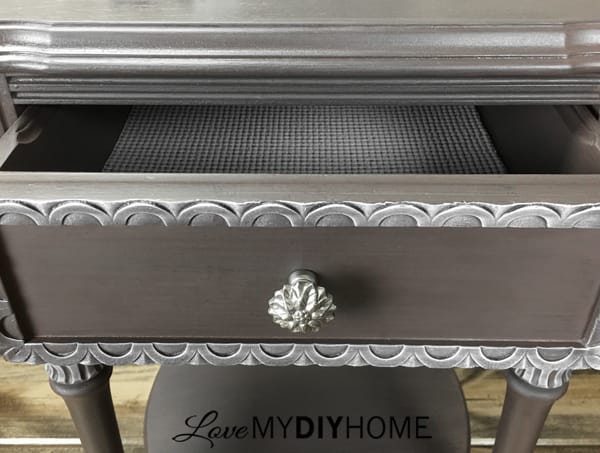 To finish it off, I used (affiliate)Hope's 100% Tung Oil. You wipe the Tung oil on, wait an hour and wipe off whatever didn't soak in. Wait 12 hours and re-apply another coat. Below you can see the paint as a darker brown with just a hint of red.
I applied 6 coats of Tung Oil on the top, and three on the rest of the table including the drawer.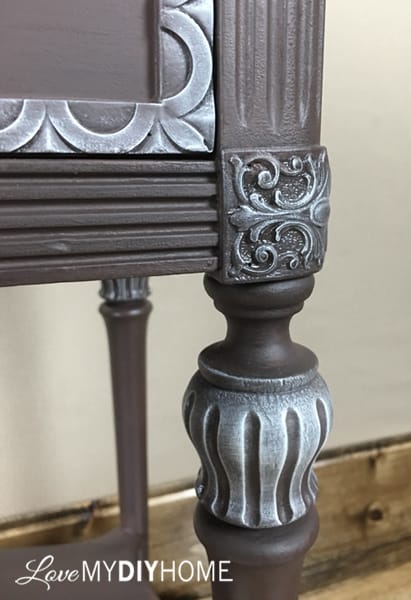 Here you can see the difference in how the color reflects differently with the lighting. Brown above, mauvy purple-ish below: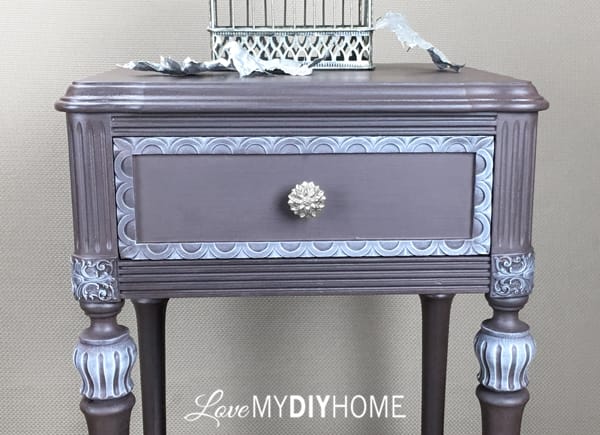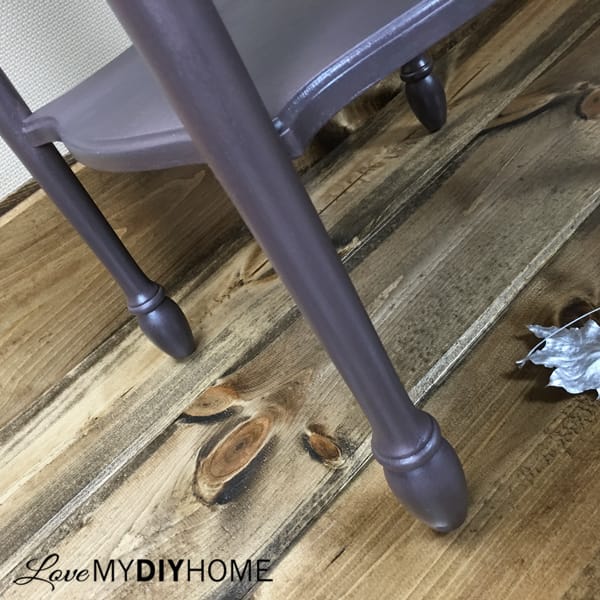 A Mini Dry Brushing Tutorial
The new silver knob came from Hobby Lobby. I planned on using the old knob after I cleaned it up, but it turned out to be a bright yellow brass color, which wouldn't go with my white stenciled and dry brushed details.
The (affiliate) drawer liner came from Fleet Farm. It only took us 9 stores and 3 hours of running around town to find exactly what I was looking for! It would have been so much easier if we had just ordered from Amazon Prime, but I needed it the day I decided to use it. Last minute decisions always end up costing you.
UPDATE: "Pepper" was added to The Red Shed FB store and made her way into her own home just before Christmas along with her sister Sophia - she is a treasure that will live to see another day. Honestly, it as very hard to let her go!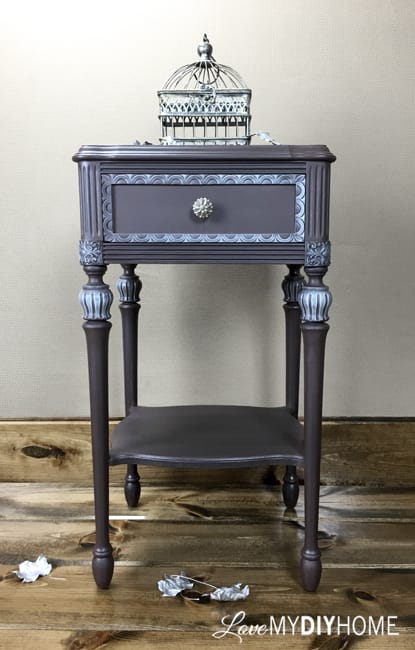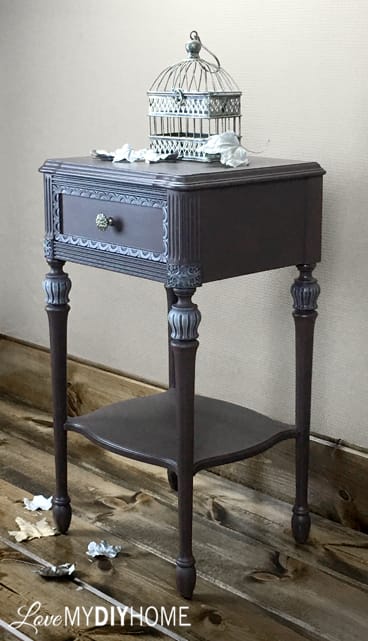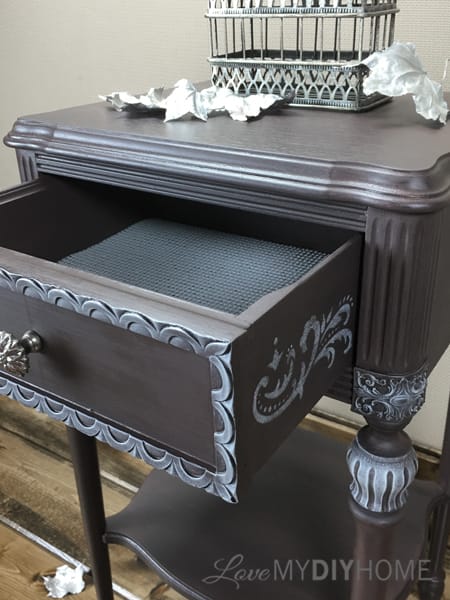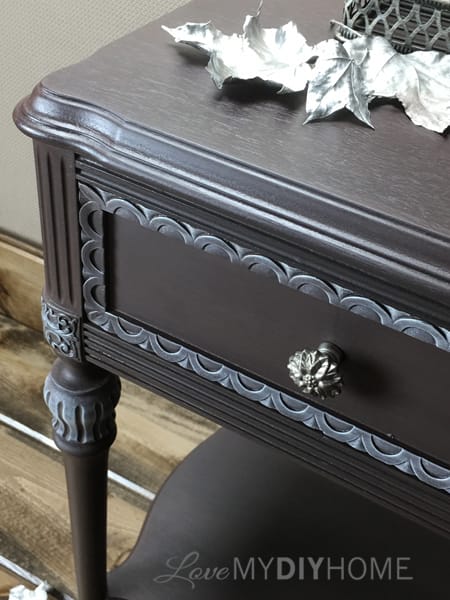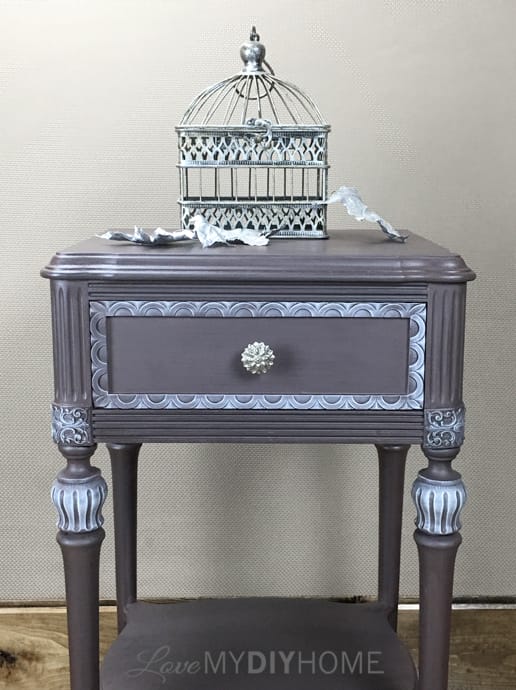 Thanks for visiting and letting me show you Pepper. I named her that after my mother who loved the color plum. DH used to tease her and call her favorite color "purple" and she always corrected him by saying. "It's plum, not purple." It's still a family joke to this day even though mom's been gone for several years. 
There are days I'd wished I kept this piece since it reminds me so much of Mom.
Thanks for visiting. If you'd like to learn how to redesign furniture and maybe even sell some, join us at Furniture Flipping Blueprint, where I teach you how to find outdated and unwanted furniture, turn it into art and then into cash. To find out more >>> The Blueprint.
Blessings,
* Disclosure: This post contains affiliate links. If you buy anything after clicking on one of the affiliate links, I receive a small commission of the sale. The cost to you is the same, and I only link to items that I think would benefit my readers. Your support of this blog is greatly appreciated!