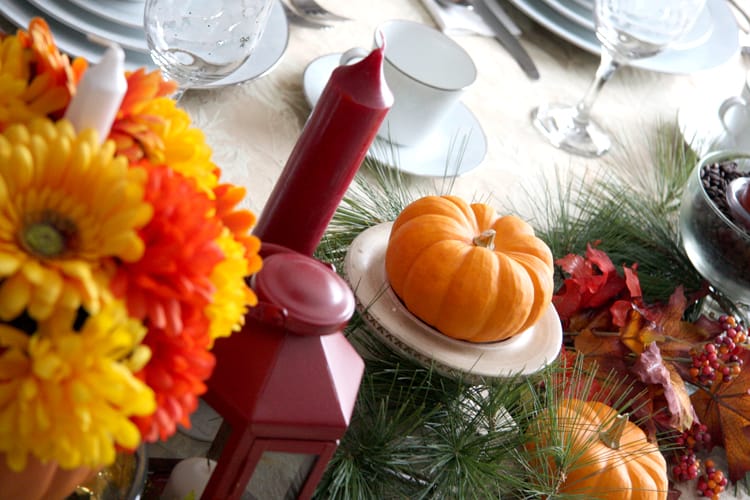 Has anyone ever told you, "This is a no-brainer?"
or...
Ramble on with the instructions like you've done it all your life?
Have you ever called tech support and had to call time out because they told you to copy that, type this and insert it there and you had no idea what they were saying? I don't really speak geek; do you?
Here is a quote from an email sent to me by a friend. I'll call her "Sally."
"All your DIY ideas are great.  And I love Pinterest for that as well, but like you said, time is one of the big issues and with me I have to add the word "talent", "eye for it", etc.  I don't have what it takes.  I sometimes have ideas but I don't have the time, money, know-how, energy, etc. to actually do it.  I guess I've started too many projects and not finished them because of these factors. Also, I have the fear of it not turning out and then that money is wasted.  I tried something from off Pinterest last year and spent $X amount of money.  I spent hours/days on this trying to make it work.  There was something missing in the instructions or in my interpretation of the instructions and I couldn't figure out what needed to be done to fix it.  Lots of money wasted.
If this quote sounds like you, don't worry - we all have things we are inexperienced in, but don't let your past frustrations or insecurities stop you. Ask questions. Google it. Check out several pins on Pinterest. Email me or another DIY'er and ASK.
I have the 4th tip on fall tablescaping for you.
Vary the height of your decorations.
Yep. Vary the height for visual appeal and then layer.
Do you look at the tablescapes on Pinterest and wish you could do that?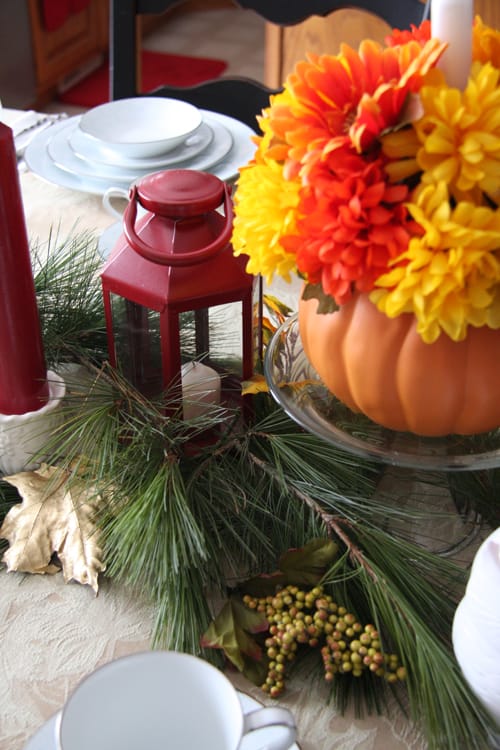 Let's review:
Use what you already have.

Use colorful items as accents.

Add items from the great outdoors.

Use candles. Lots of candles.

Get creative and use different colors, textures and shapes.

Add a little silver or gold spray paint for some glam.

Vary heights and layer.
I used my ceramic pumpkin flower arrangement (see tutorial here) for the centerpiece and a painted lantern. I decorated out from there adding this and that until I liked what I saw.
Grab your bowls, candle holders, boxes, pedestal cake plates and vary the heights all along the center of your table, picking different items to place beside, under, on top of, etc. Then fill in with your greenery and other organic materials like pine cones and leaves. It is OK to use some silk flowers and leaves to fill in with the outdoor materials. Mix and match. Get creative!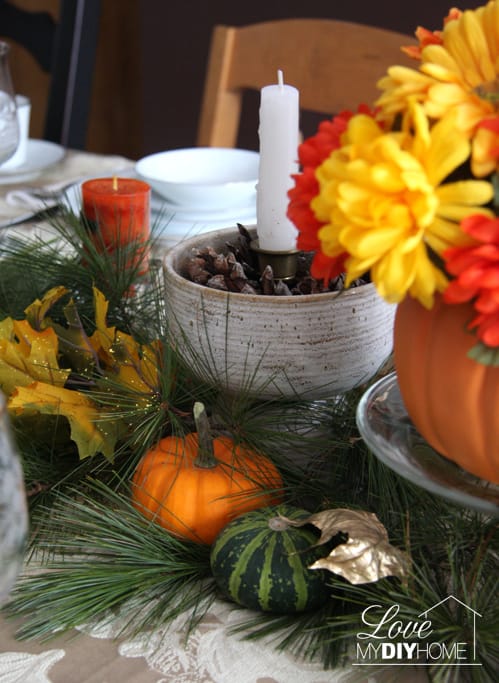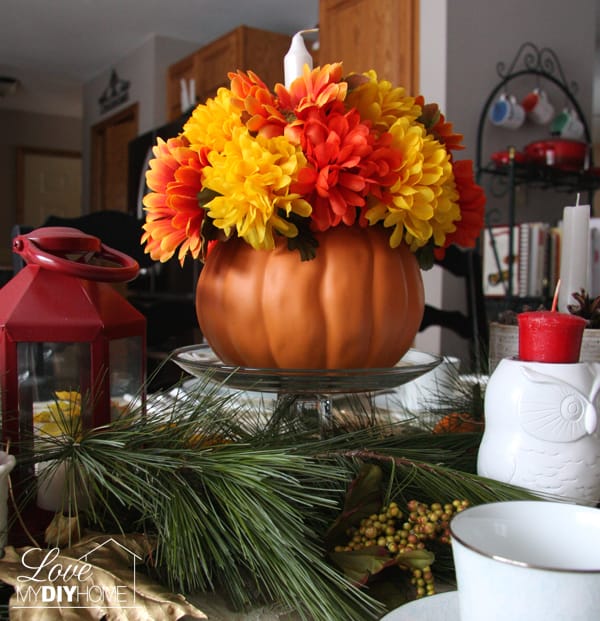 As always, if you have any questions, comments or just want to say, "Hey," please leave a comment or email me. I would love to see you succeed and have some fun DIY'ing. Start now planning your Thanksgiving tablescape.
Here are the fall tablescape tips 1-7. Some may not be LIVE yet, but will be soon: